Old news: August/September 2000

Back to Newsletter
Donna
9/26/2000
I had a great time in New Orleans! It was so much fun. Really hot and HUMID! I stayed in an old townhouse in the French Quarter with a fireplace in every room. I can't imagine they ever get used. The first night there we went on a walking ghost and vampire tour. Sorry to say I did not see any of either, but heard some pretty good ghost stories. The next morning we went on a walking tour of the oldest cemetary in the city. The custom is to buy a family plot and when someone dies, the body is placed there for a minimum of a year and a day. When the next family member dies, the remains of the last body are swept to the back. If a family all dies out and another family takes over, the caretakers will bag the ashes of the prior family and keep it to the side, because "you don't want the families to mix". The South is weird. More later...

---
Amanda
9/25/2000
MY FIRST TEST WAS SUCCESS!!! I had my first college test last week & got the results back today... It was in Psychology, the class I thought would be a breeze & was proved wrong very quickly... Well, I got a 86%, which doesn't sound great, but considering the highest score in the class was a 90%, and apparently the average wasn't that great, 5 people around me failed... So, I got a B. Not too bad, I'm happy, wish it was an A, but I will certainly take that, considering I was sure I'd fail it! Now the tests are rolling in, tomorrow, next Wednesday... Lovely!

---
Amanda
9/24/2000
Grandma's got a computer!!! Can you believe it? We gave her our old one, since we finally broke down & got back in the computer race (and does anyone ever win that race?) So, Ryan & I formatted the whole thing & put such things on it as Paint, and the Petz game, some fun stuff kids would like when they are there, and of course, Solitaire. I hope she will soon be connected to the WWW. Gary has to work out some normal kinks, and hopefully she will enjoy it. Remember though that it is an older one and therefore slower, so watch out & dont gripe, and if you're looking for some Christmas ideas for her, some more RAM & maybe a new processor would come in handy!! Good luck Grandma, & feel free to throw it out the window if it becomes too frustrating, I wanted to do it myself many times!!! !

---
Emily
9/17/2000
We got another kitty!!!!! Her name is Cocoa she has short black hair and Nicole does NOT like her at all. We will have some pictures on the web page soon. 8)

---
Amanda
9/15/2000
You can tell the kids are back in school, not nearly as many additions to the old website!!!

---
Amanda
8/30/2000
I started college!! I attend Bellevue University... Looks like I'm the first grandkid to start, & I graduated 4 years ago..(sean) It's going well though. I only go from 9:30 am until 12:15 pm. Seems pretty easy hours compared to highschool, but all it is is lectures & LOTS of studying, already!! I started the 28th. Guess I better get used to it if I have 7 years ahead of me... This semester I am taking Political Science, Psychology, Composition, and Communications (which is public speaking, or speech). Not too bad...

---
Karen
8/30/2000
Erika has strep! Went to school for 3 days and came home sick. I took her to the doctor this afternoon. Looks like she will miss another day or two of school. What a great start. :)

---
Lindsey
8/23/2000
Me and Olivia started school and it's fun. I just started my saxaphone lessons today. It's fun but when your done it feels like you just got out of the dentist's office because it's all numb. Well, talk to ya later, Bye!

---
Lindsey
8/16/2000
We just got back from KC yesterday.WOF was fun! I didn't go on the Boomerang but if you saw it close up you wouldn't want to go on it either! OOF was fun too! We didn't go on any rides because they all had long waits. One ride it was 2 hours long! The game was great! 49ers won! I was going for the 49ers anyway. Talk to ya later! Bye!

---
Emily
8/15/2000
Hey we are coming on thursday about 11 or 12. And leave on friday or sunday. 8) SeeYa!!

---
Gary
8/14/2000
Hey, I got a new camera!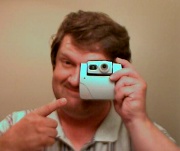 It's a digital camera, meaning no film -- pictures go directly into the computer. So I'll be able to have a lot more "current event" photos (of Lincoln, anyway) for the webpage. Also, this camera doubles as a web-cam -- so I'll be able to do "live-tv" chats over the internet. Those of you with web-cams, let's talk! :-)

---
Gary
8/14/2000
Karen, Emily and Erika, and Marsha, Samantha and Anna are coming to Lincoln on the 17th, for the weekend.

---
Amanda & Ryan
8/7/2000
The Offutt Air Show is coming!! This year the weekend long air show will be held on August 26th & 27th. If it is like previous years it starts at 8 am and runs til about 5 or so. As some of you may remember, get here early.... Traffic is no fun! Also, we have a great view of the flying aircraft right behind our house, they do a lot of the manuevers right over our house. So if you'd like to watch in the comfort of air conditioning every so often, come on over! It is neat though to go on to the flightline, there are a lot of cool planes to tour & stands to visit.. I can't remember, but I think you can see some of the aircraft that Ryan works on... I will keep you posted, and you do the same with coming over, if enough want to come we will barbeque.. And no checking in on that weekend, you just drive right on in! But they do search all your stuff before you go on to the flight line, so leave the unibomber home for the weekend.....

---
Erika
8/7/2000
HI Grandma you said you would send my shoes a couple of weeks ago. When you were here I liked it when we took the walks in the morning. When we were at the antique store I found you an M & M machine like ours.

---
Lindsey
8/7/2000
I'm not going to write a letter about my Dad eating anything because that would be rude so talk to you later

---
Grandma
8/7/2000
Hi-- Been a busy week - went to the county fair - fun! - saw the Patriot - excellent - and tried out the Panera Bread Cafe - yummy! - got a new side door in the garage (thanx to Paul) - and read Harry Potter and the Goblet of Fire - excellent.

---
Lindsey
8/7/2000
Mom, Dad, Olivia, and I are going to Kansas City to go to WOF and OOF. We are going to go next Monday and Tuesday.

---
Emily
8/7/2000
Last monday erika was climbing up her dresser to turn off her t.v. or something and it fell over, but her t.v. is fine. 8)
---
Gary
8/7/2000
A couple of weeks ago, a vintage B-17 (World War II bomber) was at the Lincoln airport for the weekend, and I went out to see it. It was on display so you could get inside and look around, but it was also taking passengers up for 15-minute flights around Lincoln. The flights cost $350 each, so I decided to pay my rent instead; but I did get to stand next to the runway when it took off. It roared past us (surprisingly loud!), and for a couple of minutes I got a small taste of WWII. Then I got in the car and followed it for a bit, just to see it in the air. Way cool, to see it flying around the Capitol building. Here's a picture of the actual plane I saw, taken when it was in San Francisco.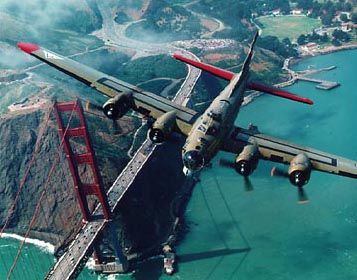 ---