Old news: July 2001

Back to Newsletter
Samantha
7/27/2001
1 day till we come!!!!!!!!!!!
---
Grandma
7/27/2001
I think I have an advantage of knowing everybody a tad longer (Who Am I ?). However I think the best part is getting to know things we DON'T know and getting to know a bit more about everyone. For instance, when did Paul ride non-stop to Denver and when did Amanda stay awake 80 hours and WHY??? Just thought I'd drop in my 2 cents worth. I also can't see Karen living in the outback of Australia with all them crocs. And Brent, a lingerie shop?? How about a train depot?? Ah well, as I said there is lots we don't know about each other. Very interesting!!
---
Lindsey
7/27/2001
I think when Amanda said we all sucked she was meaning the people below 7 wrong and under! I don't what my accuracy is and I frankly I don't really wanna hear it because it is probably pretty bad. I don't know anybody! OK, I gotta go, Bye! See ya soon!
---
Gary
7/27/2001
Hey, hold on there! I have to respectfully disagree with the "we all sucked" comment! Take a look at Donna's performance this time: none wrong! And over the past four games (with a total of 72 profiles) Donna missed only 10, giving her a grade of 86% accuracy. And the current champ, Grandma, has two perfect games to her credit. Her performance on the total 72 profiles is only 5 wrong, which gives her a 93% accuracy rating overall. If this was a casino game in Vegas, she would be buying us all cars right now! :-)
---
Amanda
7/26/2001
I think this was the worst Who Am I? to date! We all sucked. There are some things people thought of me that worries me. Why would anyone think I would wax a school bus or sell hardware? I guess that would be next to Karen and Donna's lingerie shop right? While they were living in Star Trek?? Anyhow, we don't know each other too well, still kind of fun though I guess, kind of neat to see how alike we really are too, like Marsha's totally could be Grandma. Well, we will see you on Saturday, Ryan will be back by then so as soon as he lands and gets home and settles in we will come on down!
---
Lindsey
7/26/2001
Man did those "Who Am I' questions fool me. I didn't know anybody! I thought everybody would know me and they almost did except for Zach, what gave me away? Well, I think next time we should have the people who didn't get that many right think of the questions!! Well, I will see Sam and Marsha in 2 days and the Nelsons' in 3. Gotta go now, Bye!
---
Samantha
7/26/2001
2 days till we come!!!!!!!!!!!
---
Samantha
7/25/2001
3 days till we come!!!!!!!!!!!
---
Karen
7/25/2001
Emily's recipe for smoothies -- she puts yogurt (plain or flavored) and a banana, some strawberries -- then either ice cubes or just a scoop of ice cream -- she loves them!
---
Amanda
7/24/2001
Yogurt might not have even been in the recipe. I have fresh pineapple, I thought about that with the apricot. I wanted to do ice, but my blender sucks, it's not too strong. I do the egg for whatever is in it that is good for you. I can't remember right off hand. (Hey, Im not a nutritionalist and don't want to be.)
---
Donna
7/24/2001
I used to make yogurt drinks all the time, but never with a raw egg. I think I made mine with plain yogurt, soy protein powder, a banana and strawberries or any other fruit and ice, or freeze the banana. Ahh, banana...that makes me smile. They were so good. I could go for one now. I know Emily makes them a lot. She should be able to give you a good recipe.
---
Samantha
7/24/2001
Hi!! Well today i don't have to work cause my boss called and said i didn't have to come in. I was so happy to get that phone call. Well i got the new *Nsync cd at like 10:30am. Well gotta go bye bye bye!!!! 4 days till we come!!!!!
---
Donna
7/24/2001
I just sent in my picks for "who am I" and I don't think I did so well. Gary, how'd I do? I know Anna's can't be right. I take back what I said earlier, I have no idea who anybody is--except me. Waaaay too hard. Karen had to be trying to throw us off. There's no way she wants to live in Crocodile Hunter or was it SpongeBob Squarepants. Why would anyone pick those places to live? I think SpongeBob lives under water. Sam, I can't wait to see your red hair. But I thought it was going to be white and clear. :-)

I will only say that the three front runners so far have missed three, two, and none! That's right, one of you got a perfect score.... --Gary
---
Amanda
7/24/2001
I need some suggestions. When I was pregnant with Tristen I used to make a smoothie type drink in the blender every morning. I did it so I could put a raw egg in it, and it was quite good. I can't remember the ingredients. I know it had an egg (which is irrelevant to the flavor) and apricot nectar, apricot nectar being the main ingredient. NOW, I can't remember what else I put in it. But I am open to suggestions. This morning I did 8 ounces apricot nectar and 8 ounces yanilla yogurt and the egg. It pretty much just tasted like runny apricot yogurt, which was good, but not something I could do all the time. Please give me some suggestions, I'm open to them!

I don't have the recipe, but I would like to change my "food I don't like" answer to "runny apricot yogurt"! Yeeg. :-) --Gary
---
Amanda
7/24/2001
Sam is your hair red like HUSKER RED??? That would be the best!
---
Samantha
7/23/2001
Hi everybody!!!! Well i dyed my hair today and its red like a dark red it is so pretty. Oh yah 5 days till we come yah!!!!
---
Amanda
7/23/2001
Well, I GUESSED my best on the Who Am I? game.... I'll tell you what, I had to do it and get it over with, I kept getting hungry for cereal... How come Karens are coming when all of use are in work/school? Tomorrow is my 10th day of school, which means 10 left, which means I am half done! And I am thinking the last 10 days will go much quicker. No disections though, phew, I had enough of that in high school, though I'd like to hear a little story about cow eyes getting cut open....
---
Donna
7/23/2001
Amanda, I cannot believe you don't know who I am. I am not above cheating. So, email me and we'll talk. :-) I think I know who you, Ryan and Tristen are, so it may not be a good trade. I also feel pretty confident with my choices for Mom, Gary, Paul, Brent, Marsha, John and Olivia. I think I know Zach. But I am definitely having trouble with the others. I don't know who Karen is. How can that be? My new favorite words are "toast sweat." This is really hard! Emily, Erika, Anna, Sam, Lindsey: Give me some hints! Who are you?
---
Emily
7/22/2001
Hi Everybody!!!!
We have decided to come Sunday Morning, and leave Monday night. See you Soon!!!!
---
Samantha
7/22/2001
6 days till we come!!!!!!!
---
Lindsey
7/22/2001
I probably got my answers all wrong but I thought it was HARD! Anyway, I had to stay up 'till 1:30 last night baby-sitting Olivia and Claire at Olivia's friend's house! They are so wild. Finally Livy fell asleep and I had to watch the other one. OK bye!
---
Karen
7/22/2001
I found the Who Am I fairly easy this time -- I feel very good about my answers (Gary - How did I do?) so Amanda call me for help! I don't remember telling Tristen about Samantha's hair .....

Well, I'll only say that no one has gotten a perfect score yet.... :-) --Gary
---
Amanda
7/21/2001
The Who Am I game is hard again! I guess I dont know anyone. And I also laugh when I hear cattle (cattle, cattle cattle). Ryan is in D.C. right now. I tried talking him into egging the White House, but he said since Dubya is his boss he better not. He will be there for a few days, and this is obviously one of those trips I can tell you where he is, or I wouldnt be posting it on the net. This is an Open Skies trip, the Open Skies Treaty is the agreement we have with like 40 countries to fly over their country and take pictures and vice versa. And the Open Skies jet (actually there are 2) are the jets Ryan works on, and the ones that take the pictures. Right now it is Sweden and Finland over the U.S. So in other words some Swedes and Finns are there with him and will be flying surveying our country in his jet... I'll keep you posted. And I am not against cheating on Who Am I, so if anyone wants some inside tips from me, we can work out an agreement. Donna said I would get her right off, and I didnt. Tristen is SO excited for Sam and Marsha. She wants to know what color Sams hair will be. She said Karen told her it would be white and clear.
---
Samantha
7/21/2001
1 week till we come!!!!!!
---
Emily & Erika
7/21/2001
Today we went for a drive and we saw thousands of bikes and tents!!! Tommorow Ragbrai and we are going to go see the at 6:00 tommorrow morning. Ragbrai stands for Registers Annual Great Bicycle Ride Across Iowa. Before Dad told us that we thougt it might have been Really Awful Gross Bike Ride Across Iowa. At the auditorum, where a lot of people were camping there was A LOT of port-a-pottys And about 3 semis full of Beer. Tonight Some blues singer is going to have a concert.
Gotta Go BYE
---
Gary
7/21/2001
Got my letter yesterday: "Dear Gary-- If I give you $300 on September 17, will you not hold it against me that I stole the Presidency? Your friend, George." Well, it didn't say that exactly, but it did mention those figures....
---
Samantha
7/20/2001
8 days till we come!!!!!
---
Amanda
7/20/2001
Where is grandma at? Is her computer on the blink again???
---
Karen
7/20/2001
We got our letter from the IRS today -- said we would receive $600.00 next week -- but then Brent is a republican!
---
Amanda
7/20/2001
Well, I got my letter from the IRS today. And apparently during the week of August 8th, (which is when Ryans soc. falls for the dispersment weeks) we will be receiving a check for $600. SO, it is very confusing... I will report again during that week, because like Gary said, I will believe it when I see it. Also, I heard too that Dubya KNOWS we will pump it back into the economy. Everyone (myself included) will just think of it as an extra paycheck and spend spend spend. Keep me posted on whatever you hear please...
---
Gary
7/20/2001
Re: the tax thing. I also had heard somewhere that you only got the refund if you actually paid in on April 15; but that has got to be a misunderstanding. We all pay nearly half of what we earn to the government all year, out of every paycheck -- the April 15 thing is just when we tidy up. When I called the 800# (800-829-4477) for info, they didn't ask about whether I got an April 15 refund or not -- they only asked if my taxable income was over a certain amount; if it is, you get a refund. And by the way, don't be fooled that this is some beneficent gesture by His Majesty George II -- all that's happening here is that the IRS is returning some of the money which it has "over-collected" (to use their term). Usually they don't bother returning over-collections; this time they are, and the Acting-President is hoping not only to take credit for it, but also to pump a few extra dollars into an economy which started to nose-dive the minute he and his fellow-criminals assumed the office. Anyway, if you get it (and I'll believe it when I see it), it's your money that they've been keeping, not "his" money that he's giving you.
---
Amanda
7/19/2001
Lindsey, Tristen and I went bowling again today. So I have 6 out of 15 done. Thank goodness. I am not hurting as bad today as I did last time. I didnt do as good this time though, so I guess it's true what they say, no pain, no gain.
---
Samantha
7/19/2001
9 days till we come!!!!!!
---
Amanda
7/19/2001
My mom got her letter, and that is where I am getting my info. From the 800# it told her she could get up to $500, but she is getting nothing. I am entitled to up to $600. I am sure everyone should be receiving letters soon. My mom was due to get her check (had she had one coming) next week.
---
Amanda
7/19/2001
I got my first test back from Biology. I got a C. A high C. Almost a B. So I guess that is good. Considering almost every other test I have taken in college I have gotten an A, a C is crummy, but considering the class, I will accept it. So 2 weeks down, 3 to go. Getting there.
---
Amanda
7/19/2001
Sean is out of town until Monday so no Who Am I will be seen from him. Just thought Id let you know.
---
Donna
7/19/2001
Amanda, I haven't received a letter yet. But according to the 800 # I got from you, I'm getting $300 after Sept 3rd. Did you get a letter or is this what you're hearing? I don't expect any help from Dubya.
---
Lindsey
7/18/2001
Looks like July might be getting to be the longest newsletter we've had!

Yup, it's another record-breaker -- already longer than last month's. Wow! --Gary
---
Lindsey
7/18/2001
What is up with the e-mail? Why am I all of a sudden WEIRD. OK, if you people already don't get e-mail things like that than I think your weird. So what it is just an e-mail. CAN'T YOU TAKE A JOKE???????????
---
Amanda
7/18/2001
Anyone got their letter from the IRS about Bush's WONDERFUL tax cut? It ain't all its cracked up to be. And I'm thinking, from what I heard from others, unless you paid in on April 15th you ain't getting anything back. So if you are nice like us and lend the government money all year long so that we didn't have to pay them even more in April, you won't see anything but a big sorry letter... Keep me posted, I'm curious if Dubya's plan helped anyone here...
---
Lindsey
7/18/2001
That e-mail I sent doesn't make me weird, I got it from somebody and I had to send it on, I don't see what the big deal is?

I got it too. You're weird! :-) --Gary
---
Lindsey
7/18/2001
Hey I had to bend down underneath the tire and grab it and look around the rest of the car so I should be entitled to some money!

I agree, Lindsey! And just think: if you guys hadn't found that money, it would have blown away in the storm last night, and right now it would be in a mud puddle in Indiana or someplace. Way to go! :-) --Gary
---
Amanda
7/18/2001
Well, if we are going to get technical, Tristen found the first $20, then I found the second one, SO technically Tristen and I became $20aires, but to be nice we thought we ought to share with Lindsey. And since Tristen thought all she found was a dollar, she wont miss it much.
---
Gary
7/18/2001
Tristen needs a better lawyer. If she found a twenty, and Amanda and Lindsey found another twenty, that means Tristen should get $20 and Amanda and Lindsey get $10 each. Right??
---
Donna
7/18/2001
I talked to Amanda, Tristen and Lindsey last night. So I can confirm the money story is true. Tristen kept saying, "I'm not kidding." She's sure having fun with Lindsey. I still don't know for sure if it was Lindsey or Zoe that she called "Cat Butt." I hope it was Zoe. So what are you guys going to buy with your money?
---
Donna
7/18/2001
Hi Lindsey, Since you're not at home, I wasn't sure if you would get this if I sent it to your email address. So, let me say thanks for the kooky greeting you sent. Very funny. And, I think you're weird!
---
Amanda
7/18/2001
I had my first big test today in Biology. YUCK. I maybe passed. We will see. I didnt like it, I will tell you that much. All the while trying to fight off a migraine. So if I fail, thats why! :)
---
Amanda
7/18/2001
We were up late last night in the basement. And we have scary basements. We had awful thunder and lightning and then we got tornado warnings. It was not so bad, the neighbors were down there too, and we kept crunching things on the floor in the dark, YUCK! The sirens went off for a good 10 minutes and they are right by our house! No touch downs or even real sightings though so that was a relief. Good ol Nebraska... I guess some guy got hit by lightning at 72nd and Dodge though on his bike and died. Whats up with the lightning lately?
---
Tristen and Lindsey
7/17/2001
I have a neat story. We went to Applebee's and in the parking lot at Applebee's I found 40 dollars! I am not kidding! I found a 20 and Mommy and Lindsey found another 20! We are going to split it three ways. Gotta go to bed now, Bye bye! Oh yah and it is raining a lot and lightning and thundering!
---
Samantha
7/17/2001
11 days till we come!!!!!!!!!!!
---
Samantha
7/16/2001
12 days till we come!!!!!!!!!!!!!
---
Lindsey
7/16/2001
Hey everybody! On Saturday I went to the mall and got my ears double peirced. It is cool! I have to clean them twice a day but they didn't hurt when I got them done. Well, gotta go, bye!
---
Amanda
7/16/2001
We just got done doing a little bowling. I bowled 3 games for my class, and Tristen and Lindsey bowled 2 games with bumpers. Tristen got the ball stuck in the gutter twice, the guy had to walk down to get it out. I am sore! But 3 games down, only 12 to go, woohoo! It's a hot one today! MAN! I think I saw 95 degrees at 4. YUCK! Since I waitressed at Applebee's I pretty much have the menu down, but still can't decide, it'll depend on how we feel when we get there. The chicken stir fry is good, as is the chicken fried chicken. We'll keep you posted.
---
Donna
7/16/2001
So has anyone filled out their "Who Am I?" yet? I just did. I think that's safe to announce since Gary isn't playing this time. Right? [Right! --Gary] If there was a question that said "who would you like to be most this week?", I would pick Lindsey. I really wish I could play with Tristen and have lunch at Applebee's and pull weeds. That sounds like so much fun. When you go to Applebee's, try the Oriental salad. It's my favorite thing on the menu.
---
Lindsey
7/16/2001
Yes Tristen has a lot of plans for us and we wil probably go bowling and maybe go to the park with Tristen. I didn't know we were going to Applebees. Tristen is going nuts with Zoe and just dropped her.
Tristen
7/16/2001
Uh Amber with her nephew. These two. Uh Lindsey I want a bowl to put sand and weeds so get off the caputer. Um hi Grandma and Grandma and Grandpa and Livey. Buh-Bye now. I am going to pull weeds and Sasha is helping bye
---
Amanda
7/16/2001
Lindsey is here at our house for the week. She came up last night and will be staying until Thursday or so. She came to help us with Tristen while I am trying to tackle this awful Biology class and Ryan is working 12+ hour days... Tristen has lots of plans, and I know for sure we will be bowling, which Tristen is excited for. And we will be going to Applebee's one day, as we have a new one opening up real close to home on Tuesday. Congrats to Linz and Liv on the mile run, too!
---
Samantha
7/15/2001
13 days till we come!!!!!!
---
Samantha
7/14/2001
2 weeks till we come!!!!!!!!!!!!!!
---
Samantha
7/13/2001
15 days till we come!!!!!!!!
---
Samantha
7/12/2001
16 or 17 days till we come!!!!!!!!!
---
Lindsey
7/12/2001
Yesterday, my dad, my uncle, and me went golfing and I got a 63. I didn't say I was a pro! It was only a 9 hole but took like 2 1/2 hours which wasn't bad because we went at like 10 in the morning. It was like a par 30 or something. It had like 3 par 4s and 6 par 3s. It was fun! Well, I gotta go, bye!

Lindsey, there are also some very nice golf programs at bargain prices for the computer, if you're into golf. Look for a program called Jack Nicklaus 6: Golden Bear Challenge -- it is very realistic, it looks great, and you can find it for around ten bucks. It comes with six or eight different courses, but you can also download many courses from the internet, or design your own with the course editor that comes with it. I can show it to you on my computer if you want to see it. --Gary
---
Samantha
7/12/2001
Hey Gary is the theme ******????

You got it! :-) --Gary
---
Lindsey
7/11/2001
Yah! I can't believe I was the first one to get the Theme! So it was ******! ****** ****** ****** ****** ******! Well anyway, are you going to do any more Themes?

I can't believe how many times you said ******! :-) Yeah, I'll do some more themes, but I think I'll start a new "Who Am I" next. --Gary
---
Amanda
7/11/2001
Well I'm, guessing the theme as ****** [You're right! --Gary], though I think everyone is quicker than I am. School has been taking up all my time this week already. Tomorrow is my last day in the first week. And a long one, but only 4 left! That means only 16 more meetings, and not 20! It is a long class though & I can feel it after about 2 1/2 hours. But so far so good. We have a test each week starting next week, and lab everyday for the last hour or so. That kind of breaks the monotony. Still dont have a sitter for Tristen, so Ryan is killing himself staying awake when he should be sleeping. He cant get onto another shift either to help that out. Anyhow. Just wanted to get in a little on all the games going on on here.
---
Emily
7/11/2001
Hi Everybody!!!
Hey Gary I was wondering if we were ever going to do another "Who Am I"
Gotta Go
Bye 8*)

Yeah, I agree, it's about time to do another one. I'll try to have one ready next week! --Gary
---
Karen, Emily and Erika
7/11/2001
We went for a drive by the river last night. When we were there we saw the rescue boat in the river. Then we saw a body floating by the boat. A guy jumped off of the boat and tried to catch it. This morning in the paper we saw that it was just a practice. It looked real to us. :)
---
Lindsey
7/11/2001
Well, I was the unsigned name and I forgot what I put, but I was the first one who got it right!

Aha! Looks like Donna was trying to steal the credit! :-) --Gary
---
Emily
7/11/2001
Is the theme ******??? 8)

Yes! You got it! --Gary
---
Karen
7/11/2001
Is it ******??

Yes! That's it! --Gary
---
Erika
7/11/2001
I think it is ******.

Yes! You are right! --Gary
---
Lindsey
7/10/2001
Really, I was right, it was scenery!

Sorry, no, not scenery! The rest of the pictures will make it easier to underSTAND (hint!). --Gary
---
Samantha
7/10/2001
18 days till we come!!!!!!!!!
---
Donna
7/10/2001
That was me! I won! I just didn't sign my name. Really! Woo-hoo!
---
(unsigned)
7/10/2001
Is it ******?

YES!
(I removed your answer so others could continue to play.)
Now if only you had signed your name, you could take credit for it! :-) --Gary
---
(unsigned)
7/10/2001
Is the theme colors, for instance blue and green?
P.S. who am I?

No, the theme is not colors. And I have no idea who you are. :-) --Gary
---
Donna
7/10/2001
Well, since I didn't see the picture on Sunday, I have a definite disadvantage. But I think the theme must be toe rings. I'm pretty sure the squirrel had one yesterday.

Wow, good eye! I didn't notice the toe ring in today's picture. But sorry, no, the theme is not toe rings. There was no toe ring on the squirrel yesterday (visible, that is). --Gary
---
Erika
7/10/2001
I Think the Thang is wether.

Nope! --Gary
---
Erika
7/10/2001
I think the theme is "Summer Fun" :)

Good guess, but it's not "Summer Fun." (The squirrel at the bird feeder in yesterday's picture had snow on him!) Here's a hint: it's not a concept like "summer fun" or "hangin' on" -- it's a thing like "water" or "cookies." --Gary
---
"Me"
7/10/2001
Does the picture theme have to do with "Hangin' On?"
P.S. Gary I think we should be able to see the other pictures, It would be alot easier!

Nope, it's not "Hangin' On." That's true, it would be a lot easier if you could see the other pictures. When you see them all together (on Sunday, the 15th), the theme will jump out at you. A really dedicated player of this game would save (or print out) each picture each day so you don't forget what the earlier ones looked like.... --Gary
---
"Me"
7/10/2001
Does the picture theme have to do with water?

Another anonymous guesser! No, the theme is not water. --Gary
---
Marsha
7/9/2001
On Saturday night at 10 p.m. we got to visit Northwest Airlines behind the scenes. John performed a wedding for a mechanic from the airlines a couple of weeks ago and he (Bill) took us through an enormous hangar (l 1/4 mi. long) to go through the planes being serviced. John, Sam and Anna stood inside the engine of a DC-10 and we all stood on its wing. The DC-10 was the biggest plane we saw. We also went through a DC-9, Boeing B-727 and a Boeing B-747. The DC-10 was my favorite. Bill has been with Northwest for over 10 years and works on electronics and radios. We thought of Ryan a lot. We got pretty close to the runway where some planes were parked and saw one take off. It was a hot night and the moon was full, very pretty night to be out there.
---
Samantha
7/9/2001
19 days till we come!!!!!!
---
(unsigned)
7/9/2001
Is the theme amusement parks?

No it isn't, whoever you are! --Gary
---
Amanda
7/8/2001
Well I guess I start class tomorrow. I wasnt sure I was going to go because 20 things seemed to happen all at once. For one, and this is the major one, I have no sitter. Tristen's babysitter isnt going to do it anymore, this week is her last week. Nice... Also, Ryans uncle passed away and the funeral is in Beatrice on Tuesday, right during class time. Also, Ryan was supposed to leave on a trip soon, soon, but due to the death he wont be going, but could soon. Even if he stays his job makes him very undependable to be home for Tristen. I have her name on the waiting list for the daycare here on base, but I bet I dont get called until August at least, they always have a long list. And I cant fathom paying more than I was when I took her out at the beginning of the summer and I cant find that in such short notice. ARGH... Right now I wish we lived in Lincoln! Wish me luck!
---
Samantha
7/8/2001
20 days till we come!!!!!!!!
---
Marsha
7/7/2001
Emily - what a great looking cake you made!
Erika - loved the drawing of you, that will be so nice for you to keep.
Donna - loved the used brain joke.
It's really a muggy day here. Wish it would rain and cool us off!
---
Samantha
7/7/2001
21 days till we come!!!!!!!
---
Lindsey
7/7/2001
Hi everybody!
Last night we went to a Saltdogs game and we got skybox tickets so we got A/Cing! It is really nice except instead of skyboxes they call them suites! But it was fun and then after the game there were fireworks!! It was a really neat show! They were just going off everywhere like 12 at a time and they went through like three whole songs with jst constantly shooting off fireworks! Then after the show they had a "Run the Bases" and you could run the bases like 12 and under but Dad ran with me and it feels neat running under the light. I beat him but that's OK. Well, I better go, bye!
---
Samantha
7/6/2001
22 days till we come!!!!!!
---
Samantha
7/5/2001
23 days till we come!!!!!!!!!!!!!!
---
Lindsey
7/5/2001
Hi everybody!
Guess I forgot a poem about the 4th of July. I was thinking about writing one but forgot to and I guess I got too busy!
Erika~neat character picture. I forgot what you call them. You look just like the picture.
Anna~Cool recipe, we use that one a lot. I have also been trying some new things. If anybody needs a recipe for anything I would be glad to put it up for you. I have tried a bunch of things.
Sam~How many days 'till you come down? What are you going to name your mice, if they were boys you could call them Tom and Jerry. So now you have a rat and two mice. You are into the rodents aren't you. I have wanted a bird for about 2 years now and have been begging my parents but they still won't let me. They say they are too messy and smell but the bird would be in my room now. I really want a bird!!
Our neighborhood was also like a warzone last night from about 5:00pm to about 5:00am! A lot of illegal ones but I don't think the police really cared that much this year because nobody was getting caught.
Donna~funny joke! I had never heard that one before! I like it.
Gary~I thought A.I would be a good one but from your review it doesn't sound too go-to-the-theater type movie and see it. I would wait 'till it's on Paperview and get it.
Emily~that was a cool cake. I like decorating cakes. I have done a few neat ones.
Hey Amanda, we found a picture of the pool table one you did for Dad. It's a picture of him, you, Sean, and Dad is holding the cake. Well, I have said about all I could, Bye!
---
Grandma
7/5/2001
Neat webpicture today. It looks like Erika!!! I really like it. Sam, does your rat live happily with the other rodents? If I could think of them as Stuart Little they might be o.k. Anna, I have a new favorite recipe, thanx for that one. 24 more days, all right!! Linz, good way to win a b.b. game especially in this weather! Hope everyone had a good 4th. It sounded like a war zone here from 9 to 10 especially. There was certainly a lot of lawbreakers in this neighborhood last night. Stays too hot for me to get much accomplished.
---
Donna
7/5/2001
Sam, Why is that you were able to trade one male mouse for two females? That doesn't seem right. It reminds me of a joke I heard about this guy needing a brain transplant. The doctor told him there was a car accident and two people had not survived. The guy could choose the brain from either the man or the woman. The only difference was cost. The man's brain cost $10,000 but the woman's brain only cost $500. When asked why there was so much difference in price, the doctor replied, "the woman's brain has been used." :-)
---
Amanda
7/5/2001
I did a cake like that, Emily, a few years back for the fourth! Looks great!
---
Samantha
7/4/2001
Hi!!! Well I gave back the boy mouse for 2 girls. But I don't know what to name them yet. So if you have any ideas for names put them on the webpage.
---
Samantha
7/4/2001
Hi!!! I just got a pet mouse from one of my friends. His name is Henry. Oh yah, we'll be there in 24 days!!!!!!!!!!!
---
Emily
7/4/2001
Happy 4th of July Everybody!!!!!!!!!!!!!!!!!!!!!!!!!!!!!!!!!!!!!!!!!!!!
---
Lindsey
7/4/2001
Hi! I guess my game was cancelled last night because the other team had to forfit. I was kinda glad. Happy 4th of July everybody! ;} Tonight we are just gonna do fireworks and stuff. Well, I got my computer in my room and have been playing this little stupid rodent game but it's addictive like the Sims because you just wanna win and will not stop! Well, I gotta go, bye!
---
Paul
7/4/2001
Hi everybody
Not much going on here. Hot, hot, hot, for the 4th. Been busy with projects for other people lately.
Tristen, I got some mosquito bites too, and I'm not even a robot. Amanda, bowling!! That sounds like the classes I wanted to take when I was in school. So is it pass/fail, if you average a 180 thats an A or average a 60 thats a D?
Well not much on the sports scene this week with the 4th and all. Lindsey lived through her game at Southeast (no A/C though). It was canceled when the other team didn't show up.
Livey had her game, a tough 15 to 12 defeat. Livey really had a good game though. She likes to play, and you can tell she has fun. She told us after the game "We lost by 3 points, but we won everything else." Good outlook! She also sez, "I just wish the ball would always come my way every time."
Well everybody, have a safe and happy 4th.
---
Amanda
7/4/2001
Anna, great recipe! I think I will try that one before any other...
---
Amanda
7/4/2001
Lindsey~ way cool pictures! Nice looking room, still cant wait to see it in person! Happy 4th everyone! We got a nice little surprise this morning, Ryans good friend who left about a month ago to go to a training school in Calyifornya came home as a surprise late last night. They are neighbors of ours (their son is Dorian who Tristen talks about non stop). It was a nice surprise because they will be moving home to Colorado in about 2 months and we wont be seeing them NEAR as often. Other than that no huge plans for the day, except to stay cool and shoot the weather people, I swear they are wrong saying it is only 80 right now, it has got to be close to a hundred. Ryan and Tristen already have their arsenal for tonight, and Tristen is eagerly awaiting the dark.
---
Anna
7/3/2001
Hi everybody! Lindsey your room is very very cute! I like how you did blue and green it looks nice together. I just came back from my friends pool. It's pretty hot here. Happy 4th of July. :] :} bye
---
Marsha
7/3/2001
Happy 4th. Be careful with those firecrackers y'all. Sam is working tomorrow, but she'll be home for a cook out. It will be about 80 so it should be a nice day. Those Nelsons looked pretty cool on that ferris wheel. Wish we had a picture of Mom and Dad on top of that ferris wheel. Lindsey, it is really hard to keep up with you and all your projects, your bedroom looks just fantastic! I haven't tried the omlette (I'm not an egg eater) but it sure looks like a good recipe. Anna is taking a Red Cross babysitting class in a few weeks. Tristen, how did you get to be a robot???? Are you made out of metal? Do you have a computer for a brain? Is Livy a robot too? What about Emily and Erika and Lindsey? It is a mystery to me!!
---
Samantha
7/3/2001
25 days till we come to Lincoln!!!!!!!!!!!
---
Lindsey
7/3/2001
Well, Wish Me Luck! Tonight we have a basketball game at Southeast (Amanda) and I don't know if they have A/C or not but I hope they do because you can only have 5 people on the court at a time and tonight we will only have 5 people at the game so that means no subs no breaks except for time-outs and my coach is going to try to use all of her time outs for us to use as break because we will need it! I might get to try pointguard because I did that last time, I tried pointguard and she thought I was really good at it so she might try me at point. I am trying to drink all the water I can and breathe as much as I can because it's going to hard out on the court. My game isn't until 6:30 but I have to be there early. I am going to Olivia's game for a while and then going to mine. I just hope I don't die on the court!!! So if this is my last newsletter for a while, you will know why. I will check the webpage but if I don't write one for a while, just live with it. Bye! :( :( :( :) :) :)
---
Grandma
7/3/2001
Wow, Amanda, school starts early anymore. Be nice to have the hard one done though. Sean goes back in a week or so and so does Lauren. I saw "The Ghost and the Darkness" a long time ago too and count it among my favorites. Boy, Brent and Erika on top of the Ferris Wheel, at least I thought that was them until I scrolled down. Remembered when Grandpa and I went on the ferris wheel when we were dating and got stranded at the very top, for what seemed like hours. I am not fond of heights and Grandpa only went on a ride to please me, consequently, it was the last time we went that I can remember. I hope everyone's mosquito bites are better. Mine get renewed daily. HOT and HUMID today. Marsha and Sam will be here the 29th. Happy Fourth of July Everybody!!!
---
Amanda
7/2/2001
I start back to class on Monday, the 9th. I am taking Biology 101 and Bowling. We have to have 2 PE credits to graduate, so I am going to try to knock out 1 this summer. These classes are only 5 weeks long, but still the same curriculum as the 16 week courses, so it might be rough. I will go a lot longer during the day, but in 5 short weeks I will have 5 credits, to bring me to 29 total. I will go to class from 8:30 AM to 11:30 AM Monday thru Thursday, and then the bowling is basically self study, do it on my own time, just go in and bowl 10 frames, no biggie. Science and math are not my strong suits, so I am hoping since I am just taking the one class it will be easier to focus my concentration on that one. When I am done in 5 weeks, I have I think 2 or 3 weeks off and then back to regular fall schedule already, sure seemed to go quick!
---
Amanda
7/2/2001
So I guess I am the only one who hadn't seen The Ghost and the Darkness. Since it is such a favorite of everyone, why wasn't a review ever written so that others didn't miss out????

Well, it came out in 1996, which is four years before we started this webpage! :-) But I was thinking earlier that writing reviews of "Movies You May Have Missed" is a good idea. I caught "Defending Your Life" (with Albert Brooks and Meryl Streep, 1991) on TV the other night, and was reminded what a great movie that is. If you haven't seen it, do yourself a favor and rent it! --Gary
---
Karen
7/2/2001
Saturday Brent and Erika went to Saturday in the Park -- it's a 4th of July festival at one of the parks in town. They have several local bands that play all day and some carnival rides and lots of other activities. Brent and Erika were on the front page of the newspaper yesterday -- can you see them???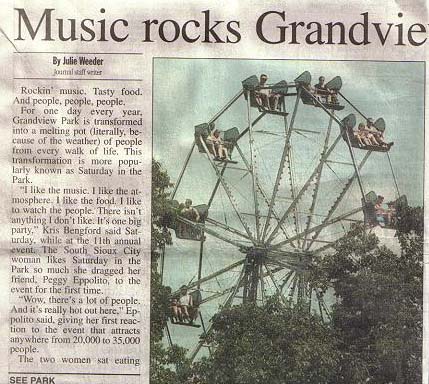 Here's an enlargement.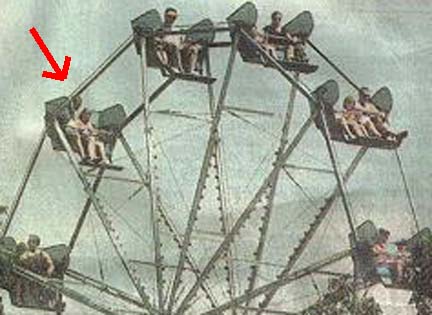 ---
Lindsey
7/2/2001
I didn't know you were a robot Tristen?? WOW!! You caught 2 fish? How big were they? Sounds like a pretty neat fishing pole. I have some mosquito bites but I am still alive. Way to go with the newsletter! Hey has anybody tried my omlette? I gotta go, bye!
---
Tristen
7/2/2001
I went fishing for the first time! We went to my family's cabin and I caught 2 fish! I got my own pole it is purple and pink. I also have real bad mosquito bites, the real tiny drank all all all all the blood and Im still alive. Isnt that weird? Im just a robot.
---
Gary
7/2/2001
Hey, this newsletter set a record last month: The June newsletter was the longest one yet! We first started doing the newsletter almost a year ago, and it's going stronger than ever. Congratulations, everybody! :-)
---
Marsha
7/1/2001
I've enjoyed the latest recipes and project reports and reviews. The Ghost and the Darkness has been a favorite here for a long time too. We want to visit those lions in Chicago sometime. We have had a nice cool day - feels great!
---
Lindsey
7/1/2001
Hey I put up a new recipe and if anybody tries it tell me how you like it. I will probably be putting a lot of new recipes up and you know why if you read my recipe.
Thanx Bye!
---
---