Old news: June 2010

Back to Newsletter
Gary
6/28/10
I know that it is sometimes hard to find 20-some extra minutes in the day, but if you are a Lisa Kudrow fan (and how could you not be?) here is something you won't want to miss. She was a 1985 graduate of Vassar, and last month she was invited to give the commencement address to the Class of 2010. It's interesting, and funny:
---
Gary
6/25/10
New recipe today, from an anonymous chef in Minneapolis. (I assumed it was from Marsha, but it was unsigned, so if it was someone else -- Sam...? -- let me know and I will make the change.) It sounds good and looks easy!
---
Gary
6/24/10
Cool photo here. Obama is adjusting Dick Van Dyke's tie at a reception at the White House. Michelle Obama (almost out of frame at left) has said that the old Dick Van Dyke show was her favorite series.
---
Gary
6/23/10
A couple of new photos just arrived from Minnesota, showing John grilling a Fathers Day feast prepared by Sam. Looks good! (I mean the food looks good -- John looks about the same as always...)
---
Marsha
6/22/10
What wild weather! So sorry your house was struck Metcalfs, but we are really glad that you were not there when it hit! Has your insurance sent out a claim adjustor yet? Is anything electronic going to work normally again? Keep us posted, we are thinking of you. We had between 40 and 60 tornados in Minnesota but they all skimmed around Mpls. Today was HOT and humid.
---
Amanda
6/22/10
This is really cool!!!
Place your cursor at the top of the photo. You will notice it is 6:10 PM.
Bring the mouse down slowly over the photo without pressing the button on the mouse. Do not right or left click.
Night time appears, the lights come on, and at 7:40 PM, it's dark!
---
Gary
6/22/10
Hey, just to warn you: Things have gotten a little tougher at the DMV. Check out this video of the new Nebraska drivers test:

Okay, I'm kidding. It's an exhibition of stunt driving. The video is about ten minutes long, but if you tune out early you will miss the amazing spectacle of a guy changing a tire while the car is moving. This is around minute 3:30.
---
Gary
6/21/10
As I was listening to the scanner during last night's storm, I heard something I haven't quite got figured out. Cops from two or three locations around town called in to say that manhole covers were being lifted up and off (from water underneath the street? or air pressure?), and that cars were then getting damaged from driving over the open manholes. Weird.

Cops all over town were calling for help in barricading streets. They ran out of barricade material at one point and thought they might have to get some from the county, or state. And there were several rescues of cars stranded in water. One sounded sad and scary, and I never heard how it came out: A van was stranded in water with a whole family inside, and then the driver (the dad, I suppose) was having a stroke or some kind of seizure at the wheel. Yeesh.

I also heard the police chief in Waverly call in to say that about "half the streets in town" (his words) were flooded, and that if another storm cell came along (and we did have at least a couple more waves of storms after that), he would need some help from the Lincoln police in keeping people off the roads and rescuing those who drove into deep water.

Karen, after your comment about the Sioux City law against scanners, I checked my list of available scanner channels. And it's true: The police/etc channels in almost every other town in Iowa (and every other state) could be tuned in, but not Sioux City. I wonder what your cops are doing that they don't want anyone listening in, hmmmm?
---
Donna
6/21/10
OMG, you guys really got hit! It was a horrible storm and it never let up. It rained hard all day long and into the evening up till about 9 and then I woke up to a thunderstorm at 4 this morning. I love rain and thunderstorms but enough already.

I heard about Havelock getting hit with flooding and large hail and I heard that the airport had tennis ball size hail. I had hail but only about nickel size and that was bad enough.

Mom, did you lose power? I heard there was a power outage (I think) at 33rd and Holdrege.

Amanda, how were the animals? I bet they were a bit shaken up. I wonder how loud that lightning strike was.

Are those first pics at Lindsey's? That's not your stove. ;-)
---
Amanda
6/21/10
Needless to say Grandma, we won't be over for dinner tomorrow night. We're just now starting the ball rolling on all this stuff, estimates, contractors, etc.... Ugh....

I thought you might want to come over just to enjoy TV, computers, and light switches that work. :-) --Gary
---
Amanda
6/21/10
And we found more scary damage. This is in the basement under the chimney. It just gets scarier & scarier as we realize we're lucky our house didn't catch fire. The last photo is what the wires & duct are supposed to look like.

Scroll to the bottom of the page to see these latest pics. --Gary
---
Karen
6/21/10
Wow, Metcalfs -- wild night for you. Didn't that happen to you guys before? I hope your insurance will cover it. Gary, Brent will be so jealous of you. You have a police scanner? Brent really, really wanted one, but some weird law in SC and they are mega bucks to get.

It's actually an app on my iPad. I can listen to the local police/fire/EMS channels, plus similar channels from all over the U.S. -- plus air traffic control and a ton of other stuff. I loves me my iPad! :-) --Gary
---
Gary
6/21/10
Wow, you guys sure took a hit last night. I was listening to the Police/Firefighter/EMS scanner last night through all this, and man, were they busy. Blown transformers, power lines down, flooded intersections, lightning strikes (though none I heard were as serious as yours), plus a rash of break-ins and burglaries (I guess using the weather as cover?). Another wild night, in a long series of wild nights. Sorry to hear about all your fried stuff, but it could have been a lot worse. And yes, it would have been pretty scary to be home when all this happened. You may not feel like it right now, but you were lucky!
---
Amanda
6/21/10
Last night we all were at Lindsey's grilling out for fathers day & we got yet another storm, hail included. On our way home, Havelock Street at about 78th was flooded out, so we all had to turn around. Then when we got home our garage door wouldn't open (we found this out after we went & looked at the "creek" in our neighborhood. This "creek" is usually a dribble of water that runs behind the houses 1/2 a block away). Anyway, Ryan manually opened the garage door & we pulled in. He came in the house & noticed 1/2 the stuff was off so he went downstairs to the breaker box. While he's throwing back on all the breakers that blew someone rings our doorbell. Our neighbor asked me if we had been home that evening & I said no. He said, "well, lightning struck your chimney cover, we neighbors saw sparks fly. We've been keeping an eye on the house ever since." Great..... We started to assess the damage, and so far 2 computers (one that's 2 months old & on a fancy back up battery/surge protector), 3 tvs (big screen included), the wii, the playstation 2, 3 dvd players, my treadmill, our sprinkler system, our garage door opener and lord knows what else are fried. Notice the light switch. Scary. I'm glad we weren't home! Ryan's theory is this: lightning hit the chimney & it shot down the chimney where there is a fan blower & then took the path of least resistance to the circuit breaker & selectively chose to fry certain things. And arced out at that switch, which is for the fireplace blower. Our phone & cable & internet is out, right now I'm using our neighbors unsecured network. Oh and the basement's got water in it. I've already filed a claim online, waiting for a call this morning. My GOD, seriously mother nature, STOP WITH THE STORMS!!!!!!!!!! Bring on the 100 degree weather, I don't care!!!!!!

Photos here. --Gary
---
Karen
6/18/10
We had some rain (again) this morning, but it looks like it is clearing off. Did hear that Minnesota had nasty weather last night -- did it hit Minneapolis?

Sitting at the new dinning room table. It arrived 1st thing yesterday morning. Very nice! I think our purchases are finished now. Erika has senior pictures next week -- so she and I are heading out later to get the last things she needs for that. Emily had to work today. She was at work last night, but was offered to get off two hours early if she could go in today at 7.
---
Gary
6/18/10
I know there are some Monopoly fans out there, so you may enjoy this -- the "shortest possible game of Monopoly." If these particular dice rolls happened, and the players move quickly, the game would be over in 21 seconds:

Here's the play-by-play:

Player 1, Turn 1:
Roll: 6-6, Lands on: Electric Company
Action: None, Doubles therefore roll again
Roll: 6-6, Lands on: Illinois Avenue
Action: None, Doubles therefore roll again
Roll: 4-5, Lands on: Community Chest "Bank error in your favor, Collect $200"
Action: Collects $200 (now has $1700)

Player 2, Turn 1:
Roll: 2-2, Lands on: Income Tax
Action: Pay $200 (now has $1300), Doubles therefore rolls again
Roll: 5-6, Lands on: Pennsylvania Railroad
Action: None

Player 1, Turn 2:
Roll: 2-2, Lands on: Park Place
Action: Purchase ($350, now has $1350), Doubles therefore rolls again
Roll: 1-1, Lands on: Boardwalk
Action: Purchase ($400, now has $950), Doubles therefore rolls again
Roll: 3-1, Lands on Baltic Avenue
Action: Collect $200 for passing GO (now has $1150), Purchase 3 houses for Boardwalk, 2 for Park Place ($1000, now has $150)

Player 2, Turn 2:
Roll: 3-4, Lands on: Chance, "Advance to Boardwalk"
Action: Advance to Boardwalk, Rent is $1400, only has $1300 = Bankrupt

GAME OVER
---
Gary
6/18/10
Wild weather today! I heard hailstones hitting the windows sometime during the night. Looks like it's pretty much over for today here in Lincoln, but Sioux City and Minneapolis both are in for more as the day goes on.

As I drove past the Capitol building on my way to work this morning, the building looked totally white -- like ivory, almost -- against this backdrop of black churning clouds. "I've gotta get a picture of this!" I thought, but I had left my camera at home. (I'm carrying an iPad around now, so I had jettisoned the camera to reduce the weight of that black bag of mine.) Sitting there in the car I debated for a second; and then I saw a couple of people on the sidewalk holding their cellphones up to capture the scene. So I decided to get on it too. I flew the two or three blocks back to my house, with the city looking really weird: street lights had come on, it was very still, and crickets were chirping. Going inside and grabbing my camera took less than a minute, but when I came back outside things had already changed: a strong wind had come up, and the sky was already noticeably lighter. I quickly drove back to the Capitol, but now the sky was just a bland grey. The lesson? If you want to take pictures, always have your camera with you!
---
Lindsey
6/14/10
Sounds good grandma! We do play vball at 7:30, but we couldn't miss Tuesday night dinner again!!
---
G'ma
6/14/10
So it is back to 6:30 supper tomorrow, ok?
---
G'ma
6/14/10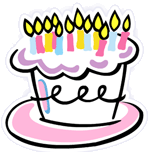 Happy Birthday, Paul!!
---
Donna
6/14/10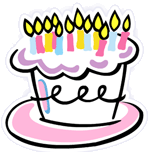 Happy birthday Paul!
---
Ryan, Amanda, Tristen & Teghan
6/13/10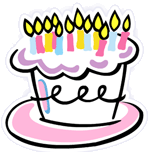 Happy Birthday Dad!

See the photos of all of us, and the FIVE dogs at Pioneers Park tonight. We went there for Dadís birthday, played some softball, walked the dogs (or they walked us in some cases!) and ate Leeís Chicken!
---
The Hatgidakis Clan
6/13/10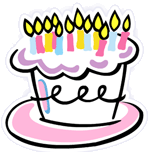 Happy Birthday Paul!!!!!
---
Nelsons
6/13/10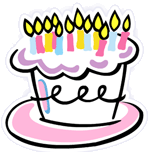 Happy Birthday Paul
---
Amanda
6/12/10
Speaking of Tuesday night dinner.... Since everyone got used to 6pm dinner again, now I gotta switch it up a bit thanks to Tristens summer dance schedule. On Tuesday nights she has dance til 630, so we'll be there shortly after that. Can you all wait on us, or is that pushing it too late?
---
Lindsey
6/12/10
Hey Grandma, just letting you know me and Matt will be there for dinner Tuesday night!
---
Karen
6/11/10
Well, I thought we got through the storm without any damage..... We looked around the yard this morning, early and didn't see much wrong. I just looked out the bedroom window and thought, gee, when did Brent clean out the shed?. So I walked in the back yard and saw the shed. It has been picked up by the front and leaning on fence, but everything inside of it is exactly as it was before. Erika went out to take some pictures so maybe I'll send some in. Thinking we will be calling the insurance company tomorrow......
---
Amanda
6/11/10
Gary! Do you sleep in a coffin?? We did have another storm last night, you never heard it! It woke me up & I stayed up for 45 minutes I bet & I'm thinking today, we need a break, I can't sleep a full night anymore thanks to the storms!

Coulda fooled me! I thought I noticed this morning a few puddles on the ground that weren't there yesterday, but I wasn't sure. I slept like baby Jesus last night, and woke up to a cool sunny morning. Life is good! :-) --Gary
---
Karen
6/11/10

Wow! We had a massive storm early this morning. Brent and I woke up about 3, we both heard the wind and probably hail. Looked out the front door and it was blowing and pouring. The electricity was off, so after fumbling around we decided we may as well go back to sleep. We continued to hear the storm for the next hour. Sometime later the power did come back on. We got up this morning we walked down the block. Lots of trees down, at least 4 in our block. Pieces of siding in random areas, branches everywhere, firetrucks driving around looking for down power lines. We lost just a few branches and they blew into the neighbors yard, so not much clean up for us. Heard this morning that we had over 1 1/2 inches of rain in 45 minutes, and winds up to 75 mph. So we need a break!

Whew. Mighty wild weather y'all are getting up there! Beautiful morning here -- cool with nice blue skies. And if we had any weather during the night, I didn't hear it. --Gary
---
******
6/10/10
Teghan, you're so right, your name wasn't necessary, I knew who it was. Matter of fact, I won't put my name on this note, cuz I know you'll know who it is!!!!

I knew it was you. Ha ha! --Teghan
---
Gary
6/10/10
Got super-dark here too and rained for 15-20 minutes. According to Teghan's makeshift rain-gauge at Grandma's (a water glass placed on the sidewalk) we got about half an inch.

For those who don't know, Teghan is spending the afternoon here with me in my office. Tristen had a babysitting gig, so Teghan was at loose ends. After I typed her dictation below, Teghan said to me, "You really don't have to put my name -- I think my mom will know who it is."

We had lunch at Grandma's where Teghan invented a new recipe. Will it be more popular than Popcorn with Lettuce? Only time will tell!
---
Amanda
6/10/10
Gary, I don't know what it was like at your work, but it poured here!!! It was as black as night outside!!! We got hail & lots of thunder. My mom said her house was dry as a bone, so strangely it hit the north side of town pretty bad, and nothing south of town.

How's Teghan doing there at work today?

I'm doing awesome. I'm playing on Gary's iPad. --Teghan
---
Karen
6/10/10

Boy, oh boy we are getting a huge thunderstorm! I went to get groceries first thing this morning, hoping that I'd be done before it hit. I was checking out when it started to pour. Got soaked getting the groceries in the car. When I got home I actually had to dry the food before I put away. So I think I am home for the rest of the day. On the plus side -- I didn't have to paint the trim on the house. This winter took a toll on the house and the trim has to be painted this summer. Brent and I went out Sunday and got all the supplies, then it started to rain ....... so maybe next week :)

John and Anna, how was Colorado? Tristen, Teghan and Olivia what are you doing this summer?

Erika is working 30+ hours now that she is off. She has her senior pictures later this month so she has also been shopping for new clothes. Emily is planning a trip to Columbus with Jack this week-end.

I've been watching the weather map and saw that big storm hitting you guys. We are going to be just grazed by the southern edge of it. --Gary
---
Gary
6/9/10
One brave (and smart) bird:
---
Gary
6/8/10
For those of us who want to keep up with the BP oil disaster, Donna sent in this link to the news page of the official New Orleans site Nola.com. Thanks, Donna! The site looks good. And it's good to have a news source which is not controlled or influenced by BP. You heard, I'm sure, the revelation a few days ago that BP paid Google and Yahoo very large sums of money to alter their search engines so that whenever someone does any kind of search on the situation in the Gulf, they would be directed to BP's own site for a whitewashed version of the news. I really hated to hear this because I always trusted Google. Now? Not so much. Thanks again for the link, Donna!
---
Gary
6/7/10
New recipe today. Thanks, Sam. Sounds great!
---
Karen
6/5/10
Brent and I had a nice day today. We went to Omaha, had a very nice lunch with his sister -- even got to see of of two of the grandnieces. Then we went to Nebraska Furniture Mart. Now that we have the living room looking so much better, we decided we needed to update the dining room. So we bought an oak table with chairs. Won't be delivered for a couple of weeks, but it's on the way. Just got home a little bit ago and got some Pitas at the Pit.

Your couch looks really comfy -- made me want to take a nap! Nice of Erika to make dinner for you tonight. :-) --Gary
---
G'ma
6/4/10
Karen, I really like your new furniture too. Bet you are having fun painting--or not. Nice to see I am not the only one who doesn't know what day it is, Amanda! See you Tues.
---
Amanda
6/4/10
Grandma, I'm all screwed up on my dates... We will be there next Tuesday for dinner, our dentist appts are on the 9th, which is a Wednesday, not Tuesday like I've been thinking all along. Duh! See you Tuesday!!

Girls are out of school! Tristen had a pool party last night with a lot of other 7th graders & then went home with one of her good friends & spent the night. I'm at work today, wishing I was home!! I want summer break!!
---
Karen
6/4/10
Donna, thanks for the card and the cute lady bug. I'll put it on my key chain today :)
---
Donna
6/3/10
Karen, I really like your new furniture. The couch looks a lot like mine. Send pics of the coffee table when it comes too.
---
Karen
6/2/10
Thanks for all the birthday wishes. I had a great day! In fact we got a living room full of new furniture. Still waiting for a coffee table, but the couch, loveseat, and chair all arrived yesterday. Marsha, thanks again for the gift card -- I think I will treat myself tomorrow.
---
Ryan, Amanda, Tristen & Teghan
6/1/10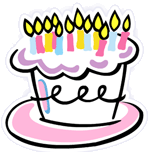 Happy Birthday Karen!
---
Donna
6/1/10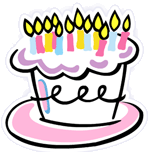 Happy birthday Karen!
---
---