Old news: September 2001

Back to Newsletter
Emily
9/29/2001
........ AND ONLY DAYS UNTIL MY BIRTHDAY!!!!!!!!!!!!!!!!!!!!!!!!!!!!!!!!!!!!!!!
---
Amanda
9/29/2001
That means days until this baby is due!!!!!
---
Lindsey
9/28/2001
.......and days until MY BIRTHDAY!!!!!
---
Gary
9/28/2001
Only days til Halloween!
Only days til Thanksgiving!
Only days til Harry Potter!
Only days til Lord of the Rings!
Only days til Christmas!

---
Amanda
9/28/2001
Ryan is leaving today for Texas. Just for 2 weeks. He should be back the 12th or 13th of October. He is going for 7 level school. Just a 2 week training-refresher type course on his current job. They all do it, and all it means is he is that much more qualified to fix a plane. No big deal, just more responsibility, yea, like he needs/wants that! Anyhow, just thought I'd keep you informed. He is actually driving down Saturday morning, it is about a 9 hour drive, back to ol' Wichita Falls, Sheppard AFB, where we lived some 4 years ago... He is kind of excited to see it again.
---
Donna
9/27/2001
My car conked out on me Monday night. Fortunately, I was in my driveway at the time. So I called Metcalf Garage in Omaha. I first talked to a girl with a bad case of hiccups that turned into giggles every time she tried to speak who then transfered me to the mechanic. "Sounds like a dead battery, maybe a bad alternator or both." Since this was somewhat of an emergency, he told me to check with the mechanic in Lincoln. The Lincoln mechanic came to my house, jumpstarted my car so I could get it to his garage on N. 43rd Street. Once he was sure that the alternator was fine, we went shopping for a battery. And not just any battery. Do you know there's a diffence? For instance, did you know that all batteries only last 3 or so years--even 7 year batteries? After several calls and two stops we found a battery that met his standards. It took him only a few minutes to install and I was back on the road.
Thanks Sean and Ryan!!!
---
Karen
9/27/2001
Amanda - character counts is a program at Erika's school - it's basically for good behavior. A teacher submits students names if they see them doing something "extra." Erika is home (again) with an ear infection. Took her back to the doctor this morning. Has an inner and outer ear infection. Got some stronger medicine and ear drops. Emily has had her braces on for two weeks now - doing well with them -- only 1 year, 5 months and 2 weeks to go :)
---
Lindsey
9/26/2001
Hey Gary, when are you going to to do Donna's picture of I bet you didn't know thing? Huh-Huh?? I know the Tuesday thing took place but when are you going to do it?

I know.... I will have it done soon, promise! --Gary
---
Grandma
9/26/2001
Congratulations, Erika! Character DOES count, and I'm glad you think so too.
---
Paul
9/25/2001
Congrats to Erika, nice pictures too!!
---
Amanda
9/25/2001
What is character counts???
---
Karen
9/25/2001
Erika received an award at school today for character counts.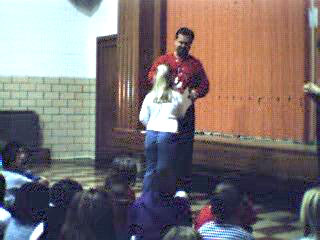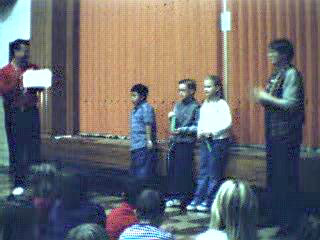 Way to go, Erika! --Gary

---
Sean
9/24/2001
Hello everyone. Just thought I'd say hi. This last weekend a friend and I had some extra business come in. Here and there we do a project to peoples vehicles for some extra cash. Well, for about a month this kid in Omaha had been bugging us about his truck. He wanted it lowered. We didn't have time until just now to do it. He is 20 years old and owns a 1999 Cadillac Esclade. It was nice! Black outside with sandstone leather, and woodgrain everywhere inside. For those of you who don't know what an Esclade is, I'll tell you. I have a Chevy Tahoe, an Esclade uses the same suv, but totally plushes it out. Nicer interior, more options, and a different body kit. I figured, since it was the same suspension as a tahoe, it would ride like a tahoe. Ohhh man was I wrong, it was nice!! The whole truck was nice!! So, the Cadillac Esclade gets two thumbs up from me if anyone is in the market for one. Remember to bring your piggy bank!!! Also, if you want it lowered, E-mail me and I'll schedule you in!!
---
Paul
9/24/2001
With all the terrible events lately, you may not have been keeping up with sports gossip. You may or may not have read that Michael Jordan has once again delayed making the announcement that he is returning to basketball. Lindsey Anderson is unsure about joining a team that contacted her last week. Jordan last retired in 98, Lindsey Anderson played on her first team in 98. It seems to me that Jordan doesn't like to share the hardwood, when Lindsey Anderson just might be on the court! Coincidence, I don't think so!!!
It's time to step up, Michael!!
---
Gary
9/21/2001
To kind of go along with the "Tribute to the United States" on our webpage today, have a look at this heart-warming page. (Have patience with the long download time -- there are a lot of pictures.)
---
Tristen
9/20/2001
Try having him for a grandpa!!!!
---
Marsha
9/19/2001
I remember hearing the gruesome story of poor Skinny Lipskey and the scissors incident - some of the details are too gory for some of the tender readers of this page. I must side with Skinny, er Mom, however and cannot believe that she ever provoked such an attack. Paul doesn't realize the torment one has to endure to have a teaser brother!!!
---
Grandma
9/19/2001
Amanda, I think all those inspections are just because those guys want a really good look at your new car. Think???
---
Grandma
9/19/2001
This is for Paul--to set the record straight--I want everyone to know that "scissor attack" many years ago was totally unprovoked!!! I had 3 younger brothers and teasing them would certainly lead to my downfall. HaHa--so your teasing genes must of come from the Anderson pool!
---
Amanda
9/19/2001
This is to those who have to get on an airplane and are a little distressed at the high security measures... That aint nothing! In the one week since this all started I have gotten stopped at the gate to get onto base, to have a full vehicle search not once, no, not twice, but three times! Once was in the pouring rain, and yes, you guessed it, I have to wait outside of the vehicle while it is being conducted. This is all just to get HOME! They are supposed to be random searches, but I guess I have bad odds, most people I know have yet to get searched. Not a big deal, I'm not a terrorist, but I am beginning to wonder if I look like a Muslim or member of the Taliban.......
---
Amanda
9/19/2001
Ever realize just how dumb some people and companies are??? For instance, I ordered something online and it was to be delived by UPS, well, it never got here and never got here, and I didn't have a tracking number for it. Well yesterday I got the tracking number to get to the bottom of this, and I went online and realized they tried to wheel that big ol truck to my house (at the military base, the one Dubya hid out at no less) on September 11 at noon. Now, would you try that? Or would you just assume business probably isn't as usual and move onto your next stop??? Idiots.....
---
Paul
9/18/2001
For all those people that think I am the "teaser" of the family, listen to this tale and think again. I heard this from someone and you can figure out who told me. When Grandma Anderson was about Lindsey's age she was sort of a trouble maker also, aka-Skinny Lipsky. Bob was younger at the time and was cutting out pictures from a magazine and every time Grandma walked by she would step on the page and accidently (haha) turned her foot to crinkle the page and finally after many times Bob said quote: "I just got so darned mad I THREW 'em at her!" Of course it got stuck in her leg and had to be rushed 60 miles to the nearest hospital in Paige, Nebraska. To this day Bob is sorry, but some people still know Grandma as "Skinny Lipsky" and that is the tale of "The Teaser" so you know where I got it from.
---
Amanda
9/18/2001
Here is something interesting to ponder.... You see an ocean of papers lining the streets of New York from the WTC, but do you think (or know) that somewhere in that slew of paperwork there is something with your name on it? Or even more info than that about you on it? Just a thought.....
---
Amanda
9/17/2001
Way cool grandma! I added you! Hope to see you online soon!
---
Grandma
9/17/2001
Hey downloaded AIM today. My screen name is grandmajo12.
---
Gary
9/13/2001
Too little, too late.
---
Gary
9/12/2001
Just FYI, though you've probably heard it by now: this Saturday's Nebraska-Rice football game has been moved to next Thursday night (the 20th).
---
Lindsey
9/12/2001
Well, I guess today got a little better meaning nobody bombed us! But actually they found some people which is good and I hope it only gets better although I think we are going to Pakestan to show them who's boss! OK, anyway, bye!
---
Karen
9/12/2001
I agree with Grandma - the prez didn't instill any confidence in me either -- I heard Bill Clinton and thought he handled it much better than Georgie. Scary to think that he is going to be in charge of all of this......

Notice the difference between George Jr. and his advisors: George only delivers carefully-written (and short!) speeches full of obvious statements that won't get him in trouble ("Today is a bad day, and we are all sad," etc); but his advisors, like Colin Powell, John Ashcroft, Donald Rumsfeld, and everybody else, all give press conferences where they field actual questions. (Powell's impromptu remarks before he opened for questions were far more eloquent and powerful than anything Little George said.) They all know better than to let George Jr. open his mouth at a time like this. Or at any other time, for that matter... --Gary
---
Grandma
9/12/2001
I really enjoyed all the "fake" pictures, hate to see them end, but in light of the last couple days my sense of humor is not very strong. I am not watching the news yet today, it feels like we felt after hearing the Pearl Harbor news except my feeling of Patriotism is not as fierce as it was then. Now it seems to be only depression. With such a great Fall day how can things be so awful for so many people, through no fault of theirs. Maybe we will get back to a feeling of normalcy in a few days, but "our" president did not instill much confidence in me.

But gee, he looked into the camera and read what they told him to read. Isn't that enough??? (By the way, I agree with you putting "our" in quotes, but I myself would also put "president" in quotes....) --Gary
---
Gary
9/12/2001
In light of the ongoing events, I may not be getting the page updated every day for a while. I didn't get Donna's "fake" picture finished (it's the last one), but when I do I will put it on the fake page with the others. Newsletter and reviews will continue to be posted as before.
---
Gary
9/11/2001
Awful news today from New York and Washington. The webcams in New York City are both dark as I write this (noon, Tuesday), but the Washington webcam is focused on the Pentagon, with smoke pouring out.
---
Amanda
9/8/2001
We got a new car. I have been researching it for months now, ever since we knew that we were going to get rid of mine, and we have been looking seriously for a week. Last night in the pouring rain we finally bought and drove home the best one our $$'s could buy. We got a 1999 Grand Am SE, it is just like Donna's actually only it is green and it has a rear spolier, aluminum alloy wheels (which I'm not sure if Donna's has or not), and of course we put a CD player in it (there are some things some of us can't live without). We like it a lot, and Tristen is much happier with this than the other cars we have had for the last 7 months or so. We got it for about $3000 under book, and a little under what we wanted to spend, so the payments are lower than we anticipated, and who is going to gripe about that?! So, all in all, it worked out well. Very happy with our purchase.
---
Amanda, Tristen & Ryan
9/8/2001
Happy Birthday Gary!

TYVM!
---
The Hatgidakis family
9/8/2001
HAPPY BIRTHDAY GARY!!!! We have loved seeing everybody's famous photos!! Thanks....

Thank you; my pleasure!
---
Karen
9/8/2001
Happy Birthday Gary!

Thanks again!
---
Grandma
9/7/2001
HAPPY BIRTHDAY, GARY!!!!!

Thanks!
---
Gary
9/7/2001
If you think you don't have much of an effect on the world, read this. :-)
---
Lindsey
9/3/2001
Sam and Anna~Sounds like you had a fun trip in Caly. I am going to Florida in January, but it will be warm there! Hope to hear more about it!
Emily~Hope your braces work out for you, what colors are you getting? I will have to getbraces but I have no idea when. When they take pictures of your braces, do they stick like goop in your mouth? That's what Amanda said.
Everyone else~Please get AIM there is like usually nobody on, so please please get it!
---
Lindsey
9/2/2001
Has anyone else got AIM yet???????
---
---