Old news: February 2011

Back to Newsletter
Amanda
2/28/11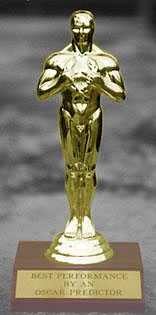 And that means it's been in just 2 households for 2 years... Hatgidakis' and Metcalfs have dominated! (Sadly, the Metcalf children have held on to it for us, neither Ryan or I have ever won...)
Yeah, I'm noting that two-household thing in my write-up of this year's race -- which I just didn't get around to today. Hopefully I'll have it ready to post tomorrow. --Gary
---
John
2/28/11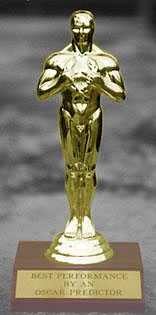 I agree. Tristen's acceptance speech is a hard act to follow. I have won before but it always feels like the first time. Not so much because of the thrill of winning but more because I keep forgetting that I won before. Memory problems, ya know. I would like to thank, uh, uh, uh.... never mind. All I know is that shiny baldheaded dude will stay in the frozen north country for awhile longer.
---
Amanda
2/28/11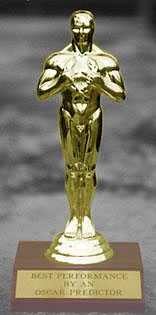 Tristen had the most original acceptance speech. She said, "Yes! I've never won before!" All while juggling a toothbrush & toothpaste in her mouth at 7 am!
---
Gary
2/27/11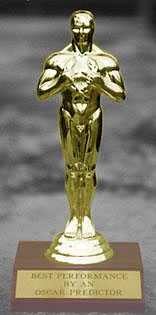 Congratulations to John and Tristen on their Oscar victories! Full report here later.
---
Donna
2/27/11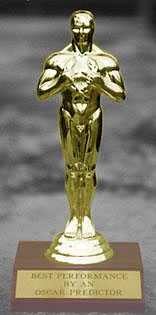 Good luck to everyone on the Oscar's tonight. It's been a long time since Oscar has stayed at my house, I'm hoping to take him home tonight.
---
Gary
2/26/11
Snow Falls on San Francisco! That was the headline this morning. The last time snow was seen in that city was 35 years ago, which happens to have been my first winter there. It was just what we would call a dusting, and even that only happened on the higher areas around the city. But even so, that day it was practically the only story in the papers and on the TV news. I remember the headlines looking like war had been declared: "SNOW ON MT. TAM" in letters two inches high. (Mt. Tam, short for Mt. Tamalpais, is the high hill just on the other side of the Golden Gate Bridge.) Of course, there is no such thing as an ice scraper within two hundred miles of San Francisco, so the news that night showed people clearing their windshields with playing cards and butter knives. Being new to the city, I didn't really get how big a deal it was. But for most San Franciscans, snow is a once-in-a-lifetime thing.
---
Gary
2/25/11
Two notes, both Wisconsin related:

1) Puppet-Governor Scott Walker went to a neighborhood tavern in Madison to relax after a hard day of union-busting -- but he had to leave after the other customers booed him! :-) I'm not a political expert, but I would think that if you can't go into a random business establishment as Governor in your own state without getting booed, your political future is not bright. Article here.

2) Good news, everyone! Today was the opening day of Keith Olbermann's new site, "FOK News Channel." It's designed to look like the Fox News Channel site, with "FOK" here standing for "Friends of Keith." His first article (or should I say "Special Commentary") revolves around "this nitwit Scott Walker." He's even got a "Worst Persons" section. Welcome back, Keith!
---
Gary
2/25/11
Wow, read the latest from Wisconsin:
MADISON--Following action by lawmakers to approve a rule change that clears the way for closing down the State Capitol and ejecting the people protesting Governor Walker's bill to curtail union activity, the head of the Wisconsin Professional Police Association called on the governor today to keep the capitol building open and allow the peaceful protesters to remain.

"The law enforcement officers from across the state that have been working at the Capitol and have been very impressed with how peaceful everyone has been," said WPPA Executive Director Jim Palmer. "As has been reported in the media, the protesters are cleaning up after themselves and have not caused any problems. The fact of that matter is that Wisconsin's law enforcement community opposes Governor Walker's effort to eliminate most union activity in this state, and we implore him to not do anything to increase the risk to officers and the public. The costs of providing security can never outweigh those associated with a conflict."

Palmer also announced that, beginning tonight, the WPPA is formally requesting its members from across the state to come to the Capitol to sleep amongst the throngs of other union supporters.

"Law enforcement officers know the difference between right and wrong, and Governor Walker's attempt to eliminate the collective voice of Wisconsin's devoted public employees is wrong," continued Palmer. "That is why we have stood with our fellow employees each day and why we will be sleeping among them tonight."
When the Egyptian army refused to clear the square in Cairo, it was the beginning of the end for Mubarak.... I just emailed Palmer to congratulate him; and within a few minutes he wrote me back and thanked me for my note!
---
John
2/25/11
We are very proud of our 'Cheesy' neighbors and support wholeheartedly the 'Cheddar Rebellion.'

Bravo! --Gary
---
Gary
2/25/11
I'm sure you've all been keeping up with the news from Wisconsin, and the inspiring protests against their bought-and-paid-for right-wing governor. For the first time since Reagan, it kinda feels like the '60s again! People have been occupying the State House for like ten days now -- sleeping on the floor of the Rotunda and hallways and stairways. A local pizza place just a few blocks from that building -- Ian's -- has pretty much suspended regular business and has been providing pizza, free, to the thousands of protesters. People have been calling in from around the country and around the world (including Egypt and China) to buy pizzas for the protesters. Check out this video showing what they're doing with the empty boxes!

And even though the Wisconsin governor keeps saying the protesters are all from "out of state" and are not the "real people" of Wisconsin, the protesters have taped over 10,000 messages to the walls outside his office -- all from Wisconsinites. Here's that video.
---
Gary
2/24/11

Wow, this storm really hit without warning! ...Well, I guess they have been warning about it for at least the past 24 hours -- but I didn't really believe it. So when I looked out the window around 2 and saw a few flakes in the air, I figured that was all it would amount to. Then, two hours later, somebody walked by my door and said "Have you looked out the window lately??" I turned, and yowza! Four or five inches on the ground and it was really coming down.

And just as I'm absorbing that, someone else walked by saying she'd just heard that someone with a gun had been spotted on the East Campus, which was now in lock-down -- everyone restricted to the rooms they were in and no leaving. I thought it was just possible they would lock down my campus too, so I hastily packed up and left.

And even though driving on the mushy streets with limited visibility was no fun, I stopped off at a nearby Wendy's for some chili -- which suddenly sounded delicious, thanks to the weather. So I'm home now, watching movies and dining on chili with the heat cranked up. Just another winter day!
---
Karen
2/22/11
Marsha - 80 inches!!! That's amazing.

Erika was doing better -- she stayed home yesterday just so she wouldn't have to have the heart monitor on all day. Yesterday she was feeling icky and not better through the night. So she was on the couch all day too. I think she must have the flu. Still not sure if she will go to school tomorrow.
---
Marsha
2/22/11
Glad you are feeling better Erika! We got another 13.5 inches of snow bringing us to a grand total (so far) of 80 inches this season, and more is expected on Sunday. One of my co-workers has a big cut-out of a grumpy Lucy from Peanuts on her door and she says it is just how she feels about winter this year. Peter snowblew the driveway for us yesterday and I got into work at 10. I think we had 90 customers, so I don't think it paid for us to go in. Today was much better with a blue sky and temps in the high 20s. Looking forward to Oscar night......... so Gary, I assume you're helping Mom out with that menu! Our newspaper food section suggested an Oscar worthy party menu of Cowboy Skewers with "True Grit" Polenta Cakes, and "The King Will Be Speechless" Chickpea Crowns, and "The Kids Are All Right" but He's a Macho Nacho. Maybe we will just order pizza.
---
Grandma
2/22/11
Well, Erika, I'm happy you are not wearing your fanny pack any longer and I surely hope you are done with ER visits! I wonder if you Minnesotans are dug out yet? Boy! what a winter you guys have had. Cold, but sunny here. I am thinking I will have to down scale the Oscar menu a wee bit until I can find an interpeter for some of the entrees. Also wonder if a day is long enuf to make the vegan paella ala Natalie Portman?

No problem. If the menu doesn't work out, there is always Plan B: Popcorn and Junior Mints. --Gary
---
Karen
2/21/11
Gary -- we'll be checking the mail for the Oscar ballots -- thanks :)

Erika is now off the heart monitor. She was done at 3:30 and in the tub at 3:31. She stayed on the couch and enjoyed her day. Brent was also off for Presidents Day. Unfortunately I did have to go in. Winter is back, cold and flurries all day. Marsha -- how much snow did you end up with? Did you make it into work today?
---
Gary
2/21/11
The Oscar voting is officially closed! Good luck to all of you who entered. I will be mailing out the handy check-sheets to all the participants, and in the meantime here's how we voted!

The Oscar telecast is this Sunday at 7 pm, though the pre-show starts an hour before that. Also the E! Entertainment channel usually has live Oscar stuff on all day.

As usual, it's on a school night (booo!), but anyone who finds themselves in Lincoln is welcome at Grandma's that night. As always, she will be preparing the exact same menu that Wolfgang Puck will serve at the Governor's Ball that night. Here's the complete menu:

Reception Stations
Sushi:

Maki Rolls - Spicy Tuna, Sweet Shrimp, Crab, Vegetable

Nigiri - Tuna, Sweet Shrimp, Yellowtail, Salmon, Snapper

Sashimi - Tuna, Yellowtail, Salmon, Snapper

Cucumber Salad - Edamame, Wasabi, Soy and Pickled Ginger

Shellfish:

Shrimp, Oysters, and Crab

Cocktail Sauce, Mustard Sauce and Mignonette

Spicy Tuna Tartare in Sesame Miso Cones

Tray-Passed:

Smoked Salmon on Oscar Flatbread with Caviar and Creme Fraiche

Spicy Tuna Tartare in Sesame Miso Cones with Masago

Mini Kobe Cheeseburger with Remoulade and Aged Cheddar

Taro Root Taco with Smoked Lobster, Avocado and Pickled Jalapeno

Crispy Rice with Hamachi, Yuzu Aioli, Soy and Edamame

Quince Truffle Crisp

Black Truffle Pizza with Ricotta and Thyme

First Course
Trio of Wolfgang's Signature Salads:

Artichoke Salad with Confit Tomato, Shaved Parmesan, Arugula, Lemon

Heirloom Beets with Oranges, Almonds, Goat Cheese, Citrus Shallot Vinaigrette

Asparagus with Iberico Ham, Black Truffle Aioli and Mizuna Leaves

Entree

Pan Roasted Dover Sole with Fennel, Olives, Haricot Vert, Tomatoes, Lemon, Sherry, and Olive Oil

"Sherry's Sweet Bouquet": Layers of Lemon Cheesecake, Raspberry Cremieux, Cassis Gelee, Valrhona Ivoire

24 Karat Chocolate Oscar


MMM-mmm... I'm getting hungry already! Only the Oscar winners, nominees, and presenters get to attend the Governor's Ball, and they'll be polishing off 1,800 pounds of dover sole, 1,200 Kumamoto oysters, 1,000 spiny lobsters, 500 pounds of smoked salmon, 40 pounds of caviar, and 10 pounds of black truffles. And the chocolate Oscars (dusted with 24-karat gold) are not only for dessert but for souvenirs too -- Wolfgang Puck is making 4,000 of them so the guests can take some home. I think Grandma is only making one per person though.
---
Karen
2/20/11
I got to make yet another trip to ER yesterday. This time it was Erika, not Brent. Poor girl got up Saturday morning and fainted! She was shaken up, but didn't seem hurt other than a bruise by her eye when she fell. We were all planning to go to Omaha to visit with Brents sisters. Erika soon decided that she didn't want to go, and I really didn't feel comfortable with leaving her home alone in case she fainted again. So Brent took off in the new truck by himself. Emily had already gone there to spend some time with Jack. Erika and I decided to go the Urgent Care to get her checked out as soon as they opened. Got to the dr office about 12:30 -- checked in and told the nurse why we needed to see the doctor. She said "oh you need to go to ER." I explained that this had happened several hours ago, and she was doing OK now, but she said the dr will just send you to ER and we may as well go now. I really didn't think this was an emerengcy, but we went to the hospital. Got her checked in and into a room. Doctor was soon in and checked her out. Said that people just faint sometimes and nothing to worry about and she was sure that was all that had happened to Erika. But, since we were there (and have good insurance) she would like to run a few blood tests and take an EKG. So techs were soon in and drew blood and hooked her up to a heart monitor. Then we waited for the results. Doctor came back and said all the blood tests were good, no anemia, no infections, however........ The EKG showed a 1st degree heart block -- seeing the panic in my eyes she quickly explained that this was NOT serious, just a slight abnormality. Then she said she had called in a cardiologist and wanted to send Erika home with a heart monitor. So once again we waited for the dr (she explained when she got there, she was at home and had a cake in the oven and had to wait for it to finish). So once she got there she hooked Erika to this monitor. She has about 6 tabs stuck to her chest with wires connecting to a small monitor that records everything. Dr said to do her normal activities (except showering) and she could even go to school on Monday. She has a very stylish fanny pack to keep everything attached to her. (By the way she will NOT be going to school or out of the house for the next 48 hours -- she is horrified that someone will she her with it on.) So finally about 4 we got home. Erika headed to the couch and was glad to be home. On a side note -- I woke up to a thunder storm this morning -- so nice, and much better than snow.

Wow, always some excitement at the Nelson house! Take it easy, Erika, and don't worry -- fanny packs are coming back. :-) Keep us posted! --Gary
---
Gary
2/17/11
For those of you who haven't made your Oscar picks yet -- which is to say Amanda, Brent, Donna, Lindsey, Lori, Marsha, Olivia, Paul, Ryan, Sean, Teghan, and Zachary -- your task just got a lot harder. Two-time-winner and Oscar-clothier Erika sent in what could very well be the winning ballot. So good luck, and get your picks in by Sunday night.
---
Gary
2/16/11
Someone just sent me a pretty amazing video, showing a sign of spring returning to Yosemite Valley in the form of "frazil ice" -- which I'd never heard of before. The video's about 8 minutes long. Turn your sound up for some nice nature sounds.
---
Gary
2/16/11
With only 18 days til the Oscars -- and only 4 days for Amanda, Brent, Donna, Erika, Lindsey, Lori, Marsha, Olivia, Paul, Ryan, Sean, Teghan, and Zachary to get their ballots in -- how about some movie news?
I have talked a lot here about Steven Spielberg's Lincoln (the president, not the town), and the talk was mostly about delays -- delays which caused Liam Neeson to withdraw from the title role a few months back. Well, good news everyone! The project is back on, and filming will begin this fall. The script is based on Doris Kearns Goodwin's excellent Team of Rivals. The only locked-in casting is Lincoln himself -- Daniel Day-Lewis. Now listen to the actors who are up for the other roles: for Mary Todd Lincoln, Hilary Swank or Kate Winslet; for William Henry Seward (Secretary of State), Robert De Niro or Tommy Lee Jones; for Salmon Chase (Secretary of the Treasury), Kevin Spacy or Sean Penn; for Edward Bates (Attorney General), Jack Nicholson or Dustin Hoffman; for General Ulysses Grant, Philip Seymour Hoffman or Russell Crowe; and for John Wilkes Booth, Ryan Gosling or Adrien Brody. Yowza! I don't know which will win Best Picture this year, but Lincoln is already my vote for 2012 (or 2013?).
Filming of The Hobbit begins March 21. A casting call for elves has already appeared in New Zealand papers. If you're a man between 17-40 and at least 6 feet tall, or a woman between 17-40 and at least 5'9", get to the Drama Centre at 11 Hutchinson Road, Newtown, Wellington, a week from this Saturday (February 26) and maybe get a part in the movie! You'll be working with returning actors Ian McKellen as Gandalf, Elijah wood as Frodo, Cate Blanchett as Galadriel, Orlando Bloom as Legolas, Christopher Lee as Saurman, and newcomer Martin Freeman as Bilbo Baggins.
Men in Black III is in the works -- filming begins March 28. Will Smith and Tommy Lee Jones return, along with Josh Brolin who plays the younger 1969 version of Jones' character. (Some time travel is involved.)
The next Spider-Man movie now has an official title: The Amazing Spider-Man. No Tobey McGuire this time -- the title role is in the hands of Andrew Garfield.
Filming has begun on a major movie about FBI director J. Edgar Hoover. Titled J. Edgar, it's directed by Clint Eastwood and stars Leonardo DiCaprio.
---
Grandma
2/14/11


Happy Valentine's Day!

Liked the front page today, how long did it take to find all those hearts that fit us all so well???

Yeah, I had to buy thousands of the things, and then spend all weekend sorting through them. Two hundred and forty "Zeke" and only one "Zachary"?? Come ON, candy heart makers! --Gary
---
Karen
2/14/11


Happy Valentines Day

Good day! Party all afternoon and lots of candy, flowers and gifts -- I do love my job :)
---
Gary
2/14/11
Grandma and John both made a grab for the Oscar gold today, which means that Amanda, Brent, Donna, Erika, Lindsey, Lori, Marsha, Olivia, Paul, Ryan, Sean, Teghan, and Zachary don't have a chance. Unless you act now!
---
Gary
2/14/11
Okay, Oscar voters, you have your work cut out for you: three-time winner Samantha has made what are clearly the best choices so far.* Good luck to Amanda, Brent, Donna, Erika, Grandma, John, Lindsey, Lori, Marsha, Olivia, Paul, Ryan, Sean, Teghan, and Zachary if you think you can beat her -- and your votes have to be in this week....

* Actual results may vary. Not a guaranteed win.
---
Donna
2/12/11
Good news, I just got an email from Eyes of the World. They are open again and this time it looks like they are here to stay!
Hello everyone......We just wanted to send off a quick e-mail to let you know we are now open at our new location.....1501 South Street.
We will be open Monday through Saturday 11-6 and Sundays 12-5......Hope to see you there!
Emily, Gregg, Karla, Eve, and Hazel
---
Gary
2/12/11
Uh-oh. The Oscar race is over. Emily just sent in the winning ballot. ...Depending on whether she made all the right choices, of course. It's possible she didn't, I guess, so maybe you still have a chance.
---
Gary
2/12/11
She was a young girl when the Nazi troops invaded Latvia in 1941. She told me that one time she was in someone else's house with other children when some Nazi soldiers crashed through the front door with guns raised. They were looking for someone, but obviously not her or the younger kids. So they soon left. Then the Russians moved in to occupy Latvia after the Nazis were defeated. I'm not sure when or how she got out of Latvia, but it couldn't have been easy.

She is fiercely patriotic, and is much more bitter about the Russians (who occupied the country for fifty years, until the collapse of Communism in the '90s) than about the Nazis. In the office, we can always get a good-natured rise out of her by simply mentioning Russia. She is very active in several Latvians-in-America groups, and she travels back to Latvia almost every year.

Politically, she's very conservative. No doubt because of her life experiences, she believes in a strong military, and that coincides more with the Republican point of view. Her news source is Fox and Fox only. She and I clash (again, in a good-natured way) whenever politics comes up. Up until a few days ago, she was very anti-Obama. But interestingly, Egypt seems to be changing that. She has seen the Egyptians chanting "Obama, Obama!" and "We love America!" and she has seen the signs they carry saying "Yes We Can Too." I can tell that's having an effect on her. And I'm sure when she sees the idiots on Fox attack Obama for his support of democracy in Egypt (which they are, if you can believe it), that may make her question Fox too. Like I said, this is a historic event which is going to ripple out in a thousand unknown ways -- like changing the mind-set of my Latvian friend.
---
Amanda
2/12/11
Wow Gary what a story about the woman from Latvia. What I wouldn't do to listen to some of her stories, and have the girls listen too.
---
Gary
2/11/11
I'm reading a book right now called Legacy of Ashes, A History of the CIA (Tim Weiner). There's an interesting anecdote from 1990 when Director of the CIA Robert Gates (now the Secretary of Defense in the Obama administration) went to a picnic and was dishing up some potato salad or something when someone came up to him and asked, "What are you doing here?" Gates said, "What are you talking about?" "The invasion!" the person said. "What invasion?" asked the Director of the CIA. He went to a TV and learned, for the first time, that Iraq was invading Kuwait....

The CIA missed the boat in Cuba (the Bay of Pigs in the early 60s), for decades were totally wrong about the Soviet Union (while stoking up the U.S. on a phony arms race), actually funded the Taliban in the 1990s, didn't see 9/11 coming, got it completely wrong (or lied) about WMDs in Iraq, and didn't have a clue about what was happening in Egypt. So how much are we spending on the CIA, anyway? Oh, that's right -- no one knows, as their budget is a complete secret. Yeesh.

On an unrelated note, the Egypt news is really hitting one person here in my office. She was born in Latvia, was a kid during WW2 (she is the only person I ever met who actually had a Nazi point a gun at her), and was there when the Russians took over the country. She has been listening to the news today in tears, because it reminds her of when Latvia gained its independence from Russian oppression, in 1991.
---
Gary
2/11/11
Spectacular news out of Egypt. Turn on your TV (or, better, the Al Jazeera stream) for an amazing sight. Mubarak stepped down about 40 minutes ago as I write this, and the cheering and celebrating have been continuous and loud. This is a very hopeful event that will have far-reaching effects in the future. A peaceful revolution in the middle east? A peaceful overthrow of a dictator? A democracy in Egypt? A repudiation of terror politics? Wow.
---
Gary
2/10/11
The Oscar contest just got quite a bit harder -- Anna has sent in what could be the winning ballot.... The rest of us still have a slim chance though, and 10 more days to take it. Good luck!
---
Gary
2/10/11
I just now amazed myself by getting a perfect score on this cool Wall Street Journal quiz. All you have to do is match up pictures of Girl Scout cookies with their names. Try it!
---
Gary
2/9/11
Of all the many many thousands of people who read this page every day, some of you may know what special event occurred on this day fifty years ago.

On this date fifty years ago, the Beatles made their debut at the Cavern Club in London. They performed at lunchtime. And this was before Ringo Starr joined the group; that's Pete Best on drums. A few months later Brian Epstein, a record store manager, saw the Beatles performing at the Cavern Club, asked to become their manager, and soon got them an audition for a recording contract. The producer at the audition, George Martin, told Epstein they needed a better drummer. So Epstein asked Pete Best to leave, and managed to convince Ringo Starr (who was already locally famous as the drummer with "Rory Storme and the Hurricanes") to join the group. Pete Best's fans were upset at this and for a while scuffles would break out when the Beatles performed -- George Harrison got a black eye once. Pete Best went on to get a civil service job in the government; the Beatles also did well, I understand. And it all started fifty years ago today.
---
Gary
2/8/11
Hey, all you Keith Olbermann fans! Big announcement today from KO: After leaving MSNBC a few weeks ago, he will soon be appearing on Current TV (the network that Al Gore started) in a "nightly primetime news and commentary show." Show starts later this year. Current TV is channel 217 in Lincoln. More details here. Woo-hoo!
---
Karen
2/7/11
I like my odds of winning the Oscar this year, just as long as no one else votes :) I watched the 1st quarter of the game, saw a few of the commericals. I liked the Doritos one with the Grandpa. Did enjoy a nice a movie in the other room, while Brent watched the rest of the game. Erika went to a friends house to watch the game, and Emily was working and watched it with the children. No school today or tomorrow for Erika, so she has a nice long week-end. Cold here today too, but should be warming up by the end of week.
---
Gary
2/7/11
So if the Oscars were held today, our winners would be Tristen and Karen, as they are the only two who have voted so far. The rest of us have 13 days to follow their example.

Did you watch the Superbowl last night? Great game! If you didn't watch, that means you missed all the Superbowl commercials too. But wait, not so! Just go here to see them all. The one getting the most buzz seems to be the "Darth Vader kid" in the Volkswagen ad. Which was pretty funny. The Coca-Cola "Dragon" ad was spectacular, but kinda pointless. The Snickers ad in the logging camp was funny, but I give it a B-minus for lack of originality -- same ad was done last year, just with different people. And apparently I am the only perspon in America who is waaaay sick of those talking baby stockbroker ads, because they are still around....

There were ads for some awesome-looking movies coming this summer, though: "Cowboys & Aliens," "Super-8," "Rango," "Limitless," and the new "Pirates of the Caribbean."

Cold day here today, but a good bit of melting happened over the weekend. So even though there is still plenty of snow around, the streets are practically dry.
---
Marsha
2/6/11
We had only 1 day above freezing in January and we are headed for the deep freeze again this week. Will this winter of 60 inches of snow ever end? Enjoyed seeing The King's Speech and True Grit, but I don't know if that will help me pick the Oscar winners this year. I really like having Oscar on our bookcase, so I do want to keep him here.....
---
Gary
2/4/11
Hey, if you want to keep up with the events in Egypt, you might want to try the Al Jazeera live stream in English. The Egyptian people are calling today "The Day of Departure," calling for Mubarak to leave ASAP. (Hopefully before he is able to loot the treasury, which is what dictators in his situation typically do.) Hundreds of thousands of people are in Tahrir Square (or "Liberation Square" in translation), and the army has them ringed in -- not to attack them, but to protect them from Mubarak's thugs. The Army is on the side of the people. Amazing stuff. This could be a pivotal day for Egypt.
---
Gary
2/4/11
The race is on! The first Oscar ballot arrived last night, and if there was a prize for being first, Tristen Bailey Metcalf would receive it this year. Thanks, Tristen! The rest of us have our work cut out for us, because her ballot looks like a winner. Only 16 more days to make up our minds.

Speaking of winner, or rather winter (ahem), the temp is supposed to get up above freezing today, for the first time in several days -- before this storm cycle began. With a clear blue sky up there today, it will be nice to have Lincoln's only dependable snow removal service at work -- the sun!
---
Amanda
2/2/11
I remember the days of dressing light for image, forget that! I still hate coats, but its not about fashion it's about comfort. I hate bulky coats while driving.
---
Gary
2/2/11
Well, I made it in to work, and I can now report first-hand on what everybody already knows: It's cold out there!

In the colder months on campus, it's a common observation that a lot of guys under-dress for the weather. They're shooting for "macho," but what they're usually hitting is "Wha...?" I saw an extreme example of it on ths 3-degree morning: A guy walking down the sidewalk in front of my building in basketball shorts and a t-shirt. And it wasn't like he was just ducking out to get the paper or something -- he was on a long block between Point A and Point B. Crazy!
---
Gary
2/2/11
Groundhog says an early spring. I hope he knows what he's talking about.

Lincoln schools closed again today, but the University is open for business as usual. Nertz!
---
Karen
2/1/11
Wow, big shock! Just got a call from the principal -- another 2 hour late start tomorrow :)
---
Amanda
2/1/11
Ok Donna, where do you live? It's SUPER windy!!! It's bitter cold & visibility is horrible! Someone got stuck in my street so I had to drive through it in the Canyonero (ala Simpsons) to make tracks so they could get out. Then our neighbors right across the street got stuck right outside their driveway. Neighbors had to help shovel & snowplow them out. Very nice for someone to have shoveled for you, think it was snowplowed though? People are always snowplowing extra b/c it's fast & fun (apparently) but shoveling in this weather, no way!! I had to get out to pick something up for my dishwasher & thought yikes, wow, good call LPS for canceling, I can't imagine a kid having to walk 1/2 a block in this & I'm not usually a LPS snow day supporter. Gary, I can't believe UNL didn't cancel, this is much worse than early January!!!

And then I read Karen's comment & saw she had a random shoveler, so they still do exist!!! Way to go with other forms of payment, a very healthy payday for a job no one wants to do. What a good kid!
---
Karen
2/1/11
Bitter, bitter cold!! I think the temp is now 8, and strong winds. I got to school OK. Did hear that there was a bad accident with a bus and flipped car on the route to Erika's school, so I was really glad she stayed home. A very easy day at school, the 1st graders did go on their field trip. The teacher got a call from the hospital early this morning asking if they were still coming, said they would open a back door so they didn't have to walk as far. Had lots of parents go along so I got to stay in the warm school and grade papers without any kids :) Tried to pull in the driveway when I got home, but couldn't make it. As I was trying to get in a kid walked by and asked if I would like to have him shovel the driveway. So I paid him $20 and a hot cup of cocoa. Need to get a fire going and I will be done for the day. Teghan -- hope you are feeling better :)

Amanda -- Brent was really irritated, I think there must be some way to override the locking system, just something we hadn't thought about yet. So he will have to get out the owners manual and make sure it doesn't happen again. Gary -- glad you took the day off, and that your car is fixed again. Brent and I watched True Grit this weekend -- really liked it -- very much like the original. Girls and I watched Social Network on Sunday -- didn't care for that one -- had hoped to get the whole day off and watch Kings Speech -- but it will have to wait....
---
Donna
2/1/11
Karen, Brent had a much harder time than I did. Not too bad today. Somone just shoveled my driveway, which was a nice surprise. I'm thinking the storm is over here. Not much snow and really not much wind yet either.
---
Amanda
2/1/11
I went out today for just a bit, it's horrible out there!!!!! Cold!!! Windy & still pretty slick. People are getting stuck in our street, so the drifting has begun!! Tristen built a fire though & we're watching Simpsons from TiVo. A nap would complete the day!
---
Amanda
2/1/11
Yesterday was a joke, the ice was INSANE. I had to let my car run for 30 minutes to get my drivers side window somewhat chipped off. It felt like I was going to break the window. Teghan stayed home from school sick yesterday so I got to go into work a little late as I stayed home until Ryan got here. That helped for me to avoid rush hour & the roads were much better once I got out there. Then I only worked until 3:30 & missed rush hour again. I had one stupid report that HAD to be run yesterday, and apparently no one else can do it, even when my kids home sick... Ugh... So, I brought a bunch of work home just in case it was a snow day & or Teghan was sick. I normally don't take snow days off of work, girls are fine home alone, but I'm mad I had to be at work yesterday when Teghan was home sick & virtually alone as Ryan was sleeping, so here I am, AT HOME!!!! And I'll work from here so no time lost.

Gary, what a great repair shop, I can't believe they didn't charge you a small fee. That's an amazing place & you should spread the word about that.

Donna, body shop? Gma mentioned an accident, your neighbors friend hit it or something? How bad?

Karen, I can just picture Brent showing up flustered! That's a CRUMMY day. I can't believe the doors lock like that! Mine will NOT if the keys in the ignition, unless you do it from the inside with the doors shut. It does automatically lock when you're driving, but there's a setting to have it lock upon engine start, or once engine reaches 5 mph. That 5 mph saves me a lot of hassle like Brent just experienced I'm guessing.
---
Karen
2/1/11
Erika and I get a two hour late start this morning. Brent just finished snowblowing the driveway. Had some pretty high drifts, but only about 3 inches of snow. Erika will be taking the whole day off, just not worth her time to go in late, very little happens when it's a short day. St Pauls 1st graders were scheduled to go on a field trip today. It's to check out the hospital -- it's just across the street from school, but temps at 3, snow and strong winds, and 19 1st graders to keep track off...... guessing it will be rescheduled.

Lincoln schools are closed today, but the University is open. Even so, I've decided not to go in. Kind of like you said -- it's just not worth it when you're risking icy streets, icy sidewalks, and frostbite (windchills of -35 today!). High winds and blowing snow should only be experienced through the window, from a warm room. Also hot chocolate is a plus. So I'm making a home-made snow-day for myself. --Gary
---
---