Old news: May 2012

Back to Newsletter
Grandma
5/31/12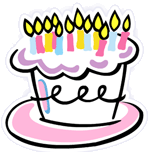 Happy Birthday, Karen!!
---
Grandma
5/31/12
Neat story, Gary, now I'm wondering what was wrong with the guy and hoping he is o.k. Glad you lent a hand!!

I don't have any follow-up info, and don't even know how to maybe check. Police reports, maybe? Are those public? --Gary
---
Karen
5/31/12
Gary-- thanks for the story -- I was wondering what happened. Good for you for doing a good deed :)
---
Gary
5/31/12
This story is for Karen, but I'm putting it here so the rest of you can see it too.

Driving home from work yesterday, in a pouring rain, I saw a guy sitting down on the ground by the side of the street. His coat was off and laying on the ground beside him, and he was holding his head in his hands. This was on 13th between C and D. It looked a bit odd, so I stopped, rolled down the window and shouted through the rain and across two lanes of oncoming traffic "Are you ok?" He didn't respond at first and I had to shout several times before he looked up and looked around and said, "No, I need help!"

I drove around the block and came down the alley so I wound up right beside him, facing the street. I rolled down the window again and and asked him what was wrong. He didn't answer; just sat there moving his head around randomly. I suddenly realized he couldn't see. I grabbed my phone and called 911 and while it was ringing I told him I was calling for help. The 911 operator asked for my location, his description (black male, age 25-30, brown shirt, brown pants), and his condition -- I said I couldn't see any injuries but he was holding his head as if in pain, and he seemed disoriented and blind.

By this time the guy had gotten to his feet and was wandering around close to the street; so I yelled at him to come back this way and hold onto my car -- which he did. A police car arrived a few minutes later and a fire truck soon after that, pulling in right in front of my car with all lights flashing. The medics started to help the guy, and I caught the attention of one of the police officers to ask if I should leave now. She said yeah, go ahead and back out. But at that moment some guy pulled up behind me in the narrow alley, and not only did he not get the idea and back up himself, he actually tapped his horn helpfully as if to say "Could we move along here??" The officer looked at me like, "What an idiot!" and then yelled at the other driver, "Back it up, dude!" When he did, I backed up and continued on home.

Earlier when I was putting my phone away I somehow tapped it and without me knowing it called Karen. So she did a call-back and I quickly explained the 911 call and said I would let her know what happened later. So there it is, Karen! :-)
---
Gary
5/29/12
Two days ago, on Sunday, the Golden Gate Bridge turned 75 years old. There's a great photofeature here on the building of the bridge. (Those pictures of workers walking on narrow cables 700 feet above the ocean always give me the creeps!)

I was in San Francisco when the Bridge turned 50. As they did on the opening day in 1937, they closed the bridge to vehicle traffic that day and opened it to pedestrians. But unlike 1937, more than a quarter of a million people showed up for the occasion, and the entire bridge was wall-to-wall people. (Picture #12 in the photofeature shows that day.) I wasn't at the Bridge that day but was watching it on television, and I remember one of the newsguys saying rather nervously, "You know how the bridge normally bows upward in the middle? Well, look at it now...." And the long shot showed the span practically flat horizontal. Made me very glad I hadn't tried to attend! Though of course nothing bad happened, and no doubt someone had done the math beforehand to make sure it was safe. Still....!

Which is another interesting point. The Bridge was built before computers, before calculators even -- it was designed and built by people using pencils on paper, and guys walking on narrow cables 700 feet above the ocean in the rain and fog. And what's more, it was built during the Great Depression. Wow.
---
Karen
5/28/12
Happy Memorial Day! Been without internet for about 3-4 days so I am catching up. Last day of school for me was Wed, so glad to be done. The last few weeks really dragged. No big plans for the summer -- just taking it easy. Erika started her new job on Wed. Not officially open -- no sales, just buying. She seems to like it so far. Emily got a bit of a promotion at her job. She was sent to Ames for 3 days for additional training. Just a few more things to do then she will able to mediate family meetings. Should be a big step up for her. Mom, nice pictures of your yard -- looks like you've been busy.
---
Sam and Mark
5/26/12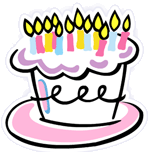 Happy Birthday Lori!!!
---
Hatgidakis'
5/26/12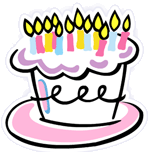 Happy Birthday Lori!
---
Sean and Regina
5/26/12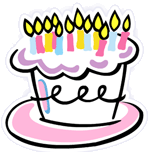 Happy Birthday Lori!!!
---
Grandma
5/25/12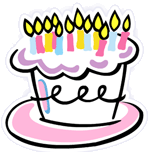 Happy Birthday, Lori!!
---
Gary
5/24/12
Who wants new photos? All those who said "Me!" click here.
---
Grandma
5/17/12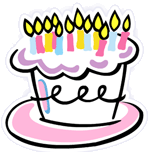 Happy Birthday, Brent!!
---
Hatgidakis'
5/17/12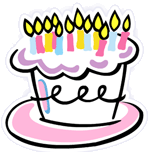 Happy Birthday Brent!!!!!
---
Donna
5/15/12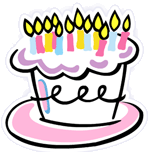 Happy Birthday Amanda!
---
Hatgidakis'
5/15/12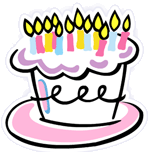 Happy Birthday Amanda!!!
---
Gary
5/15/12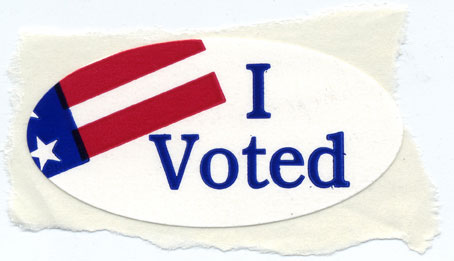 Voted on my way in to work this morning, at my new polling place. I used to vote at the nearby elementary school (Everett), so it was always kind of a process to get in and out with all the school buses, the traffic safety people, and the kids arriving at school. After the recent precinct changes, I now vote at the community center at 13th and G next to the Runza drive-in: Park in front, hop in (actually, hopping is optional), vote in the booths set up under a 15-foot-tall inflatable Shrek, get my sticker, and back out to the car. Easy! So I took a leisurely scenic route to work after that, enjoying the beautiful morning with the windows down.
---
Nelsons
5/14/12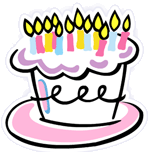 Happy Birthday Amanda
---
Grandma
5/14/12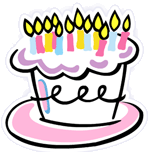 Happy Birthday, Amanda!!
---
Karen
5/9/12
Gary, sorry I didn't respond earlier. How are you doing? Your fall had to hurt! I watched most of AR, but didn't see anyone I knew. Just one more day for me this week (I hope). I get Friday off, unless it rains. Big track and field day at school. I went last year and I was never so miserable in all my life. Load 50 kids on a bus for a 2 hour drive to middle of nowhere. Then 4 hours of track events in a cold, windy, rainy field. Add in keeping track of all those kids. I was loud and firm that I would never go again. So far haven't been approached :)

Erika was pretty happy when I got home today. She was looking for a summer job. Put in an application yesterday afternoon, and received a call this afternoon and got the job! It's at Plato's Closet, they buy used (nice, name brand) clothing and resale it. Should be starting in about two weeks.

All the sore spots are slowly getting better, including my back. Not pain-free yet, though -- dang! I'm taking the next two days off just to rest and try to get over everything. Congrats on the new job, Erika! And congrats to you for avoiding the track and field trip. :-) --Gary
---
Donna
5/9/12
I used to love writing haikus in school but can't remember the rules. Is it just 5 syllables, 7 syllables, 5 syllables?

I wish yesterday's front page was a picture taken from my house.

I forgot to watch AR Monday. I assume no celebrities were spotted. And two more chances.

Yup, haiku is 17 syllables: 5, 7, 5. --Gary
---
Gary
5/5/12
Some announcements:

I am informed by the Minnesota office that the next episode of "Antiques Roadshow" is must-see-TV! This is the one filmed in Minneapolis last year which John and Anna attended. I understand the Hatgidaki are not featured, but they might possibly show up in the incidental footage. Show airs Monday night -- in Lincoln, at 7 pm on channel 12 or 1012.
If you are able to get outside after dark tonight -- and it's not overcast where you live -- you will witness a rare "super Moon." That's when you get a full moon which coincides with the moon's closest approach to earth. Meaning it will look especially big and especially bright.
Rather than answer individually all the thousands of cards and emails I've gotten inquiring about my health, let me give an update here: Back pain is much reduced but still noticeable, now in its 5th week. Then, last Monday as I was leaving by my front door, my back twinged, I moved my foot awkwardly, and tumbled down the stairway -- crashing into the wall like a laundry bag full of doorknobs. Big bruise on my right elbow, painful right shoulder and left wrist, but fortunately my face was unharmed so I am still strikingly handsome.
---
Karen
5/5/12
Wow, what a crazy day at school yesterday. Just getting settled in for the day -- the teacher was a little stressed and suggested turning up the air conditioner and popping in a video so she could get some work prepared for the kids. Maybe 10 minutes later we all heard a loud pop and then no electricity. So plans soon changed and we fumbled around in the dark. The transformer at the hospital across the street blew out and we were told it would be "a few hours" before power was restored. This was when I realized how much I depend on electricity, very few things to do when there isn't power, so everyone had long recesses. The school has gas stoves so lunch was cooked. Finally about noon the power came back. I was heading out of parking lot at the end of the day and saw fire trucks with lights blazing, so I waited for it pass, it stopped right in front of the school. I found out later that there was a gas leak and they needed to check that out -- all as the kids were being dismissed for the day. As if that wasn't enough -- it was also the Operetta that night. The kindergarten teacher was out of town so I filled in for her. Had to make sure all her kids were in the outfits and in order -- with props. Got them up on the stage (with major stage changes earlier that day) and everyone held up their cards (right side up!). It was a long day!!

Erika moved back home on Friday, goes back for one more final on Monday, then she's done with her first year! Jack is coming to SC tomorrow. He and Emily are checking out a possible location for the wedding. So they may soon have some details to release.
---
---