Old news: June 2012

Back to Newsletter
G'Ma
6/29/12
Emily, that sounds o.k. to me, am looking forward to it!! See you then.
---
Emily
6/29/12
Grandma, would you mind Jack and I stopping by your house with dinner around 5 on Thursday?? We would love to see everyone! Donna, I sure can bring the recipe, but I think it is also still on the recipe page under "chilled mango and cucumber soup."
---
G'Ma
6/29/12
Emily, good news, see you guys in a few days!
---
Donna
6/29/12
Great news Emily! Can you bring the recipe for mango gazpacho too? Or add it to the recipe page?
---
Gary
6/29/12
To go along with today's front page, take a look at this great Photoshopped version of the same thing. :-) (You do remember this famous shot, right?)
---
Gary
6/28/12
Day 4 of Goalkeeper Academy, on this hot and humid Thursday. Teghan tells me they had pizza today, and I observed that everyone coming out of the building was wearing official Nebraska Soccer shirts. We took a short walk over to to the Osborne Athletic Complex to look at the trophies and the 40-foot waterfall. After some arts & crafts in my office, we went to lunch at Arby's and then took a leisurely dessert at Red Mango: Strawberry and chocolate yogurt plus choc chips, fresh strawberries, and pomegranate popping boba for me, and cake batter yogurt plus sprinkles and Skittles for Teghan. (She told me she was trying to create a birthday cake flavor -- check it out!) And now back at our desks for the afternoon.
---
Emily
6/27/12
Hey Lincoln! Will anyone be around for dinner time next week, Thursday or Friday?? Jack and I will be driving thru and would love to see everyone, we'll bring mango gazpacho! :)

Yum! That's the day after the 4th, right? That should work! --Gary
---
Gary
6/26/12
Dang, I never got back here with a review on my new bed. Will do soon! But right now I wanted to let y'all know that Teghan has been spending some time with me at work. Yesterday, today, tomorrow, and Thursday she has soccer camp -- specifically goalie camp -- at the Hawks Center here on campus, a giant building with an indoor regulation football field. When her session lets out at 11, we hang out in my office, then have lunch somewhere (yesterday, Arbys; today, Wendys), and then back here for the afternoon. I am amazed how she can keep herself entertained (and me too) with just a handful of office supplies. Today's projects included a working bow and arrow, and this guy made with markers on an inflated rubber glove. :-)
---
G'ma
6/21/12
Hey, Gary, did you sleep well last nite?

In a word, yes! In two words, sort of. I'll give a full review later. In crazy big long meeting here, all day, dinner tonight, and then all morning tomorrow. I'm on a quick break now. I'll write a full review of my new bed ASAP! --Gary
---
Karen
6/21/12
Amanda -- it was the au jus one -- delicious. We all loved it. Sure I'll make it again.
---
Amanda
6/21/12
Karen, did you like the recipe? I can't remember which that one was, with the au jus?
---
Grandma
6/19/12
No, Karen, I couldn't find a couch. They had LOTS but they were too big or too puffy or too leathery or in a set of 4. So I'm still looking. Way to go, Erika, are you buying lots of new clothes? You will be Manager before long. Hot and windy, 96 today, small chance of rain tomorrow p.m. and a few degrees cooler.
---
Karen
6/19/12
Oh boy, gonna be a hot one today. Ran a few errands early this morning and planning to stay in the AC for the rest of the day. Donna, I picked up an iced coffee at Caribou with your gift card on my way home, thanks :) Amanda I am using one of your crock pot recipes for our supper tonight (trying to keep the kitchen cool) -- the roast beef sandwiches. Erika is about to head to work. She has worked for three weeks and already got a promotion and a big raise. She was pretty happy! Mom -- did you find a couch on Sat?
---
Amanda
6/16/12
I LOVE the pictures Gary, well done!!

Thanks! --Gary
---
The Hatgidakis Family
6/14/12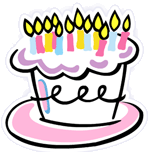 Happy Birthday Paul!!!!!
---
Donna
6/14/12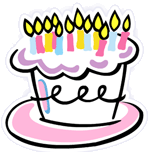 Happy birthday Paul!
---
Grandma
6/13/12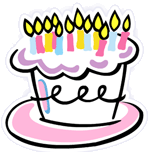 Happy Birthday, Paul!!
---
Gary
6/11/12
Pictures of Olivia's graduation party last Saturday night? We got 'em!
---
Gary
6/8/12
And here's another reason why I love the internet, and especially Google:

I was watching an old movie on TV called Test Pilot (1941), about the young hotshot flyboys of the Army and Navy (there was no Air Force yet) who would soon -- though they didn't know it at the time -- be flying combat missions in the Pacific and then Europe. So, there's a scene where a pilot lands his plane, hops out, and wisecracks to his crew "Fill 'er up!" And one of them wisecracks back, "Got a credit card?" And ha-ha, everybody laughs.

But, wait a minute: I knew that credit cards didn't come into general use until the mid-50s. In fact, the very first credit card ever (Diner's Club) wasn't introduced until 1950. How could these guys be making jokes about a thing that didn't exist yet? It was like reading an Abraham Lincoln speech and finding the word "radio."

So I fired up the internet machine, and within a few minutes had the answer. The term "credit card" actually goes all the way back to 1887, when it appeared in a novel called "Looking Backward," a futuristic science-fiction story which predicted what we today would call a "cashless" system. The term came into wider usage in the 1920s, when some gas stations would give cards to their regular customers that allowed them to open up an account, fill their tanks whenever, and then settle the account once a month. By the 1930s, competing gas stations were beginning to honor each others' cards to lure in new business. So by 1941 and my old movie above the term "credit card" was already a catchphrase -- even though they were not credit cards as we know them today.

That little piece of knowledge would have taken hours of library-type research, assuming I could have found it at all. But Google lets me be a detective and a historian, and all in just a few minutes.
---
Donna
6/7/12
Nice today's cool site, NPR's must read books. There's a book there that sounds good: Elizabeth and her German Garden, written in 1898, I think. I'll have to look for it. Mom, I think you would like it too. I just searched for and read her bio. Interesting life.

One can download it for your Kindle, Nook, iPad, or any other format for free by clicking here! --Gary
---
Donna
6/3/12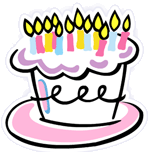 Happy birthday Karen!
---
---