Old news: October 2013

Back to Newsletter
Amanda
10/31/13
Si Robertson costume is Mya. :-)
Ah! Great costumes! It was amazing how much Teghan's face was changed by that mask. --Gary
---
Amanda
10/31/13
How cool!
---
Gary
10/31/13
Halloween photos! Thanks, Amanda!
---
Emily & Jack
10/31/13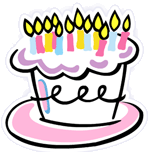 Happy Birthday John!



And Happy Halloween everyone!
---
Nelsons
10/30/13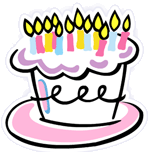 Happy Birthday John
---
marsha, zach, anna, sam, & mark
10/30/13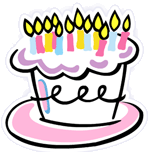 Have a wonderful 67th birthday john/dad......we love you
---
Emily
10/30/13
All of our wedding day photos are now up on the photography page. Feel free to check them out, you might even make an appearance or two! :)
---
G'ma
10/30/13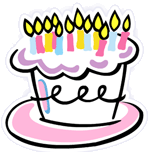 Happy Birthday, John!!
---
Gary
10/29/13
Need more jack-o-lantern in your life? Click here. Thanks, Teghan!
---
Amanda
10/28/13
Teghan has yet to carve a pumpkin, and Ryan's out of town starting today. Sooooo we thought we'd bring it to gmas tomorrow night so others could enjoy the festivities of pumpkin carving. (We'll clean up after ourselves, promise. :-)

Cool! --Gary
---
Gary
10/27/13
Here's what did not happen -- several times -- in yesterday's Minnesota game:
---
Emily
10/25/13
Thanks again to everyone for coming to Sioux City last weekend, we hope you had a great time too! I sent in a couple more wedding day pictures. The rest should be up on the photography page by Tuesday. We had a great time in Vegas, and are missing the warm weather! We got into Omaha just before midnight on Wednesday, and had to go back to work Thursday morning. We have been tired, but enjoying unpacking and putting everything away, hoping to finish this weekend.

Donna, Marsha -- love the cigar picture! :p

Thanks, Emily, for the four new photos (at top)! --Gary
---
Donna
10/24/13
Trader Joe's now has K-cups. A pack of 7 for $2.99, only one kind so far, medium roast.
---
Marsha
10/22/13
Love all the photos of the great wedding weekend in Sioux City. Thanks to the Nelsons and especially to Emily and Jack for such a great time. Beautiful wedding!
---
Gary
10/21/13
More photos, thanks to Amanda!
---
Karen
10/21/13
A BIG thank you to everyone who came to Sioux City to attend Jack and Emily's wedding. It was a great week-end!! After the breakfast Brent, Erika and I packed up the gifts and all the things from the reception. I spent most of the afternoon packing everything away. Erika had an alka seltzer and left for the dorm (she may have partied a little too hard). Emily and Jack arrived in Vegas last night. Brent took today off and I am wishing I would have taken today also.
---
Gary
10/20/13
As almost everyone reading this was there, I don't really need to say that we all had an amazing time in Sioux City. But I'm saying it anyway. Thanks, everybody! Here's a link to the wedding photo page.
---
Karen
10/16/13
Yummmm.
---
Gary
10/15/13
Cool Halloween giant cookie for dessert tonight, thanks to Teghan.
---
Marsha & John
10/11/13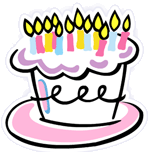 Happy Birthday Ryan!!
---
G'ma
10/11/13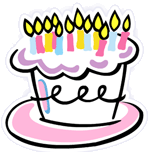 Happy Birthday, Ryan!!
---
Karen
10/7/13
Amanda, nice looking basement. That's my kind of project, cheap and fast :) I thought I was doing good last weekend -- cleaned the junk off of the laundry table and took lots of things to Goodwill. Cold this weekend. Brent brought up the mini electric fireplace, felt good. Had a stormy night on Friday -- tornados all around us. Went to the basement a bit until they passed. Saturday was very stressful -- we all just assumed the Nebraska game was televised. About 9:30 Brent checked and realized it wasn't. Emily quickly called Jack -- he thought he could get through his computer. So it was quite the project to hook his computer to the TV, the sound was funny so Brent got an old radio. So we watched the TV, with the connection from the computer and listened to the radio. Thank goodness for the technology! Emily was busy all day yesterday putting some finishing touches on wedding things. I think most everything is ready. Anxious to see everyone then. I know that there is a gap between the wedding and reception. Please feel free to come to the house if you wish to. Not sure when I'll be able to join you -- but we would be happy to have you stop by :)
---
Amanda
10/6/13
Awhile back I started toying with the idea of painting the basement ceiling black, and this weekend we accomplished it. I didn't want a dropped ceiling, and we aren't ready to commit to drywall and a full finished basement (mostly the expense of it! And the time--Ryan's kind of a do it yourself-er & not home much...)

We did it the whole ceiling except the back area where it's storage (& Ryans geek station). Just too much to move for the size of project we wanted to take on. We got it done in just a little over 24 hours start to finish.

We were absolutely like one of those TV shows as we accomplished this on just about 24 hours--shopping included.

We had the TV, from years and years ago & we've always held on to it & had it plugged in down there. Sometimes with a futon, for awhile with no furniture, then awhile back I bought a used wrap around couch--cheap--it was a GREAT find, and I guess what inspired me to keep doing more. But always with cement floors & walls--most of which were stained from the water the basement took on during each and every rain for 5 years until last year when Ryan & my dad finally fixed it with drain tile outside.

In addition to the paint, we also got a cheap remnant carpet at Menards for just the "living area" and some paint for the walls because they had so much water damage & since that's fixed now paint & some cheap carpet--no pad so it's thin! are ok finally!) and two new light fixtures since before it was just hanging bulbs.

The pictures are some before & afters.
---
Gary
10/3/13
This is Homecoming weekend for Husker fans and, in addition to other festivities, CNN's Headline News program Morning Express with Robin Meade will be broadcasting live from the Nebraska Union from 5 to 9 am. That's only a few hundred feet from my office, but don't look for me in the background -- I don't expect to go over there. But I will be watching! In Lincoln, CNN is on channel 20, 351, and 1351.
---
---