Old news: January 2008

Back to Newsletter
Gary
1/31/08
Hey, I just figured out how I'm going to spend my tax rebate or whatever it's called. I'm going to get a root canal!
For the past couple of weeks I'd been getting headaches and earaches, which I associated with this never-ending cold I've got. Finally I realized it was a toothache. A filling had come loose, and finally came out altogether. So I went to the dentist today, who said the whole tooth has to come out. Appointment set for about two weeks from now.
This has been an expensive winter for me (though the tooth thing isn't season-related). First a new windshield thanks to the ice storm, then this cold/bronchitis thing which has required two trips to the doc, plus many trips to Walgreens. And now this. Bleaaah! :-)
---
Donna
1/31/08
Someone at work said that next Tuesday is Fat Tuesday but it's also Super Tuesday so he's calling it Super Fat Tuesday. I love that. I told him he needs to bring in patriotic looking donuts. ;-)

Excellent idea! --Gary
---
Gary
1/31/08

Yeah, we need a report on your new job! :-)
---
Grandma
1/31/08

Congratulations Zack!!!
---
Gary
1/30/08
Good picture of Rudy & Judy, as he bows out. "Now I'll never be Queen of America...." :-)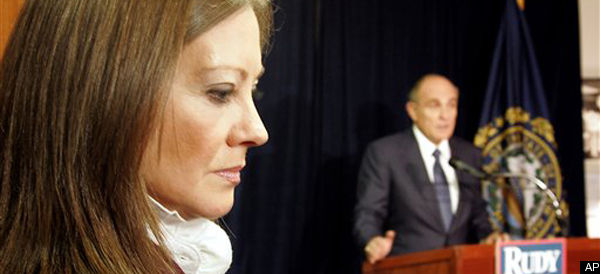 ---
Amanda
1/30/08
I really thought Jeb would be running, which would have kept the streak going.

God forbid! --Gary
---
Gary
1/30/08
I have now voted in nine presidential elections. My first was in 1972, when I voted for George McGovern (and against Richard Nixon).

So I was doing a little googling just now looking at the past presidential races, and saw something interesting: Except for that first race in 1972, every other race since --that is, for the past thirty-two-years -- has had a Bush or a Dole (Bob) on the Republican ticket. Check it out:

1972--NIXON/FORD     McGovern/Shriver
1976--Ford/Dole      CARTER/MONDALE
1980--REAGAN/BUSH    Carter/Mondale
1984--REAGAN/BUSH    Mondale/Ferraro
1988--BUSH/QUAYLE    Dukakis/Bentsen
1992--Bush/Quayle    CLINTON/GORE
1996--Dole/Kemp      CLINTON/GORE
2000--BUSH/CHENEY    Gore/Lieberman
2004--BUSH/CHENEY    Kerrey/Edwards

Looks like that streak comes to an end in 2008, assuming King George agrees to voluntarily step down....
---
Donna
1/30/08
Edwards is dropping out of the race! Dang it.

Hmmm, I hadn't seen that. Too bad. But the deck was stacked against him. Interesting how all the polls say everybody wants change-change-change (which I believe is true), yet one by one all the real change candidates get picked off -- on both sides. Everbody wants a change in Washington, yet the two candidates we're coming down to are McCain (even more George Bush than George Bush, and has been in Washington for 27 years), and Hillary (the most conservative of all the Democratic contenders, and has been in Washington -- off and on -- for more than 30 years). Makes you wonder if we the people are really in charge of electing our leaders after all.... --Gary
---
Gary
1/29/08
I thought Omaha came off looking pretty good -- compared to some other cities! :-)
---
Amanda
1/29/08
And don't forget, tonight American Idol in Omaha!
---
Amanda
1/29/08
Yeah, I'm not quite sure either. But, I figure any action is better than none. Problem is, I don't have a favorite yet... I'm really struggling...

Strangely, it's because we have too many good candidates in the race, for a change. If we had only one real candidate, it would be easy. If John Edwards was all alone, great! He'll go after the big corporations and lobbyists that infest Washington -- Go Edwards! Or if it was Obama all alone, great! First black President, and he will instantly restore America's image on the world stage -- Go Obama! Or if it was Hillary all alone, great! First woman President, and the Clintons return to the White House -- Go Hillary! But having to choose one over the other is tough. I'm looking forward to the time after the convention. After the choice is made, we can focus on attacking the Republicans instead of Democratic in-fighting. Side note: I heard an old political pro (David Gergen, who has worked in the White House for both Democrats and Republicans) say this morning that this process for the Democrats could remain undecided all the way to the Convention, at which point maybe even Al Gore would re-enter the picture. I know I've thrown his name around a lot, but I'm not holding out that hope any more. But still...wow. --Gary
---
Amanda
1/29/08
Gary, will you be going to this next Saturday? Anyone else? Ryan & I may go... Our precinct is holding their caucus at East High School.

I did hear about it. Hadn't figured on going, mostly because I didn't fully get it -- it's new to Nebraska, and I wasn't sure how it worked here. The webpage you cited helped! Maybe I will go now. My precinct is holding theirs at Lincoln High. (I see that you can send in an "absentee card," but the downside is, if you support a candidate who doesn't get 15% on the first go-round, you don't get to throw your vote to another candidate.) --Gary
---
Gary
1/29/08
I didn't watch the State of the Union address last night, even though it was the Chimp's last one ever. We hope. But I did flip to it for a few seconds three different times, and I kid you not, each time I heard the word "terror" or "terrorists" within those few seconds. Same old song. That pathetic creep is truly in denial.

I understand that one of the things he demanded from Congress (aside from total obedience to himself) was $300 million for poor kids in the inner cities. Awwwww! What a nice guy, eh? Except for the fact that there are 15 million kids who would qualify for that, which breaks down to a mere twenty bucks each.... That should fix everything, right? And meanwhile, we spend nearly that amount ($270 million) in Iraq, every day. George Bush should be in jail.
---
Gary
1/28/08
I am proud to announce that the winner of the Oscar race is Anna! ...or, rather, she would be, if the whole deal was to get your ballot in first. Luckily for the rest of you, there's more to it than that -- so you all still have a chance. Sure, you've still got three weeks -- but the clock is ticking! (Thanks for your ballot, Anna!)
---
Amanda
1/28/08
Gary, where is the front page picture located? It looks like a fantastic place to visit.

It's one of the ski towns in Colorado, but I can't remember exactly where. Vail, maybe? Or Aspen? --Gary
---
Gary
1/25/08
Hey, be sure to check out today's cool site. Don't let its apparent simplicity fool you; it may just be the most addictive computer-toy you will ever play with!

And if you have any spare time left, take a look at this video. Bear in mind that the hippo is the most dangerous animal in Africa....

Tristen, I will add today's cool site AND this video to Tristen's Cool Sites. :-)
---
Gary
1/23/08
I am going to go ahead and post this year's Oscar ballot, even though Windstream (windstream) hasn't yet activated the form. (Every webpage that allows you to send information is called a "form" and needs to be okayed and activated by the internet provider.) So you will be able to look it over, but it won't register your votes yet. I'll certainly let you know when it is live -- should be within 24 hours, tops.
It's ready! Go vote!
Hope you enjoy the ballot. It's got a few new wrinkles this year that should help you make your choices. Have fun!
---
Donna
1/23/08
Bev just told me that Aunt Roma has bladder cancer. It's malignant. They're operating to remove the bladder this morning and to see if it has spread.
---
Gary
1/23/08
Thanks to Donna for today's cool site. Warning: You will get hungry.
---
Amanda
1/22/08
So, today was interesting... Got my nose cauterized... I had been having nose bleeds & just obvious blood in my nose at all time even if it wasn't a constant "bleed"... I figured it was from my nasal spray that is fairly new (since the allergy testing & shot treatments) but my allergist really doesn't want me to give up on it yet, and I have to admit, it is very helpful. So, I went to an Ear, Nose & Throat specialist this morning & had it done. They did it with silver nitrate. It wasn't that bad, I was numb, thanks to the cotton pieces they put up there before the procedure. But, it still wasn't fun. You can still see the long, skinny q-tips going up there... And you feel pressure. But, it only took 10 minutes and they got 5 spots! I stayed home from work because as soon as the local wore off it was a dull, constant ache. That and the fact the sneezing went on for an hour afterwards & then my nose has run like a faucet for the rest of the day. My face is raw from kleenex! But, I hope to be nearly back to 100% tomorrow...

Sad, sad news about Heath Ledger. I really liked him. And he had a young daughter. So sad....

I doubt if this is the final word, but I am hearing now he had pneumonia -- so maybe just over-medicated himself, or in a confused state took the wrong stuff. He was not a "pill-popper" as some other celebs are known to be. I know if you're feeling sick at three in the morning, it is easy to want to "up the dosage" just to get some relief. But it's a shame, whatever happened. --Gary
---
Gary
1/22/08
And the Oscar results are in! The nominations were announced at 7:30 our time this morning, and the person who made the most correct picks was....me! The nominated films were Atonement, Juno, Michael Clayton, No Country for Old Men, and There Will Be Blood. I picked four of the five; I had American Gangster in place of Michael Clayton. John made three correct picks, Emily made two, and Grandma and Donna made one correct pick each. Thanks for playing, everybody! The next task will be to make your picks on the complete ballot, which I will post very soon.

But will there even be an Awards show this year? The show can go on in spite of the writers strike, but there would be none of the witty jokes the presenters read off the teleprompters (which might be a good thing!). Also, the show would not be allowed to show film clips of the movies (ouch!), and also many of the stars would not even show up, choosing not to cross the picket line. The director of the show was on TV this morning saying there will definitely be a show, but he wouldn't give any details as he wanted it to be a "surprise." Hmmmmm. Anyway, Jon Stewart is the host, so that's reason enough to watch right there.
---
Amanda
1/22/08
Oh wow, the front page would make Ryan envious!
---
Emily
1/21/08
Well, I didn't get a snow day, which doesn't seem very fair since everywhere else did! But, my psychology teacher sent out an email this morning that she wasn't coming in because of the snow. So, since that was my first class I don't have to go in until 12:30. So, kind of a late start. And, its supposed to keep snowing all day! I hate the winter.
---
Amanda
1/21/08
I didn't even know it was thinking about snowing here yesterday. I didn't even leave the house yesterday, it was nice! The girls & I are home today of course, Martin Luther King Jr. day... We don't have anything planned, actually trying to think of something to do... I finished up reading all the Starkweather stuff this morning. They had a lot.
---
Karen
1/21/08

Yippee, I get a two hour late start today! Got a call about 6 this morning telling me to stay home for two more hours. We got about 6 inches of snow -- started yesterday afternoon and kept up through the night, and still more to come. Brent is out clearing the driveway. Erika will get the whole day off. She already had an early dismissal today and an assembly in the afternoon -- so she shouldn't be missing out on much today. Did Lincoln get any snow? I think it missed Minnesota, but thought it might get further south.

Not a flake here in Lincoln, though a day-long snowfall was predicted. It is cold, though! --Gary
---
Karen
1/20/08
Amanda -- thanks for the link to the Starkweather articles. Read them last night and some more this morning, very interesting.
---
Amanda
1/19/08
Itís been 50 years since Starkweather so the paper has a 3 day special, starting today. Iím sure itís in the actual paper too, but it seems like the online version might have a little more (video, which I havenít looked at yet).

Anyhow. I am deeply fascinated by this piece of our history, so I thought I would share the article with others in case they hadnít seen itÖ
---
Gary
1/18/08
Hey Tristen, I added a few videos to the Tristen's Cool Sites page. :-)
---
Amanda
1/18/08
Just read another article that said $800-$1600 for families. Hmm... And within weeks... Yea, I'll take it and I'd love for everyone to not spend it so that it doesn't put the band aid on the economy. Unfortunately, we all need it too much right now...

Teghan lost another tooth last night! Both bottom front ones!
---
Amanda
1/18/08
And other sad news... Bush thinks he can ignore this pathetic economy by pumping more checks out to people... God...

I just heard that! $300 to $800. Well, I'll take the dough, but it won't take the stink off Bush. :-) Typically Republican "solution," by the way. It's like some rich guy on his way to the restaurant feeling good about himself if he tosses a buck to a homeless guy. --Gary
---
Donna
1/18/08
Sad news about Bobby Fischer. How did he die? One of my favorite movies is 'Searching for Bobby Fischer.'

Rudy scares me, Huckabee scares and confuses me.

Fischer had been hospitalized, but the news story this morning said the cause of death hadn't been released. --Gary
---
Gary
1/18/08
In the news:

Chessmaster Bobby Fischer died. Anti-semitic, clinically paranoid, rude and offensive, and probably the greatest chess player who ever lived. He died in Iceland, where the famous Fischer-Spassky match was held back in the '70s. He was 64. (And how many squares on a chessboard? Yup, 64.) Anyone who hasn't seen the movie "Searching For Bobby Fischer" should do so immediately. Great movie! Not about Fischer so much, but about another (real-life) chess prodigy who was inspired by Fischer's play. Fischer played one of his earliest tournament games in Lincoln, in the Bennet Martin Library, back I think in 1959. (No, I wasn't there.) Anyway, RIP Bobby!
Mt. St. Helens -- which last erupted back in 1980 -- experienced a small earthquake yesterday, and now steam is venting from the crater.... Stay tuned!
And how about some anti-American quotes from two of the lunatics seeking the Republican nomination for president?
"Freedom is not a concept in which people can do anything they want, be anything they can be. Freedom is about authority. Freedom is about the willingness of every single human being to cede to lawful authority a great deal of discretion about what you do." --Rudy 9iu11ani
"I have opponents in this race who do not want to change the Constitution. But I believe it's a lot easier to change the Constitution than it would be to change the word of the Living God. And that's what we need to do -- to amend the Constitution so it's in God's standards rather than try to change God's standards so it lines up with some contemporary view." --Mike Huckabee
And now, to clear the taste of that... Here's a cartoon from 1938. Excellent animation, beautiful color, great music -- still cool after 70 years!

---
Ryan, Amanda, Tristen & Teghan
1/18/08

Happy Birthday Marsha!
---
Donna
1/18/08

Happy Birthday Marsha!
---
Grandma
1/17/08

Happy Birthday, Marsha!!
---
John, Zach, Sam, Anna & Sunny
1/17/08

Happy Birthday Marsha/Mom!!!!! We Love You!!!
---
Nelsons
1/17/08

Happy Birthday Marsha
---
Amanda
1/16/08
Several weeks old? Teghan's wearing a Halloween shirt!

Hmmm, I couldn't remember exactly when she acquired that camera. I was thinking it was no earlier than Thanksgiving, but I must be wrong... --Gary
---
Gary
1/16/08
New photo today!
---
Amanda
1/15/08
Oy, I could take on 20. Interestingly, there were 11 of them in my house Saturday & it went quite well... Our girl scout troop used to be about 20 & sometimes I felt like biting & kicking.
---
Karen
1/15/08
I just took the test -- I could take on 16 five year olds in a fight. But, with my job, I may have a bit of an advantage... Erika and I will be watching Idol.

Yeah, you've had some on-the-job training. :-) --Gary
---
Donna
1/15/08
Woohoo! I can take on 14 five year olds in a fight! Can anyone beat that score?

Dang! I can only take 13! Must be my bad knee.... --Gary
---
Donna
1/15/08
I'll watch AI. The tryouts are the best part. The judges have been told to be kinder this year. I heard Sanjay/Sanjeet(?) (last year's no talent singer that stayed way longer than he should have) and his sister have a variety show coming out soon. I'm sure that will be great. ;-)

I just sent in my Oscar selections. Reno 911 made a movie? And DOA: Dead or Alive--what a silly (and redundant) title.

Emily, these classes sound like they're leading you down the career path of a doctor. Are you still interested in law?
---
Emily
1/15/08
I wish I could watch AI tonight, but I have to go listen to a speaker for my lit class tonight! I wish I had tivo!
I just sent in my Oscar best picture guesses, it will be fun to see which ones get nominated.
I am almost half way finished with my second term classes, so I had an advising meeting today to get registered for third term classes. Assuming I get into all of them I will have a full load plus one credit hour. But, I'm not thinking it should be too bad. I registered to take Human Biology and Human Biology Lab, Intro to Philosophy, Writing, and Psychopharmacology. I am excited for psychopharmacology, we get to learn about drugs! :)

Geez, Emily, what's up with taking all these easy courses?? Why don't you take something challenging for a change! :-) (I'm kidding, of course!) --Gary
---
Amanda
1/15/08
So, everyone tuning in for American Idol that starts tonight?

What, and miss the 2398th Democratic debate? It should be better than the 2397th... :-) Actually I do expect to be flipping back and forth. Thank God for TiVo! --Gary
---
Gary
1/15/08
What happens one week from today? The Oscar nominees are announced, that's what! Another Oscar season begins, with the awards ceremony just a little over a month away. In the meantime, take a look at the list of Oscar contenders -- all the movies that are eligible for Best Picture. Only five of these 306 movies will be named next week. Can you pick 'em? No prizes for this little game, but the person making the most correct picks will achieve eternal fame and glory by having their name mentioned on this page. Good luck!
---
Gary
1/14/08
End of an era! Way back in September of 2001, Erika thought up the idea of the countdown page, and it went live on October 1. (Thanks again for the idea, Erika!)

Lindsey was one of the very first people to add a countdown item -- graduation day, which was then 2400-some days in the future. Ever since then, her item was always the most distant on the list. Until today! While I was updating our calendar, I added the first Husker game of the season to the countdown page. That game is about three months after Lindsey graduates, so for the first time ever, her item is no longer the last item on the list. :-)
---
Gary
1/12/08
Here's a 4-minute video that will be interesting to you if you're into either World War II or movie-making. (I'm into both, so woo-hoo!)

The BBC needed some D-Day type footage for a WWII program, but didn't want to spend the money on a cast-of-thousands "Private Ryan" recreation -- so with one camera and a trunkload of props, three guys (that's three only) crossed the Channel to the actual Omaha Beach in France and created this footage, in only four days. They put it all together with a video editing program called After Effects, which is to video what PhotoShop is to photos. Enjoy!

(The Frankie Goes To Hollywood soundtrack is a bit loud, so turn it down if you're at work!)
---
Amanda
1/11/08
I didn't realize Grandma was sick. I didn't know Gary was either until it took him a week to respond to an email! Hope you all feel better! The girls had it right after Christmas, right over their break. Teghan got it first the day before her birthday & we got her in to the dr because she had yet another ear infection. Then 3 days later Tristen was going in to the dr because I thought she might have strep. Nope, ear infection. And I don't know why I'm going on & on about this, I already wrote about it once. Sheesh! Anyway. They are better now, thanks to antibiotics actually. Well enough that Tristen is having a friend spend the night tonight & Teghan has her friend birthday party tomorrow. She is having a no sleeping sleepover. Basically a pajama party, with pizza, cake, presents & some games. Just 5-7:30, then we are done with her & birthdays for another year. Can't wait really, it's drug on long enough!
---
Grandma
1/10/08
Winter doldrums, I guess. I am better today, slept all night, and no coughing so far. Have become a real couch potato. Glad you are feeling better, Gary!! And Brent too. Anna also. AND ANYONE ELSE WHO IS AILING!! Have a really pretty snow going on (if anyone still thinks snow is pretty). Should be ending any time or so they say. Been getting lots of seed catalogs, so somebody thinks Spring is on the way.
---
Karen
1/9/08
That must be going around everywhere -- sounds just like what Brent had. He too, got sick after Thanksgiving, went to the dr -- had bronchitis -- got meds. He felt better for a couple of weeks -- but no voice, went back to the dr two more times and still no better (and absolutely no voice). Went to another doctor yesterday -- I think he finally got some drugs that are doing some good.

Lots of it going around down here too. Several days ago I made a late-night trip to the drugstore for some cough syrup, and the cashier said "We are selling LOTS of this stuff lately." --Gary
---
Karen
1/9/08
Gary, I hope you're feeling better -- what was wrong? I am soooo glad the Iowa caucus is over. No more phone calls (we were getting 5 to 10 a day!) and the mailmans bag is much lighter. Erika and I get Friday off -- semester break -- looking forward to a nice relaxing day.

The doc called it "viral bronchitis" -- congestion in head and chest, sore throat, headache, and constant coughing. It first hit me just after Thanksgiving, stayed for about three weeks, then I felt okay for a week or so, and then it came back right after Christmas. Today it's all pretty much gone except for the sore throat. Mom has had the same thing, on more or less the same timetable, so I'm hoping she's almost done with it too. --Gary
---
Gary
1/9/08
Ha! Here's a funny Jon Stewart clip about Hillary Clinton's "breakdown" -- plus a comment from Rudy 9iu11ani...
---
Gary
1/9/08
So, what has happened in the past five days since the previous post? Don't ask me -- I've been home sick for most of that time. (Starting to feel better yesterday and today.) In the New Hampshire primary last night, Hillary came out on top in an interesting-to-watch race. Now on to South Carolina. If you're interested at all in American politics, every day this year is like Christmas. There hasn't been a race this exciting in decades, and in some ways there hasn't been a race like this ever.

Bush -- the lamest of lame ducks -- missed all the fun last night. He's in Israel right now. I understand he voiced a request to watch the sunrise over the Jerusalem skyline from his hotel room; so in the early morning hours they shut off all the lights in Jerusalem so he would have a good view. Nothing is too good for the King of America, eh? I hope it rained! :-)
---
Donna
1/4/08
Adorable pictures of Teghan! So Teghan, has the tooth fairy come yet?
---
Gary
1/4/08
Attention Tristen! I know you like to surf the old cool sites on our links page, so to make it a little easier I have collected a bunch of them (including some I know are your favorites) and put them all on a new page called Tristen's Cool Sites. You can also get there through the links page. I'll be adding new ones to it from time to time, and if you have any you want to see there, let me know and I will add them. Hope you like it!
---
Gary
1/4/08
Big news yesterday: Obama won in Iowa, and Teghan lost her first tooth! Photos of the latter here!
---
Amanda
1/3/08
Remember my friend that I did the online baby shower for? Check it out.

Oh, Teghan lost her first tooth! Pictures to come soon!
---
Gary
1/2/08
Still undecided on your choice of candidates this election? (Sorry, Republicans, can't help you -- I'm talking to the Democrats here.) Michael Moore has written an article that may give you some guidance. Read it here.
---
Karen
1/1/08

Gary, I like the changes on the page :) I sure didn't see the new year in -- didn't even try. Emily went to a friends house and stayed there last night. She was hoping to get today off of work, but got a call and they needed her so she is about to go in. Erika, Brent and I are enjoying our final days off. Brent has to go back tomorrow and Erika and I go in on Thursday. We got our first Netflix movie "The Simpsons," returned it and waiting for the second. Should be fun to keep getting them.

Netflix is great. And thanks for the kind words about the new look. It's not a huge change, but I got tired of looking at the old buttons. :-) --Gary
---
Ryan, Amanda, Tristen & Teghan
1/1/08

Happy New Year!

We lasted til 12:00, and that's about it. The girls might have made it a little longer. Ryan worked yesterday, so up at 4, at work by 5 & worked til 4. He came home & took about an hour & a half nap & then he lasted til 12. We had corned beef, cabbage & potatoes (though I hear grandma says we are rushing the season) and watched a movie we got from Netflix. It was a nice night, even though Teghan had no idea why we were doing it, she just didn't get the 2007, 2008 hoop-la.
---
---