Old news: February 2008

Back to Newsletter
Gary
2/29/08
And another new review, this one from Amanda. Thanks!
---
Gary
2/29/08
A new review on this springlike Leap Day, thanks to Lindsey!
---
Donna
2/28/08
I was hoping to stop over at Mom's to see Teghan, but I don't think I can get away from work tomorrow. If you need a break from either/both T&t this weekend, let me know. ;-)
---
Amanda
2/28/08
OK grandma, I will bring Teghan over in the morning, 8-ish. Dad will pick her up & take her to school after lunch. Probably 12:20 or so... Thanks! See you in the morning!
---
Donna
2/27/08
That's really sad news about Simon Rezac. I remember him really well. I think I remember the egg story--in the car, right? I remember that car. Bill was a year older than me and Ricky was my age. Does the paper say when and where the service is? Or how he died?
---
Karen
2/27/08
Simon Rezac -- haven't thought about him for a LONG time. I do remember him very patiently waiting for Donna. Mom was usually dragging her out the door. Donna -- remember the "fried egg" story?
---
John
2/27/08
It would be an honor to have Teghan share in the Oscar celebration with us by keeping it safe in her possession for a few weeks. Emily we hope your spring break has been all you were hoping it to be.
---
Gary
2/27/08
Oh man... Just now on C-SPAN, a statement was made about the Iraq war which may just be the stupidest statement in a long history of stupid statements about the Iraq war. Republican Lindsey Graham (who put on his bullet-proof vest and accompanied John McCain on his famous "shopping trip" to Baghdad a few months ago) on the Senate floor just now said: "If we're doing so bad in Iraq, why do soldiers return time and time again?" :-0
---
Grandma
2/27/08
Amanda, can't think of anybody I would rather have as company on Friday than Teghan! Looks like a nice day coming up. I see that Simon Rezac passed away, Donna, you should remember him! He probably got you through Kindergarten. Everett Way also died yesterday. Well, I must get busy, I dismantled the closet yesterday, and alas, the ambition has fled!
---
Amanda
2/27/08
I'm feeling fine. Surely better than last week...

We have the Oscar at home Gary, Teghan is keeping watch over it til you are ready to ship it to its new home...

Grandma, Friday morning feel like having a visitor? Dee Dee is closed so Teghan needs somewhere to go before school....

Tonight we have orientation at Mickle Middle School for Tristen. Yowza...

Re: The Oscar, I need to inform Erika and John that Teghan was really counting on a win this year, and when we all made a to-do about her being the only one to pick Best Actress, I think she thought she had won. So with your indulgence, E & J, we thought we would let Teghan live with the trophy for a few weeks before sending it on you you. Hope that's OK? If you'd seen her face, I'm sure you'd agree. :-) --Gary
---
Donna
2/25/08
Congratulations John and Erika. It was a fun Oscar night. Every time they mentioned There Will Be Blood, Teghan said, 'that's the one I picked.'
---
Grandma
2/25/08
Congratulations to John and Erika for the Oscar wins! Erika, are you going to make him a new suit? We had a fun Oscar night and it was over fairly early. Yesterday, I opened doors for a little more sun and fresh air, today it is cold and WINDY, with a bit of rain and snow to keep it interesting. Enjoy your break, Emily!
---
Gary
2/25/08
Right you are, John, about the totals. My scoresheet from last night was correct, but then I re-did the totals to double-check myself and somehow skipped a category. It only affected the names you mentioned, and I have re-calculated the percentages. Thanks for catching that!

And speaking of movies, thanks to Lindsey for the new review!
---
John
2/25/08
Oops!!! I neglected to offer congratulations to Erika from all of us here in Minnesota for her impressive win last night.
Congratulations Erika on your 2nd win in the first decade of the new millennium. We are also glad to hear that Amanda is doing better and hope that you never have to go through an ordeal like that again.
---
Emily
2/25/08
I watched all of the Oscars last night. It was fun, but, of course I always do the worst....
Erika & I are both home today. I am on spring break and Erika got to stay home due to a possible early out. It is supposed to be getting icy and snowy around noon. So, we are going to go get lunch at La Juanita's at 11!
I have all week to not do anything & I am pretty excited. But, then I have to go to work and go move back into school & start 3rd term.
I am looking forward to my new classes.
Congratulations John & Erika!
---
John
2/25/08
What a fun Oscar night. It was refreshing to see the Minnesota branch of our family do so well especially with Minnesota being so richly represented at the awards. Thanks Gary for all the time and energy you put into Oscar Night. You truly make it special and fun for all of us. By the way, I think there are a few corrections to be made to the scores. Gary, would you please do a recount on Donna, Erika, yourself, me, Karen and Samantha. I think we should each have one more win than was listed.

Oops, I will do that ASAP! --Gary
---
Karen
2/24/08
Amanda, how are you doing? Grandma told me you had a bad day last week.
---
Amanda
2/24/08
I too enjoyed San Francisco week, though I just looked at all of them today. I've been a little under the weather and not on the computer much this week. Anyhow, I'm glad you saved all the days & I was able to go back & look at them. I liked the You Tube video on the Cliff House the best, that was pretty neat, and sad.

I heard you weren't feeling well. Glad you liked SFO Week, and glad you're feeling better! --Gary
---
Marsha & John
2/23/08
So sorry to hear that "San Francisco Week" is coming to an end, we enjoyed every day of it, it brought back many memories of living in one of our favorite cities. John was so impressed with many of the pictures that he copied them and is using them as wallpaper. The pieces on the park and bridges were wonderful. Thank you for putting it all together. The ahmn website is truly wonderful!

I thank you! It all started when I read an article on "The Maltese Falcon" and the writer mis-identified the Bay Bridge. It got me thinking, and it just took off from there. There's plenty more for a "San Francisco Week, Part 2" sometime down the road: Chinatown, Fisherman's Wharf, Victorian houses, Mission Dolores and Mission Street, Old San Francisco... that's another week right there. :-) Anyway, I am glad you enjoyed it. --Gary
---
Karen
2/22/08
Gary, thanks for the San Francisco "trip." It was fun to see a few of the places you took me and Donna to many, many years ago. I had forgotten about the house -- now that I remember it was a very nice house. Don't remember the park though.... We got the Oscar packet the other day. I imagine we will watch at least part of it.
Emily is home for 10 days now -- officially done with her 2nd term and will start again on the 3rd.
I am hoping that winter is about over -- we had a nasty cold couple of days -- Tuesday we didn't even get above the negatives! (although I'm sure it was colder in Minneapolis). Anna -- I did get some yarn last week, have a bit of a start and will get going on it this week-end. I got a cream, a couple of blues and some green. Hope you like it :) Brent and I just got back from a nice evening -- went to the Home Show -- looking for kitchen ideas (but didn't find many) then out to eat. He is now watching an old movie (courtesy of Mom and Netflix). By the way Mom, thanks again for that -- we have really been enjoying it -- in fact we plan to continue when the gift subscription runs out. Hey, anyone remember one year ago yesterday? We do! It was Erika's surgery day!!

Happy surgery-day, Erika! :-) We did go to Golden Gate Park when you and Donna were in San Francisco, but I think we went straight to the Japanese Tea Garden. We also went to Stinson Beach and Muir Woods (across the Golden Gate Bridge in Marin County), we went to Chinatown and Fishermans Wharf, and one day we drove for a couple of hours down the coast south to Monterey. --Gary
---
Grandma
2/22/08
Gary, I have enjoyed 'San Francisco week.' Lots of books that I read have mention of streets, places, etc from there as well as take place there altogether. Gives me an insight when I can find Market or California streets, for instance. Really was neat to see your old stomping grounds also. Can't say I want to get real estate there tho'. The huge park must be fantastic, have heard of lots of things that are in it but I never knew they were all in the same area before.
Nice day, bet it will make 40 today. And no wind! See you all at the Oscar's!

It was fun putting "San Francisco Week" together. Glad somebody read it! :-) --Gary
---
Gary
2/20/08
Brrrrrrr! Cold out there. A frosty -4 when I went to work this morning. Warmer weather on the way for the weekend, though.

Speaking of low numbers, the Chimp in the White House
made history yesterday by getting the lowest job approval rating ever: only 19% approve of the way he's handling his job, and a whopping 77% disapprove. Who are these 19%? Well....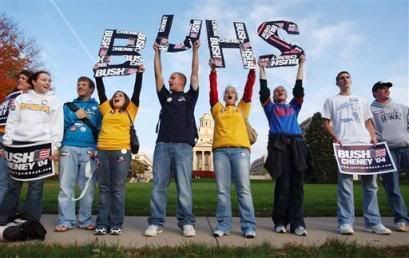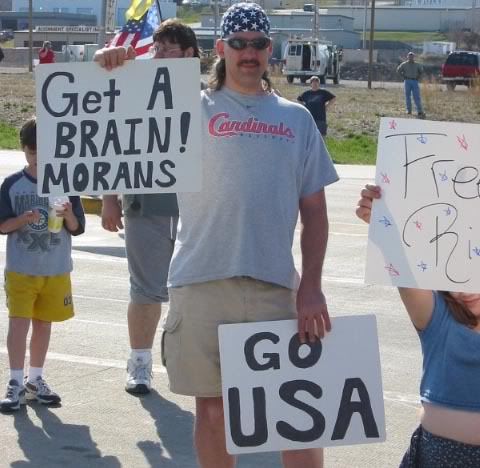 Letterman last night said he was wondering who would ultimately take over in Cuba now that Fidel is stepping down -- he hoped it wouldn't be "his idiot son Fidel W. Castro." :-)
---
Amanda
2/19/08
That's a shame about Dick Blick, though I have to admit, I don't think I ever went there... Good ol economy at work again... Cookie pizza sounds good. We will probably go over a little early. 6 maybe, that way if we have to leave early it won't be so in & out...

Blick's is a great store. I'm going there tomorrow! See you at Grandma's at 6. She's not planning a sit-down supper -- just some finger-foods and snacks that we can munch on through the show. It's gonna be fun! :-) Oh, I also just learned that your "private" video that I posted two items down in fact will not work unless you're on the private list. So I have removed the link. We'll have to figure something else out. --Gary
---
Gary
2/19/08
I see in this morning's campus newspaper that the Blick Art Store (on the second floor of the Nebraska Bookstore) is going out of business -- and selling off their entire stock at huge discounts. It was just announced today, and they're closing their doors on Saturday the 23rd. They've got tons of stuff -- all kinds of paints, papers, inks, pens, canvas, art tools, modeling clay, art books, you name it -- so anyone in Lincoln and interested in such, for yourselves or for gifts, might want to take a look.
---
Gary
2/19/08
Amanda sent me a link to a "private" video for me to experiment with, and one of my experiments was to see if I could post such a video to our webpage. And I can. And it's so good I should share it with you all. It was taken around the end of September last year. (Let me know if it doesn't work for any of you.)

[--removed--]

P.S.: Cookie pizza sounds great!
---
Donna
2/19/08
I'm thinking of making a dessert to bring Sunday night. Does a cookie pizza sound good?
---
Amanda
2/18/08
Hmm..... Sunday night Oscars might be fun at Grandma's... Maybe not staying the whole time (unless its shorter this time if they couldn't get the writing done in time!) but it could be fun...

Gary, I need to know your You Tube Channel. I sent you an email... I was going to try the private thing....

Amanda, sorry I didn't get back to you on this til now. I got the email. The link in the email took me to YouTube and asked me to log in (or create an account). I logged in to my account, and then nothing else happened. I assumed I would be taken to a page with your video on it. So maybe I'm doing something wrong. Haven't monkeyed with it much yet. Unless I'm mistaken, "channel" is simply username, right? If so, my channel is ganderson1. --Gary
---
Gary
2/18/08
Well, the Oscar picks are all in, and the scoresheets are in the mailbox and on their way to you all. We find out who gets the trophy this year next Sunday at 7 pm -- and I know it's a school night, but anyone who's in Lincoln that night and wants to watch them at Grandma's, come on over.

In the meantime, here's the final list of our Oscar picks!
---
Amanda
2/17/08
Because I'm just starting out, I'm not sure how all this works. But, I also have a link to our You Tube "site."

Well, I thought about the private, and will still consider it. I mostly wanted to put a video of Alexis up so Steph could send it to relatives. And without knowing who all that would be, I would hate to have it private. Plus, if others wanted to forward it on & they aren't on the list, would they be able to view it? I just don't know many details yet, but suggestions/help is appreciated!

And upon further inspection, it appears if I set them to private a person needs to log into You Tube with their own account. Am I seeing it right?

I'm not sure how it all works either. I do have an account on YouTube, but I've never posted a video. My take on it so far is that you post a private video, which generates an email to the people on whichever private list you choose. The recipients merely click on the link in the email. But do those recipients need a YouTube account? It seems like they would, but I'm not sure. The help page doesn't specifically say that. Even if it does require an account, they are easy to set up -- but yes, it would be easier if an account wasn't required. I'd be glad to experiment on this with you: set up a private test video and put me on the list and we can try some different things. At your convenience, of course, whenever you have time. In the meantime, well done on this first video! :-) --Gary
---
Amanda
2/17/08

Ha! I finally decided to take on the task of figuring out You Tube & how to post my own videos! Here's the very first video we did with our camcorder. I also have added some of Alexis so that Steph can send the link to out of town relatives. I wish this was around the whole time we lived in Texas.

Excellent! Here's a link to the actual page on YouTube. Amanda, have you considered making your videos private, i.e., viewable only by a list of people you select? Go here and see the links under "Sharing Videos." --Gary
---
Livy
2/17/08
I know I'm a little late for the whole Happy Valentine's Day posting, so I'll say good luck to everyone for the Oscars! Oh and I also have some good news! At Valentino's buffet, there are the little pieces of paper that you fill out the questions from the t.v. The trivia contest, well I took second place (I put it under Dad's name since you had to be 18 or older) and they sent a t-shirt, $10 gift certificate to eat there, and a certificate saying I (Paul Anderson on the certificate of course) won! Which I thought was kind of weird, since I never really thought anyone ever really won those things! That they would just 'say' they would get prizes!!! Well I got to go, I'll talk to you all later!

Thanks for the new review, Livy. And for your Oscar ballot. (You too, Teghan!) --Gary
---
Gary
2/17/08
Okay, this is it -- last chance! The Oscar train is leaving the station, and Brent, Donna, Lindsey, Lori, Olivia, Paul, Ryan, Sean, Teghan, and Zachary aren't on it yet! (Thanks for yours, Sam!) I've got to have your ballots by Monday morning -- otherwise I am not responsible for the bitter tears you will cry when someone else gets the Oscar. I'm tearing up a little right now, just thinking about it....
---
Donna
2/16/08
I want a T&t visit!!!

I know, I have to get my Oscar picks in. I was hoping to get some inside information from a friend, but it looks like I'm on my own. I'll make my guesses tomorrow...
---
Amanda
2/16/08
I'll try to get Teghan & Ryan to join & I can mention it to Lindsey & Olivia & see if they can get the 'rents to join... I just don't think many people are on their pc's anymore. I don't know why... TV sucks right now, so they can't be too busy watching it!

The girls & I have a 3 day weekend, woohoo! Dance & 2 soccer games today, and then Monday Teghan gets to have her friend Caeli over for a few hours in the afternoon, she is very excited about that. Caeli is the friend from pre-school last year & they have kept in touch (rather I & her mom & grandma have kept in touch, but Teghan & Caelie woulnd't have it any other way). Other than that, a 3 day weekend, woohoo! Anyone want a T & t visit!?
---
Gary
2/15/08
Coming down to the wire.... Marsha joined the Oscar crowd yesterday, but even so less than half of us are currently in the game. Brent, Donna, Lindsey, Lori, Olivia, Paul, Ryan, Samantha, Sean, Teghan, and Zachary have today, Saturday, and Sunday to get involved. The score sheets go into the mailbox on Monday. Be on it, or miss the fun!
---
Marsha
2/14/08
It wasn't too busy for a Valentine's day at Bachman's, guess the snow, cold and bad economy are keeping people away. John was feeling well enough for dinner out last night, went to a favorite place, The Big Bowl and shared some great Asian appetizers. I am looking forward to hearing about the Metcalf trip to Ohio, I would love to go back for a visit sometime. Karen, Anna is so excited that you are making an afghan for her, she would like it in warm blues and greens and big enough to cover her up for a nap. Thank you! Donna, I hear you got a new bathroom floor, how nice, I know you have had that on your list for a while. Any pictures?
---
Grandma
2/14/08

Happy Valentine's Day, everyone!
---
The Hatgidakis Family
2/14/08

Happy Valentine's Day!!!!!
---
Donna
2/14/08

Happy Valentine's Day!

Amanda, I love the coffee pot. I think the coffee tastes better.

I drove to work today and half way here, Omaha mentioned freezing rain later this afternoon. I hope they're wrong but it sure looks like some kind of storm is on its way.

For what it's worth, the Weather Channel is saying the temperature will be well below freezing all day (lower 20s), so they are predicting "snow showers." I've never been sure what the difference is between "snow showers" and plain old "snow," but anyway.... Seems to me that rain, freezing or otherwise, is unlikely, but who knows? --Gary
---
Gary
2/14/08
"Gee, that Oscar statuette looks beautiful sitting there on my shelf!"
Sadly, this is something Brent, Donna, Lindsey, Lori, Marsha, Olivia, Paul, Ryan, Samantha, Sean, Teghan, and Zachary will not be able to say.... unless they get busy within the next 4 days!
---
Ryan, Amanda, Tristen & Teghan
2/14/08

Happy Valentine's Day everyone!
---
Nelsons
2/13/08

Happy Valentines Day
---
Amanda
2/13/08
Donna, how's the coffee pot?
---
Gary
2/13/08
The latest Oscar ballot to arrive had John's name on it (thanks, John!), which means that Brent, Donna, Lindsey, Lori, Marsha, Olivia, Paul, Ryan, Samantha, Sean, Teghan, and Zachary are still out in the cold. C'mon in where it's warm, y'all! Only 5 days left!
---
Gary
2/12/08
Happy Birthday, Abe Lincoln!
---
Gary
2/12/08
Erika and Amanda have joined the Oscar party, and the rest of you -- Brent, Donna, John, Lindsey, Lori, Marsha, Olivia, Paul, Ryan, Samantha, Sean, Teghan, and Zachary -- have 6 days to do the same. Nothing to lose, and a handsome trophy to win!
---
Amanda
2/11/08
I did not see any candidates, or their daughters or spouses. Mostly because they came on very short notice and scheduled things during the normal work day. I don't know that I would have gone though, because there were huge crowds because this was a "first." I don't so much care about them coming to my state, or giving a speech, that isn't going to sway my vote one way or another.

We did participate in our first ever caucus though. Ryan, I & Tristen went. 10 precincts met at our location (East High School) & after doing some pep talks & learning the ropes of caucusing, we split up into precincts. Within our precinct, we stood at separate areas of the room for Obama, Hillary & undecided. Obama had the majority with half the room & Hillary had 1/4 of the room & the undecideds had the other 1/4 (which included Ryan & I). People from each group got the option to speak & sway others to join them. People spoke, but no swaying happened (I spoke as an undecided, the same comments I have been making for months about the fact that neither of these two are "elect-able" against a Republican, merely for the fact of their gender & race & that half this country is just not ready enough for that). It was about to be determined that Obama would get one of our precints votes & a coin toss would determine the second, essentially giving Obama a 50% chance he would get both of our precincts delegate votes. So I decided to switch to Hillary's side, and Ryan did as well. I did it not so much because I "chose" her, but because I haven't yet decided but I didn't want him to get both our votes. So, one for each from our precinct. (Doesn't matter though, he got 60% or so here in Lincoln & the in the state!) Anyhow, at the end we had to elect a delegate to go represent our group at the Lancaster County Convention in June, and don't you know I got chosen. I am glad to do it of course, and its nice to get back to my political roots, it's been awhile! My professors would be proud...

Thanks for that report! Very interesting. --Gary
---
Karen
2/11/08
Brrr, another cold, snowy day. We are predicted to get about 3 inches. I hope for more -- but only if it's a snow day for me :)
Picked up Valentines for Emily and Erika after school today -- delicious carmel apples. They look forward to them every year.
Tristen & Teghan did you find a science project? Are you doing something special for your school?
Anna -- I need to have a couple of color choices from you -- then I will get started on your afghan.
Gary -- I just saw your note -- I will do that next. Don't seem to spend much time on the computer lately.

Thanks, your ballot just arrived. Good luck! --Gary
---
Gary
2/11/08
Where do Amanda, Brent, Donna, Erika, John, Karen, Lindsey, Lori, Marsha, Olivia, Paul, Ryan, Samantha, Sean, Teghan, and Zachary need to go? They need to go here -- soon!
---
Emily
2/9/08
So, did anybody in Lincoln go to see any of the presidential candidates? We've seen a few of them when they stopped in Sioux City & thought it was pretty interesting.
I am ready for spring. It has been COLD here and is only supposed to get colder tomorrow. There was a windchill of -10 when I went to work this morning.
Good to see the xmas list got finished without my help. We have been wanting to get started shopping, or at least thinking about it. But, I almost forgot about it after Amanda and Tristen decided to take it over.
I have been pretty busy lately too. I am finishing up 2nd term classes this week and getting ready for finals. It will be nice to have 2 weeks to not have to do much. But, I will be pretty busy next term too. I got into all of the classes I requested & my advisor suggested I take an extra class too. So, I will be doing that and I am going to take Statistics and Computer Science this summer. Then I will be right on track to be a junior when I start next fall.
I am excited for the Oscars! It will be fun to see which ones win. I saw Juno a few weeks ago, has anyone else seen it? I really liked it, I hope it wins a few. I also saw Into The Wild this week, I don't thinks its nominated for anything, but it was another really good one I would recommend!

Emily, "Into the Wild" did get one nomination: Hal Holbrook for Supporting Actor. (Several movie critics are saying it should have gotten more noms than that.) And even though Chelsea Clinton and Michelle Obama were both on campus in the past few days, I missed 'em both... --Gary
---
Amanda
2/9/08
Wow! Check out this article! In Lincoln we have more caucus sites, so this shouldn't happen, but wow, how great!!!!!

Yeah, I heard that the World-Herald was tracking the story online by updating their site with frequent reports -- but the site itself is getting so many hits I couldn't access it! :-) --Gary
---
Gary
2/9/08
Tristen, try this site or this site or this site for LOTS of ideas.

I thought this one about the rings of Saturn looked pretty cool. (The only hard part would be finding a record player!)
---
Tristen
2/9/08
Hey Teghan and I are in a science fair and we need ideas. Bye
---
Gary
2/8/08
In spite of the snow and cold here, and in spite of the arctic blast about to hit Minnesota today (and the rest of us this weekend), I would like to report that when I stepped outside this morning I heard birds singing. I looked up and saw a cardinal at the very top of the tree, singing like it was Easter Sunday. I would have taken a picture (bare black branches, blue sky, and the bright red cardinal) but I didn't want to take my gloves off. Anyway, Spring is on the way....
---
Gary
2/7/08
Thanks for your Oscar ballot, Tristen -- good luck! With only ten days to go, we have received ballots from Anna, Grandma, Emily, and Tristen. The rest of us have a mere ten days to get ours in.

Chelsea Clinton was on campus this afternoon, stopping first at the Student Union and then a coffee shop over near the Children's Museum. I didn't go, but some of the grad students who work in our office did. And Michelle Obama is in Lincoln tomorrow (I think) -- not sure where.
---
Tristen
2/7/08
Hey Gary and everybody sorry I don't get on alot but I will write now. Gary the oscars are confusing. And I can't wate to go to Ohio. Well gota run Bye.
---
Amanda
2/7/08
Another good article on the upcoming caucuses. I know a girl at work who is going to hers. It's done great things for Nebraska politics. And Obama in Omaha this afternoon, Chelsea today in Lincoln, and Michelle Obama tomorrow in Lincoln. Wow!
---
Gary
2/6/08
One of my favorite stories like that concerns the movie "The Wizard of Oz." Frank Morgan, the actor who played the Wizard, was in wardrobe being fitted with his costume -- but wasn't satisfied with anything they had. Nothing made him "feel" like the Wizard. So he went to a thrift store and started poking around, finally finding a coat which looked and felt just right, and was the coat he later actually wore in the film. When he looked in the lining, he found a name-tag with the name of the previous owner: L. Frank Baum, the author of "The Wizard of Oz."
---
Donna
2/6/08
Great quote and cool Cool Site today, but that first story about the taxi can't be true.

Well... Bermuda is a small place, not all that many taxis or drivers I imagine... Could maybe be true... I know the third one is true. --Gary
---
Gary
2/6/08
Lucky you. No such luck here. UN-L classes are going on as usual....
---
Donna
2/6/08

Wow, schools are closed in Lincoln. That means I'm home today.
---
Donna
2/5/08
I think weathermen are overpaid. Gallup announced the bus to Lincoln would leave at 1 today. I left around noon. The roads were messy but okay until I got to Gretna, then they just kept getting worse. One Lincoln station says we'll get up to 10 inches and another one says we'll get up to 6 total. I really need to be at work tomorrow but I bet I'll be working from home.

I hadn't heard that about Obama. He bothers me. And Hillary really bothers me. I don't know, since Mac is back, maybe I'll vote for him...
---
Marsha
2/5/08
We had a couple inches of snow, but no big deal. Superbowl was fun, did you get to see the Minnesota Twins commercial, it was a good one (to us anyway.) Thanks for doing the Christmas list Tristen. Karen, I was going to call you this weekend, but I didn't get around to it, I cleaned and cooked quite a bit and I guess the weekend got away from me.
---
Gary
2/5/08
I just spoke with Donna -- she is home. I will leave any traffic/weather stories she may have to her. (I am home too; I left early, around 3.) I will say this: Around 2 this afternoon the UN-L faculty/staff got an email from Harvey Perlman with the sad news that the associate chancellor (I think that's his title -- anyway, Perlman's #2) was killed in a traffic accident on Interstate 80 on his way in to the campus from Omaha. Kind of stunned everybody on campus. Everybody was kind of eyeing each other, thinking, "I wonder if he'd still be alive if this had been declared a snow day...." Anyway, the campus closed at 5 pm and all evening classes were cancelled.

Yeah, the Nebraska caucus got their interest: Obama arrives here Friday, and Hillary's people announced she may come to Nebraska but wasn't sure about scheduling yet.

[Later: His title was Associate Vice-Chancellor (Kent Hendrickson). Not Perlman's #2, but head of Information Services and Technology.]
---
Amanda
2/5/08
Donna, did you make it home? Boy, if ever there was a day to not drive to Omaha, today was the day, what were you thinking??

Huckabee & West Virginia... Makes sense... Obama's coming to Nebraska... Hmm.... The caucuses got people interested!
---
Gary
2/5/08
Wow, this is funny: Dave Letterman on Mitt Romney. "He looks like the photo that comes with the frame." :-)
---
Donna
2/5/08
Ah, I have Ryan and Karen has me for Christmas. I'm pleased with that. I think I'll get Ryan a sneezy pot. ;-)

I may just drop that monitor off some day on my way home from work. I pass your house around 4:15 so it wouldn't be outside for long. And I won't if the weather is bad. That will make a great trade. I'm surprised at how hard it is to get rid of old monitors. Speaking of weather, I had to be at work today and the weatherman said 1-3 inches by this afternoon, so that didn't sound so bad. It's really coming down now in Omaha. I'll have to watch it close today and probably leave early. I agree with Emily--I hate winter.
---
Gary
2/5/08

Happy Mardi Gras, everybody. But while New Orleans will be partying in the streets, here in Lincoln we'll be shovelling sidewalks and scraping windshields. Snow is on the way (should be here by 7:30 am, the weather guy says), and it is supposed to snow steadily for the next 24 hours.... Booo!
---
Gary
2/4/08
Okay, Christmas list is posted. Thank you, Tristen! Good job. And let me be the first to wish you all a Merry Christmas -- only 325 days away!

Hey Ryan (or anyone else), I've got an old monitor, too. "Old" meaning only that I bought a new one, but the "old" one is only around two years old and works fine. It's a Mitsubishi Diamondpoint SB70 with a flat black 17-inch (measured diagonally) screen. Anyone want it?
---
Amanda
2/4/08
We are going to Ohio to see some friends of ours. The friends that I talk about on here that just had the twins. They live in New Philadelphia Ohio and we are going for 8 days. Tristen has been on a plane once, when she was 4 months old & Teghan never, so that will be a new experience for them.

Tristen is doing the Christmas list as I type. We will just submit it to Gary. It seemed like Emily just wanted to hand the reins over to Tristen & I have done it in the past & understand the rules, so I think what she comes up with should be good to go! Sorry for the delay, busy lives never slow down it seems.

Donna, guess what I got tonight? A Netty Pot. Tried it for the first time already. Wierd... Not bad though. I'm interested to see any effects. I looked online a little bit for it yesterday & found it at Walgreens, but didn't know if the store would have it. Then today I have a MONSTROUS migraine, sinus induced, so I decided I should try the Netty Pot sooner than later. I called Walgreens, she knew just what I meant & told me they were behind the shelf at the pharmacy. I asked Ryan to get it for me on his way home from work to save me the trip after work, but when he got to Walgreens he almost went up to the pharmacy and asked for a "sneezy pot"! He called & said, "OK I'm here, it's a sneezy pot, right?" I should have said, yup, sure is!

Also, Donna, Ryan does want the old monitor. I guess we can swap out for a coffee pot!
---
Gary
2/4/08
Christmas list: Sorry, I meant to be the spark plug on this one. (Hey, I've been sick ever since Thanksgiving and my brain has been befuddled...) Anyway, I meant to follow through on this with Tristen when I saw her next (which was last Saturday), but I forgot. I was going to ask if she would like to put together a first-draft of the list, and then email it to Emily for her opinion and expertise. So today I planned to email Amanda with this plan, and then here came Karen's newsletter item. I'm a step behind everywhere! :-)

Snow: A beautiful snowfall here in Lincoln yesterday morning -- big wet flakes all morning. I was out in it for a while, and it was really nice. Temperature was warm, and almost no one on the streets. Very pretty! And, almost all melted by the afternoon. Today, not a flake out there.
---
Karen
2/4/08
I didn't watch much of the game -- maybe 10 minutes -- so I also missed all the commercials. I did watch most of the puppy bowl though :) Amanda -- what does the countdown mean? Why are you all going to Ohio? Did you all get much snow today? We barely got any (which is just fine with me). Looked like it may have gotten Lincoln. Marsha -- what's new with you guys? Tried to call yesterday, but no one was home. Tristen -- when will the Christmas list be ready? I need to start my shopping :)
---
Gary
2/4/08
New photos today! Donna took these at Teghan's birthday party. My fault it took so long to get them posted here!
---
Gary
2/4/08
And here it is. (I knew it wouldn't take long!) Watch QB Manning somehow tear himself free of that cluster-tackle and throw the ball on pure instinct, which Tyree catches by clamping it to his helmet so he doesn't drop it. Wow! The next play was a short pass into the end zone for the win.
---
Amanda
2/4/08
We watched it. It was a great game. Good commercials too. Tristen missed it, and I wonder if Olivia saw it, but my favorite was the Budwieser commercial where the dalmation trains the hopeful horse. Great stuff, I'm sure that's out there somewhere too.

See today's cool site for all the commercials. I thought the Coca-Cola ad with the parade balloons was pretty amazing. (Thanks for the countdown item!) --Gary
---
Donna
2/4/08
Beautiful picture and great quote on the front page today.
I didn't watch any of the super bowl although I'd like to watch the last quarter now after hearing so much about it.

It shouldn't be too hard to find video of the last few minutes at least of the game. It hasn't made it to YouTube yet, but I'm sure it will soon. When it does, I will post it here. --Gary
---
Gary
2/4/08
So who watched the Superbowl? I have to say it lived up to its name this year. Kind of an average game with a little back-and-forth -- until the last few minutes. Then the underdog Giants pulled off two miracles in one play -- an unbelievable throw and an unbelievable catch, which led to the game-winning touchdown on the next play. Wow.

And hey, the writers strike is over! So the Oscars will be on as usual.

And tomorrow is Super Tuesday. And Mardi Gras. Big week!
---
Gary
2/2/08
Hey Tristen, as requested I added "Peanut Butter Jelly Time" to the Tristen's Cool Sites page. Peanut butter jelly with a baseball bat!
---
Donna
2/1/08
I had to have a root canal once several years ago. It wasn't bad and I thought my insurance covered it. Why do you have to wait 2 weeks?

Yeah, my insurance will cover it (except for the deductible). And she didn't want to do it yesterday because the nerve was too sensitive, she said. And I agreed! The little bit of grinding and probing she did yesterday was not fun. The two weeks is just a scheduling thing. --Gary
---
---