Old news: May 2002

Back to Newsletter
John, Marsha, Zachary, Samantha & Anna
5/31/2002
Happy Birthday, Karen!!!!


---
Amanda
5/31/2002
Very cool looking room Erika! Happy Birthday Karen!



And have a good trip Gary & talk to you all through the newsletter when he returns!
---
Erika
5/31/2002
I decided to use part of your idea Amanda. I got some stencils of butterflies and dragonflies, and we will put up some words like - dream, imagine, love and hope. I will try to put some pictures up soon. We've been watching Harry Potter too, but we haven't noticed the new scenes yet. I really like playing the games on it. It's hot here today!!! Have a good trip Gary - Bon voyage

Thank you! Watch your email for pictures! And speaking of pictures, the pictures of Erika's room just arrived -- looks beautiful! Check the projects page. :-) --Gary
---
Grandma
5/31/2002
HAPPY BIRTHDAY, KAREN !!!


---
Lori
5/31/2002
Thanks to all for the birthday wishes . . . even though I'm trying to pretty much ignore them (the birthdays)at this point.

Happy birthday tomorrow, Karen. Hope you have a nice day.


---
Amanda
5/31/2002
Ryan is coming home!!! He called today from Japan and is on his way. He should be home Saturday night or so. Coming home commercial, sounds like he's taking about the same flight pattern as Gary only backwards and Japan instead of Rome, but the same hoo-haa here in the U.S. He will be back on his 35th day gone, and it is about time. We will keep you informed. Also, we got & watched the Harry Potter DVD on Tuesday when it came out and all we did was watch it, we didn't have time to look at all the extras yet! What did you guys do with the cloud room by the way?
---
Grandma
5/30/2002
Karen, I think you got some good suggestions for Erika's room. I think a favorite poem or saying written around the room would be fun too. Isn't it neat to have another painter in the house? Sure makes the job easier. Good for you, Emily!! Sounds like you had quite a storm, we have been getting showers and last couple of days have been hot and humid (soon be all the weathermen can predict). I've been trying to finish planting but the ground is to muddy and I get to hot. I succumbed to turning on the air a few minutes ago. Teghan is changing right before our eyes, bet Ryan will see a differance. What a cutie and is developing her personality too. Love the pictures. Way to go Erika! What a good award to have. Not everyone rates one of those. I'm proud of you! Linz was here last weekend and put linseed oil on my outside chairs, been wanting to get that done for a year, and am really grateful to her, she made it look easy, but I know what a job it was. Thanks, again. Hi to you all.
---
Gary
5/29/2002
Erika, what are the new scenes in the Harry Potter DVD? Maybe you should write us a review...? :-)
---
Karen
5/29/2002
Thanks for the suggestions -- I'll see what Erika thinks when she gets home from school. I just finished painting the border (then I took the tape off -- and a lot of the paint came off with it -- #&%$*). Scrubbed and oiled the floor. So all I need to do now is touch up paint on the border and paint whatever she wants on it. Erika has been "camping out" in the living room while we painted her room. Really enjoying it. Her Harry Potter DVD came yesterday -- so she got to eat supper and watch her movie all in her bed!! Spoiled!!! Emily was a BIG help with the painting. She did almost all of the trim and I used the roller. Made it much faster. We got a big storm last night. It started to rain about 7, and kept raining most of the night. About 1 am it really started to pour and hail. Apparently there were flood warnings for the city. This morning there was mud in most every street and tree branches down. We got 3 inches of rain before it was over. Amanda, I love the pictures of Teghan -- makes me smile every time I see them. How much longer before Ryan returns? I'm not sure when we will be in Lincoln next, but we'll try to make it sometime after Gary returns from Rome, so maybe we can hit the museum then.
---
Donna
5/29/2002
Karen, I have a suggestion for the something the girls could do. The Children's Museum is free to Gallup employees and their families for the month of June. Of course the offer is good for anyone else interested too.
---
Donna
5/29/2002
Erika, congratulations on your award.
Your room sounds like it will be really pretty. I like the idea of words--sweet dreams... You could write a quote around the border. Of course I would go for celestial--and use glow in the dark paint or the stick-on stars or glitter. But I like Amanda's idea too. That sounds bright and cheerful. Let us know what you end up deciding.
---
Donna
5/29/2002
Amanda, I didn't like A1 because it was too long and the ending was creepy. I liked the beginning and thought the idea was good, but they just got way off track. I did not like the way the mother left the boy in the woods. In the end, was he a boy or robot? I also didn't like that humans did not survive. Even in a bad Star Trek movie, humans always survive. This robot/boy had a pretty tortured life when you think about it and it sure looked like he had feelings and memories and what does he end up with? A fake moment with his "mom" given to him by the aliens. I still wish I would have asked for my money back at the theatre. I thought about it at the time. Oh, don't get me started, I'm getting mad all over again.
---
Amanda
5/29/2002
My idea for the bedroom is get some stencils for some butterflies, dragonflies, ladybugs, bumblebees, etc. that sort of stuff and some purples & pinks, and yellows and do that on the border. Maybe even some tulips and stuff. The butterflies & dragonflies and stuff are so in right now, plus it will bring a neat abstract color to the room. That's the idea from the Metcalf clan, though your idea is also a great one!
---
Karen
5/29/2002
Help!! I am in the process of painting Erika's bedroom and I need ideas. She wanted a "cloud" theme to match her bedspread. I painted the ceiling and walls a medium blue, then I painted clouds on the ceiling and top half of the walls. Now I plan to paint a border of darker blue around the middle of the walls. Then I wanted to paint something on the border -- I had originally thought I would be some stars, moons and words like sleep and dream. Now I not so sure -- any suggestions????
---
Karen
5/28/2002
First official day of summer vacation for me. Friday was my last day of preschool. We had a program and graduation -- hard to say good-bye to some of those kids. Emily and Erika are done with school on Thursday. Neither of them have any plans for the summer -- still trying to think of something fun to do. Erika is anxiously awaiting the arrival of her Harry Potter DVD. Ordered it a long time ago, but should be getting here today or tomorrow. I should have some pictures to post on the project page soon. Painting Emily and Erika's bedrooms. So that should keep me busy for a few days. We all went to Wausa on Saturday -- hit three cemetaries and lots of family graves.
---
Karen
5/28/2002
Erika received an award today at her school. It was for Character Counts -- hers was for Caring.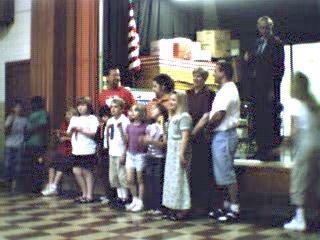 ---
Amanda
5/27/2002
The reason I asked for Donna's review is because she speaks SO openly about her disgust for this movie, so I expected it and want to know why? Also, I looked on the Index of Reviews and SWORE I didnt see a review of it, by anyone, but then I went back tonight & saw it. Gary, your review was a good one, and to tell you the truth, and granted I didn't watch it word for word start to finish (which usually happens with kids around), but I just didn't get it. And does Haley Joel Osmont blink in real life, or is it just his roles?
---
Amanda
5/27/2002
So, I looked on the review page for a review of A.I. since Donna refers to it as A1 (steak sauce). But I didnt see one. If you thought it was such a stinker, why no review? Id like to see what you didnt like about it. I finally watched it and really am neutral on the whole thing, but Id like to see your opinions, now that I have seen it.

Hey, what am I? Chopped liver??? Here's mine. :-) --Gary
---
Lindsey
5/27/2002
So how is everyone doing?
---
The Nelsons
5/26/2002
Happy Birthday Lori!


---
Lindsey
5/25/2002
HAPPY HAPPY BIRTHDAY MOM!!!!!!!!!!!!!!!!!!!!!! LUV YA LOTS


---
John, Marsha, Zachary, Samantha & Anna
5/24/2002
Happy Birthday Lori


---
Tristen & Teghan
5/24/2002
Happy Birthday Grandma!!!


---
Amanda
5/24/2002
Happy Birthday Lori!


---
Grandma
5/24/2002
Happy Birthday, Lori!!


---
Paul
5/22/2002
Hi ya Tristen, I think you left the doll to the trike you got from Claire, and just some clothes. We will get them to you. How is your sister doing? Is she walking yet??
Hey Gary I finished The Map that Changed the World. Really interesting, But boy, did Smith ever work his life away and get no recognition during his life. I will return the tape to the Library this weekend. Thanks again.

Great, glad you liked it -- I did too. Yeah, talk about being under-appreciated! There's a great quote that really fits Smith's life: "All truth passes through three stages. First, it is ridiculed. Second, it is violently opposed. Third, it is accepted as being self-evident." His idea was so new that at first no one could understand it -- and when they finally did understand it, they were like, "What's the big deal? Everybody knows that!" And hey, I just finished another great tape: Dennis Miller's "The Rant Zone," which is Dennis Miller doing his "rants" from his HBO show. Hilarious, and brilliant. I'll drop it off at Mom's this weekend if you want to pick it up...? --Gary
---
Tristen
5/22/2002
Grandpa, what did I leave at your house? I don't notice anything.
---
Paul
5/21/2002
Great week-end Erika, Sounds like my kind of lunch! Lindsey went to one of those pioneer schools a couple of years ago too, and loved it.
Hi ya everybody, P.S. Tristen we got your stuff you left, Loved having you over.
---
Karen
5/21/2002
Erika has had a fun week-end. Saturday she was invited to a slumber party for a friend of hers. The party was held at a hotel room with a hot tub. They all went swimming and had a great time. She told me she fell asleep at 1 am and woke up at 5:30. She got home about 11:30 and headed right to her bed and we didn't see her much for the rest of the day. On Monday she went to a pioneer school for the day. They dressed as pioneers and took an old fashioned lunch (hers was boiled eggs, jelly sandwich, cheese and sugar cookies). She loved it. Said this morning that she wished that they could do it all week long.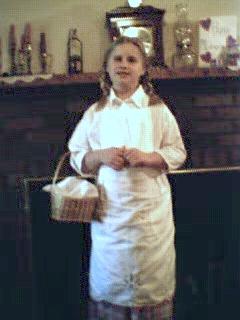 ---
Lindsey
5/20/2002
Hi everyone! Had a fun weekend, although came down with the cold. :( Had some company though. Ol' Tristen came down for the weekend and stayed with us. Happy Belated Birthday, Brent.



Guess I don't really have anything else to say so. . . .bye!
---
Donna
5/20/2002
Hey, the cool site for today won't open. At least I can't get it to open.

I tried it just now and it did eventually open, but the site is very slow today -- must be some trouble on their end. It's called SongFacts and it gives you background info and trivia on almost any popular song you request. Interesting, but no big deal. --Gary

Happy belated birthday, Brent!


---
Paul, Lori, Olivia and Linz
5/19/2002
Happy Birthday Brent


---
Amanda, Tristen & Teghan
5/19/2002
Happy Birthday Brent!!!


---
Grandma
5/18/2002
Happy Birthday, Brent!!


---
John, Marsha, Zachary, Samantha & Anna
5/18/2002
Happy Birthday, Brent


---
Amanda
5/15/2002
This is what Ryan had sent from thousands of miles away for my birthday!!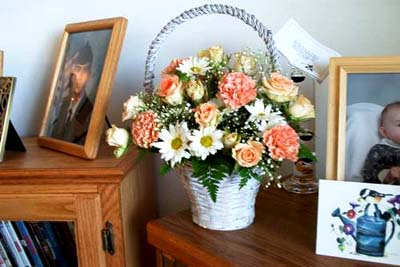 ---
Ryan
5/15/2002
Hey everyone Hi. I just wanted to say to everyone thanks for sending Amanda all the B-day wishes. Its kind of hard when you are 15000 miles away. Thank you. If you send me an email Ill try and get back as soon as possible. Miss Ya all. Ryan
---
Grandma
5/15/2002
I am having a great week so far. Paul had one of those "take your Mom to work days" on Monday and I was so glad to go, got dropped off at the Nelson's and had a very enjoyable day (sorry Emily and Erika weren't feeling well) but I hear they are now back in school. Had a great lunch at the 4th Street Brewery. And I really enjoyed the ride to and from, a chance to see how far along the crops are. Amanda, I hope you are having a fine day! My lawn service was here last night to spruce up the yard. Thanks guys!! Mick came yesterday and spent most of the a.m. so it was nice to see him too. I also went to vote, did you?? Have plants to put out but it is so windy again, may wait til evening.
---
Amanda
5/15/2002
THANKS TO EVERYONE FOR THE BIRTHDAY WISHES!! Also, thanks for all the cakes on the front! Tristen thought it was very cool!!! Today's cool site is particularly interesting as well, thanks again, EVERYONE!! (BTW, how did Tristen & Teghan leave me a message?? I know Tristen is pretty computer savvy, just didnt know she had all that in her!!!)
---
Erika
5/15/2002
HAPPY BIRTHDAY AMANDA :) ;)


---
Ceasar
5/15/2002
Ruff Bow Bow Ruff woof!
translated: Happy Birthday, Amanda!


---
John, Marsha, Zachary, Samantha & Anna
5/14/2002
A very Happy Birthday to you, Amanda.


---
Olivia
5/14/2002
Happy Birthday Amanda


---
Tristen and Teghan
5/14/2002
Happy Birthday Mom, We love you


---
Paul
5/14/2002
Gee, I hope Erika and Emily are feeling better. Nice to see you guys.
---
Lindsey
5/14/2002
HAPPY BIRTHDAY, AMANDA!!!!!



Sorry I haven't been on for a while. Been sort of busy! Well, I made the audition for the play/acting class at LCP! I am also going to start Tennis this summer and maybe possibly something else if I have time. I don't know though what I should do. Anybody have ideas of what is fun to do? I was thinking about like a sport or I might do a dance/cheerleading thing. Well, I have to go because I am on Grandma's computer so I have to go but will be back on in a little bit, g2g bye!
---
Grandma
5/14/2002
Happy Happy Birthday, Amanda !!


---
Nicole & Cocoa
5/14/2002
Happy Birthday Amanda!


---
***EMILY***
5/14/2002
HAPPY BIRTHDAY AMANDA!!


---
Donna
5/14/2002
Happy Birthday Amanda!!!


---
Karen and Brent
5/14/2002
Happy Birthday Amanda!!


---
Paul and Lori
5/14/2002
Happy Birthday Amanda


---
Amanda
5/13/2002
I had my first class today. Politics of the 50 States. It was supposed to be 4:30-7:20, but we got out at 6!! My mom came to watch the girls, and then they took me out to dinner at Famous Dave's, yummy!!!!! I have class again on Wednesday, maybe that one will be for the full 3 hours, we will see! By the way Grandma, I found the birth certificate, it was in my glove box! I found it as my car was getting searched coming on base today. That was not so great, but finding the birth certificate was, at least I know I'm not going crazy!
---
Karen
5/13/2002
What a fun day we had today! Last night Mom called and said that Paul was driving through Sioux City and would drop her off on his way to Mitchell, SD. Emily and Erika immediately came down with a mysterious illness and needed to stay home all day. I had preschool in the morning. So Emily and Erika entertained Grandma until noon. We picked up Brent and all went out for lunch. Had a very enjoyable afternoon. Paul came back about 5 to take her home. Hopefully Paul will need to make lots more trips there in the future.
---
Lindsey
5/12/2002
HAPPY MOTHER'S DAY EVERYONE!!!!!!!!!!!!! actually to all the mothers!
---
Ryan
5/11/2002
Hey everyone I thought I would just stop in and say Hi. Everything is going good. But man is it hot here. I feel like Im on Giligans Island. To all the Mothers out there Happy Mothers Day, sorry I couldnt be there to share it with you.

Anyway you can write to me at ebe403@msn.com thats my email address and I'm checking it daily. Lots oh computers here. Talk to everyone later. Bye!
---
Amanda
5/11/2002
Happy Mothers Day Grandma, Lori, Karen & Marsha! Hope you all have a wonderful day!!!!
---
Amanda
5/11/2002
Hey Gary, what would you have done if LOTR came out ON the day you were to leave for Rome? What would be your choice????

Wow, tough call! Hopefully I would have seen that timing conflict coming and scheduled around it.... If not, though, it would be Hello Roma and Arrivederci Frodo! And "Dove il cinema??" as soon as the plane touched down, hoping that I could follow the Italian dubbing. Luckily, however, Fate has been kind, and has arranged for these two events to be well-spaced. :-) --Gary
---
Grandma
5/11/2002
Amanda, I haven't seen a Birth Certificate--Think maybe you left it at the school? Hope it shows up.
---
Gary
5/11/2002
Just a plug for today's cool site. On the surface it's just another "Lord of the Rings" site -- but this one has the complete script of the movie (click on "Scene by Scene Images," then look for the word "Script"), with lots of accompanying pictures. Plus some other goodies.
---
Amanda
5/10/2002
Grandma, is her birth certificate there too? I seem to have lost it!!! I had it right before I came there, because we took it to school. I think I put it in my purse or in the diaper bag & I bet it fell out. I'm losing my mind!!!!!
---
Grandma
5/10/2002
I love the dance costumes too, you both look really cute. I just discovered the crawl, and it is pretty neat. Just like important news breaks. Gary, only a few more DAYS till you are in Rome. Tristen, your shoes AND purse are still here!! Aren't your toes getting cold??
---
Amanda
5/9/2002
I use MSN Explorer for internet access. HOWEVER, I opened up Internet Explorer and went to the website and saw the crawler. Impressive, wish I got it through MSN though, strange...
---
Amanda
5/9/2002
I love the costumes! Tristen is jealous of Erikas, I think she likes the full skirt... What is the crawler?

It's the words that crawl across the bottom of the front page. Maybe it doesn't work with Internet Explorer...? Hmmmmm. --Gary
---
Donna
5/9/2002
I like the crawler on the front page. It looks very professional!

Thanks. It will be a spot for quick little announcements. --Gary
---
Donna
5/9/2002
Erika and Emily, you both look beautiful in your dance costumes. I sure hope you guys tape the recitals. I'd love to see them.
---
Amanda
5/8/2002
Hey, when my birthday comes, can I get the most birthday cakes ever? Since Ryan wont be home for my birthday OR Mother's Day, I will need it!!!!!
---
Gary
5/8/2002
Just a word of warning about today's cool site, the PBS site for Frontier House: It's a real memory hog, so your computer may slow down or even lock up when accessing it. Sorry about that!
---
Gary
5/7/2002
As for the Rome trip, time is creeping up on me and no kidding. Everything is under control -- all reservations and preparations made, etc -- but still...! I've been reading all the guide books I can lay my hands on, and also looking up lots of stuff on the internet. And in the middle of all this research, I'll be looking at some picture and suddenly realize, "Wow, in less than a month I'll be standing right there!" I've been getting lots of advice from some travel websites -- rookie mistakes to avoid, little-known places to see, and where to find great food. One interesting thing I'm hearing is how common it is for restaurants to try to overcharge you. Several travellers mentioned that they were billed for courses they hadn't eaten, and one person said they added a charge for water which was more expensive than her main dish! When she called them on it, they didn't even apologize -- just sort of shrugged as if to say, "Well, we tried!" :-) So I've got to get comfortable with doing lira-math and euro-math in my head.

As to the itinerary, I don't have anything formal yet. We arrive Monday morning (which will actually be Sunday night to us) and I figure, in spite of any jet lag, we will make a bee-line for the old Roman Forum to see the ruins and the Coliseum and everything. Tuesday may be the day we drive to Pompeii. There is a chance we would spend Tuesday night in Naples (which Pompeii is right next to), because some Italian travellers have told me doing Pompeii as a day-trip from Rome is really pushing it -- it's a 2+ hour drive each way, and there is so much to see when you get there. But others have said it is do-able in one day, plus the drive is spectacularly beautiful (except for the insane Italian drivers, which everyone warns about...). So I don't know. Wednesday will probably be Vatican day, as that is the day the Pope makes his public appearance. I'm told that it is easy to spend the entire day in the Vatican museums. Other than that, I've got a list in my head of all the great places I want to see -- the Pantheon, the Spanish Steps, the church of San Clemente (built on the ruins of a pre-Christian altar to Mithras, which is still visible), the Campo dei Fiori (a public square designed and built by Michaelangelo -- this may be on Saturday, as I understand that's their open-air market day), the Trastevere, the Piazza Navona (another public square -- this one preserves the outlines of the chariot racetrack which used to be here), the Trevi Fountain (where it is said if you throw in a coin, you will return to Rome) -- and a ton of other places....

I do plan to email everyone whenever I'm near a computer. Our family website will be a real help: It can be accessed from anywhere in the world, and I can easily send email from our "Contact" page. My friend is taking a digital camera, so I might even be able to include photos with the email. :-) So that's where things stand at present, with (gulp) 26 days to go....
---
Karen
5/7/2002
Erika is fine now, had a bout with the flu-bug on Friday and Saturday. Emily is still suffering with her allergies, doctor suggested we take her to an allergist this summer for some tests. Counting down the final days of school, I have 8 days of preschool and Emily and Erika have about 18 days. Lots of fun things planned for the their last days. Erika is going to the pioneer school house on the 21st, she is very excited about that. The Frontier House was a good introduction for her. Emily is bowling this week for her PE class. They are both getting their pictures taken for dance class this week. Emily is not happy about her costume - so don't plan on seeing those pictures. Hey Gary, just a few more weeks until you go to Rome - any more plans?
---
Marsha
5/6/2002
Hi everybody! The Metcalf's are really good with that camera - we all loved the latest pics of the girls. I think you were wise to quit your job at this time Amanda, work will always be there for you, but the girls will just love to have you around now. Sam is going to Duluth for a field trip next week with her medical magnet group at school, they will visit a pathology lab and a cadaver lab and will be able to view a cadaver. They will also visit the Maritime Museum on Lake Superior, John is going along as a parent helper (he promised not to speak to her or acknowledge that he knows her). But we know, he has a hard time keeping his promises. He is already tie dying a pair of pants to wear (Sam says he will be the next cadaver to view). Anna gets her bottom braces on Thursday, Zach starts a new job that day. Hey Linz, good luck on your acting endeavors, you must be a natural! How come Erika was sick? Allergies? Boy, have they ever been bad this year. Sam, Anna and I have been really miserable with them, guess we need some new meds. Work has been so busy, lots of new stuff. Big thunderstorm last night, it was great! Greetings to Ryan wherever you are.

Hey Karen, thanks for the heads up on Frontier House. Very good! I'm glad to have soap.
---
Amanda
5/6/2002
Hello all.. Things are good at Offutt.. Ryan is still gone, of course, but we instant message every night, so that helps. Tristen misses him like CRAZY this time, poor kid! Grandma~ I quit my job, for good this time, no calling begging me back, I quit as soon as I heard Ryan was leaving, I'm not taking them to a sitter if he is going to be gone, they need one of us! Not much new here, trying to stay busy, which surprisingly is working. Today he has been gone 9 days, 21 to go (hopefully less, but I doubt it). We have been running errands to get me & Tristen ready for school. Tristen starts summer school in about 3 weeks, and I start summer school May 13th. The first class I am taking is Politics of the 50 States. Sounds very interesting to me... Anyhow. That's all I know for now. I will be talking to everyone. Oh check the projects page soon, Tristen & I painted & planted some flowers in pots, very cute, I will send a pix! (what's new?? Anyone sick of those by the way?)
---
Lindsey
5/6/2002
That unsigned newsletter was me! LOL... anyway, I love the pictures I've been seeing of Teghan and Tristen. They are so cute! Grandma, I got the exact same score as you. I am not sure about the play yet because they haven't decided on casting yet so I am still keeping my fingers crossed! Well, I have to go, Bye!
---
Grandma
5/6/2002
I scored a 72 on the quiz, obviously, I don't retain much. Sounds like Linz will have a busy summer! Good luck on the audition, and everything else. Amanda, how is your job going? And what new things is Teghan doing? I am now "full time" yard worker. Got a break today because of the dandy rain we got last night. Sean, I would order a desk, but just can't find the room, Darn!! Hope Erika is feeling good today, and Emily, I think you should consider shots for your allergies, I don't think I like you to feel so miserable so much. Anna, hope your braces don't bug you for long.

P.S. Amanda the new pictures of your girls are so good. What cute outfits. Grandma Cathy? I thought Teghan was taking to the water well, when and where? Was Tristen there too and what did she think?
---
Gary
5/5/2002
Amanda sent in a new photo today, and here it is.
---
Lindsey
5/4/2002
Hey everybody just for something to put on the Newsletter, I have most of my summer plans planned out. I just auditioned for a two-week play/class thing. It's from 9 to 5 so it's pretty time consuming. In the morning there are acting classes you take and then in the afternoon it's a rehearsal for a play. The play is called WINK. It's sort of a mixed up fairy tale thing. There is a girl that is trying to get to sleep but can't so hires sheep and then Bo Peep comes along and she's not the nice girl you think she is and then there is a hunting dog and so on and so on. I hope I make it! The audition went good though I think. Also I am doing tennis sessions and I think that will be fun and then possibly I am going to do Track. I have other small things for this summer but for now that is what I know. Bye!
---
(unsigned)
5/4/2002
People, you don't want to know my score....
---
Donna
5/4/2002
Yikes, I scored a 68%. I don't even think that's passing.
---
Amanda
5/3/2002
I got 23 out 25, 92%. I got messed up on the Regis Philbin & All My Children questions. Pretty impressive game Gary, very professional!

Why, thank you! :-)
---
Gary
5/2/2002
Just FYI, our April 2002 newsletter was the second-longest one so far, coming in just slightly behind the record-holder, July 2001.
---
Karen
5/2/2002
Glad you enjoyed the Frontier House. We really got into it here. Being big Little House on the Prairie fans we thought we would like it. I taped it all.
---
Donna
5/2/2002
I watched the last episode of Frontier House last night too. It was pretty good. But that one guy that talked about his right to have a mattress scared me. And I had to turn to another channel when the pig had to uhh, get ready for the fair. I felt like I was watching Old Yeller. It's going to be on again here this Sunday from 12:30 PM to 7 PM.
---
Gary
5/2/2002
Hmmm, Tristen, maybe you should clean your room -- you have cows in it!

Hey Karen, thanks for the tip on "Frontier House." I missed the first one, but caught the rest of 'em. Very interesting show! Makes "Survivor" look like a bunch of spoiled crybabies. :-) The show (three two-hour programs) was very successful ratings-wise, so it will certainly be shown again. Don't miss it next time!

One more thing: tune in to this webpage tomorrow for a spin-off game of "Who Am I." ...Call it "Who Am I-Lite." :-)
---
Tristen
5/2/2002
Why do you have a picture of my house on the front page Gary?
---
Amanda, Tristen & Teghan
5/1/2002
Happy May Day to everyone!!
---
---